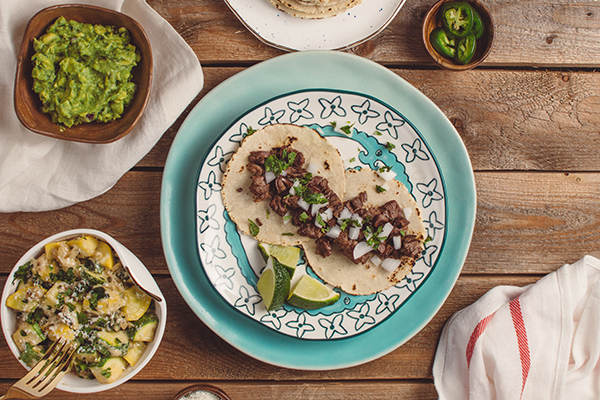 Tacos
Who doesn't love tacos?! They're quick, delicious, and versatile! On this #TacoTuesday and Cinco de Mayo, use whatever ingredients you have around to create the perfect meal to celebrate the festivities. Not feeling very creative? No stress, we are here to give you some substitutes so that you can enjoy a healthy meal.
Tortillas – corn or flour! Don't have any? A leaf of lettuce holds all of the goodness too!
Protein – whatever you have ready! Baked fish, chicken, or meat – yum! Don't have any handy? Cook a quick egg! Or keep it vegan – a can of refried beans is hearty and packed with protein.
Toppings – Dice up a tomato and some onions, open a jar of salsa, sprinkle some cheese on top! You know those cans of beans and corn you have stocked up on? We shouldn't have to tell you that now is the time to use them. Add some crunch with peppers and cabbage!
The best thing about tacos is that there is no wrong way to make them! Customize them with what you have available. Don't forget, a squeeze of lemon or lime helps each bite taste fresh!
Guacamole
The guac may be extra at some places, but in your own home it's encouraged! Guacamole adds freshness and creaminess to almost anything and it will be the perfect addition to your Quarantina Cantina!
Avocados
Onions – red or white, whatever is available. Shallots work great too! Just make sure to dice them up.
Tomatoes – dice these up and throw into the guac!
Sour cream – the dairy adds some creaminess to the dip. If you want to skip it, try adding some apple cider vinegar to help create that creamy texture.
Lime juice – squeeze some fresh lime to help add acid and flavor!
Salt & Pepper to taste
Cilantro – it's not for everyone, but if you like it, bonus!
Whether you're adding the guacamole on top of your tacos or keeping it separate for dip, the flavors are there and the deliciousness won't disappoint.
Sources: Unsplash.com