Group Training Zone – Los Angeles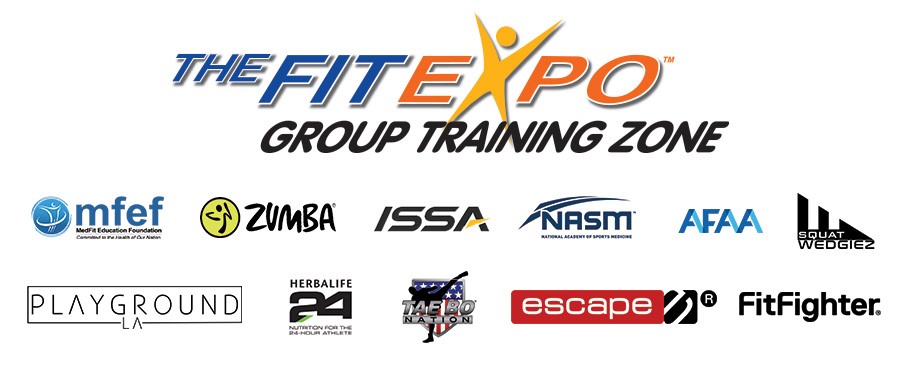 The Group Training Zone is where fitness enthusiasts and fit pros come to workout and win.  This exciting stage is surrounded by interactive booths featuring sponsors and partners.  The stage comes alive the minute the doors open and features NON STOP workouts, contests and challenges until the door closes!  Whether you are in to bootcamp style workouts, trying new fitness tools, dance fitness or mind/body you can find a workout to try.  Walk away with fun swag like t-shirts, water bottles, new products, fitness bands and $CASH$.  Each workout has an individual prize or a one winner grand prize.
Fit Pro 
There is more in store for Fit Pros who attend TheFitExpo and visit the GTZ.  Spend the day with us and walk away with new ideas, choreography and CECs from NASM, AFAA, and ISSA.
Fit Pro Partnerships & Programs
We have teamed up with education providers to bring fitness professionals continuing education opportunities. Earn credits towards recertifying with a combination of Live & Virtual Trainings. Whether you are a veteran Fitness Professional or a Fitness Consumer-PROsumer looking for the next step in your training regime, this year's hugely anticipated Fit Expo will have something for every BODY. We have teamed up with our favorite fitness partners and educational entities to create the ultimate health and fitness experience at TheFitExpo.
LIVE Fit Pro CECs/CEUs (included with your regular admission)
Just by attending the weekend LIVE education track you can earn up to 6/.6 credits CECs. You've got your ticket to a LIVE event and we have your ticket to CECs. Flip your admission to TheFitExpo into credits to maintain your professional certification. See the below details and follow this link: https://www.surveymonkey.com/r/5X6W3ZV to pre-register. There are some restrictions and more details will be provided via email once you pre-register. To receive your CECs/CEUs you will be required to participate in Group Training Zone live workouts and check in to receive those credits.
Take a look at the GTZ Schedule and plan to attend. Not all stage times include workouts. There are also product trials and contests included in your Fit Pro Experience.