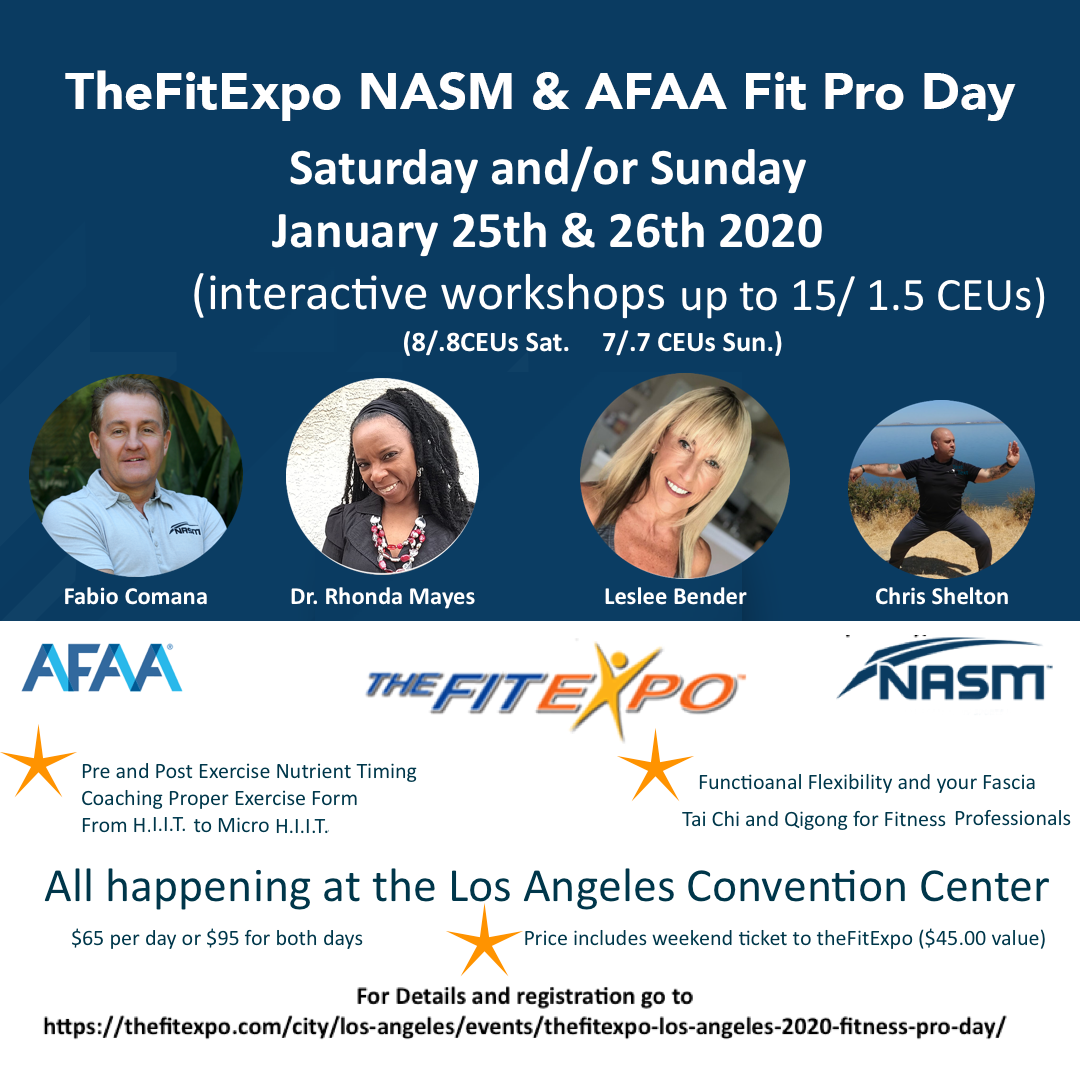 Saturday January 25th : Fitness Pro Day
NASM PRO DAY
Saturday, January 25th (9:00 am – 5:00 pm) $65
We have teamed up with NASM/AFAA and other GTZ Sponsors to bring you up to 8/.8 cecs and education that will inspire you in the new year.
Check out the options & register now.
9:00 am – 1:00 pm: Fabio Comana MA, MS.
Pre- and Post-exercise Nutrient Timing (lecture and discussion)
We focus heavily upon movement prep, the exercise bout and muscle recovery, but largely ignore the significant impact that nutrient and fluid intakes have upon performance, recovery and muscle adaptation. Why only train hard when we also should train smart? This session discusses the three pillars of carbohydrates, protein and fluid intake (timing, type, quantity) before and following exercise to optimize training, recovery and most importantly, adaptation.
Coaching Proper Exercise Form (interactive workshop)
As overuse and dysfunction continues to grow in fitness, fitness professionals need to understand the foundational concepts of movement; the relationship of stability and mobility throughout the kinetic chain and how they function in exercise and movement? This session breaks down the primary movement patterns and how to coach movement and exercises safely and effectively.
1:00 pm – 3:00 pm Dr Rhonda Mayes
AFAA Group Instruction 2020, From H.I.I.T. to Micro H.I.I.T.: Advancing Fitness with the Times (interactive workshop)
In today's advancing society, time, continues to be a high demand commodity. The original H.I.I.T. format struck the fitness industry with praise due to its time efficient, results driven format. 2020 brings an even greater demand for high intensity, result driven fitness formats. Hear what current research is saying about the promises of Micro H.I.I.T. Understand the fundamental difference between H.I.I.T. and Micro H.I.I.T. Learn how to program design a Micro H.I.I.T. workout. Explore how Micro H.I.I.T. might be an exciting workout for you and your clients fitness journeys.
3:00 pm to 5:00 pm: FitExpo Hall GTZ and Healthy Living Pavilion
Choose between a variety of group exercise and healthy eating sessions happening on TheFitExpo floor. (see separate session schedules on TheFitExpo website)
Register
---
Sunday January 26th : Fitness Pro Day
Sunday, January 26th (9:00 am – 5:00 pm) $65
9:00 am – 12:00 pm Leslee Bender
Functional Flexibility and your Fascia
This session gives you the understanding of why fascia plays an intrinsically complex role in movement quality and why it needs manipulation and movement to stay pliable. You will experience and incorporate utilizing the therapy ball or roller that will dramatically change the way in which you move functionally for active aging. This session is based on science and the planes of motion to give you several new concepts and strategies to train your client to have a pain free flexible body that performs at any level. Workshop Cost includes therapy ball.
1:00 pm – 3:00 pm Chris Shelton
Tai Chi and Qigong for Fitness Professionals (interactive workshop)
Are you a fitness professional seeking to increase your impact with your clients? Join master healer Chris Shelton as he takes you through various Tai Chi and Qigong exercises that are known to increase performance, improve recovery and combat stress.
3:00 pm – 5:00 pm: Group Training Track
Choose between a variety of group exercise and healthy eating sessions happening on TheFitExpo floor. (see separate session schedules on TheFitExpo website)
Register