Zumba Trainings


Zumba English & Spanish Workshop Times and Descriptions
FREE GIFT INCLUDED IN THE REGISTRATION FOR EACH TRAINING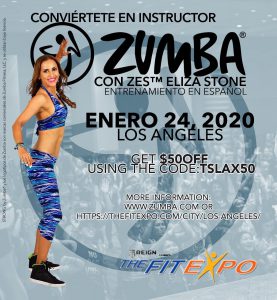 Viernes, Enero 24, 2020
8:30 AM – 6:00 PM Zumba® Basic 1 Eliza Stone, Especialista en Educación de Zumba® (ZES)
Use PROMO CODE: TSLAX50 to receive a $50 discount
Reserve Online
Esta capacitación inicial te dará las herramientas que necesitas para liderar tus propias clases de Zumba®. ¡Aprende la fórmula Zumba®, nuestros cuatro ritmos básicos y más!
Incluido con la sesión
Manual para instructores en formato electrónico
Certificado de finalización
Fitness Certification Credits (varies by country)
Online Videos to Review Basic Steps
Qué esperar
Aprende a enseñar los pasos básicos de los cuatro ritmos centrales de Zumba®: Merengue, Salsa, Cumbia y Reggaeton.
Usando la fórmula de Zumba®, aprende a identificar las diferentes partes de una canción y aplica los pasos básicos para construir una clase de Zumba efectiva.
Practica en vivo con un Especialista en Educación de Zumba para ganar confianza y poder enseñar más rápido.
Recibe tu licencia para comenzar a enseñar clases de Zumba® inmediatamente.
Obtén acceso a más herramientas que te ayudarán a comenzar a enseñar más rápido y a cambiar vidas más pronto.
Obtén la oportunidad de recibir coreografías mensuales, música y soporte continuo.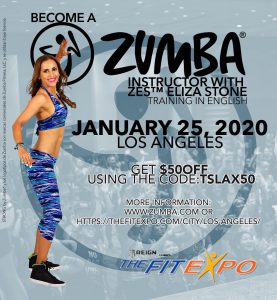 Saturday, January 25, 2020
9:00 AM – 6:00 PM Zumba® Basic 1 Training with Eliza Stone
Registration: 8:00 AM – 9:00 AM
Use PROMO CODE: TSLAX50 to receive a $50 discount
Reserve Online
This training is the first step to becoming a Zumba® Instructor, and it teaches you the foundation and formula to teach Zumba® classes!
What to Expect
Learn how to teach the basic steps to the four Zumba® core rhythms: Merengue, Salsa, Cumbia, and Reggaeton.
Using the Zumba® formula, learn how to identify different parts of a song and apply the basic steps to build an effective Zumba class.
Practice live with a Zumba Education Specialist to gain confidence to teach sooner.
Receive your license to begin teaching Zumba® classes immediately.
Get access to even more tools to help you start teaching faster and changing lives sooner.
Get the opportunity to receive monthly choreo and music + ongoing support.
Included with Session
Electronic Instructor Manual
Certificate of Completion
Fitness Certification Credits (varies by country)
Online Videos to Review Basic Steps
ACE CEC's
AFAA CEU's
---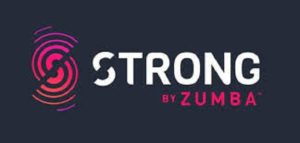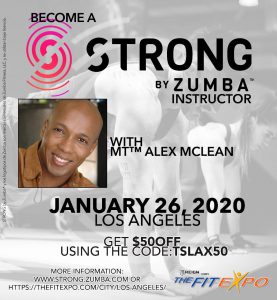 Strong by Zumba Workshop Time and Description
Sunday, January 26, 2020
9:00 AM – 6:00 PM STRONG by Zumba® Training with Alex McLean
Registration: 8:00 AM – 9:00 AM
Use PROMO CODE: TSLAX50 to receive a $50 discount
Reserve Online
STRONG revolutionizes Zumba® workouts as you know them, melding upbeat rhythms with powerful cardio and strength-conditioning moves to fire your fitness potential. Think progressive resistance and overload, plyometrics, core, and functional training using only your own body weight, all rolled into one dynamic, results-driven class guaranteed to challenge your entire body.
Relying on proven HIIT methods, but with a Zumba twist, we call our program HITTZ—High Intensity Tempo Training—Zumba style! The strength of the beat challenges you to find power, strength, speed, stamina, and mobility. Optimize your workout and make every minute count as you push beyond your limits. Join the party and get fit. Sponsored by ZUMBA® FITNESS.
This course includes:
Electronic Instructor Training Manual
Training Recap Video – delivered digitally
STRONG by Zumba™ My First Class™ – 60 minutes of music and moves, delivered digitally
E-learning course with the foundational fitness moves and science behind the program
Certificate of Completion
BONUS – ongoing music and moves on ZIN NOW
Fitness Certification Credits for Intructor Trainings – varies by country
Fitness Certification Credits for E-Learning – varies by country
ACE CEC's: E- Learning and AFAA CEU's: E- Learning
***IF POSSIBLE, PLESE BRING YOUR OWN MAT***
---
Presenters
Eliza Stone, Zumba Education Specialist
Eliza has been in the fitness industry for 20 years, teaching a variety of fitness formats. She is a Zumba Education Specialist and Zumba Instructor since 2002 presenting such trainings as Zumba Basic Skills, Zumba Gold, and Aqua Zumba. Eliza is an international presenter for Zumba Fitness, presenting at all major conventions, she is also a Registered Dietitian, Personal Trainer and has appeared in many Zumba DVD's. ACE, AFAA and AEA certified.
Alex McLean
Alex McLean has been teaching group fitness since 1995. He started as a dancer and master class presenter for the Reebok® Performance Team and Nike® Culture Shock. Currently, Alex is an educator for three global brands: Strong by Zumba™, TRX® and Schwinn® Cycling. He was a featured master trainer for the Strong by Zumba™ consumer DVD and has appeared in video and print projects for TRX®, Under Armour® and Total Gym®. Alex is certified in group fitness and personal training by ACE, AFAA and NASM.
---
Strong by Zumba Challenge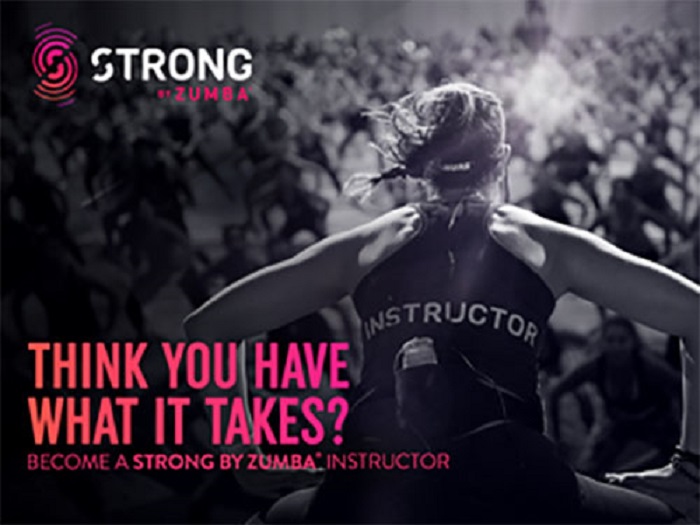 Think you have what it takes?
STRONG by Zumba® is a revolutionary high-intensity workout, led by music. Body weight, muscle conditioning, cardio and plyometrics are synced to original music designed to match each move. Think you have what it takes? Join the STRONG by Zumba® Master Class and find out! TAKE ADVANTAGE TO BE PART OF OUR STRONG BY ZUMBA CHALLENGE TO WIN PRIZES.
Reserve Online