MAY 21 • SATURDAY SCHEDULE
10:00 AM – 5:00 PM
CLICK HERE TO VIEW FLOOR PLAN AND EXHIBITOR LISTINGS
Guests & sessions are subject to change. Active classes require participants to sign a waiver of liability to attend.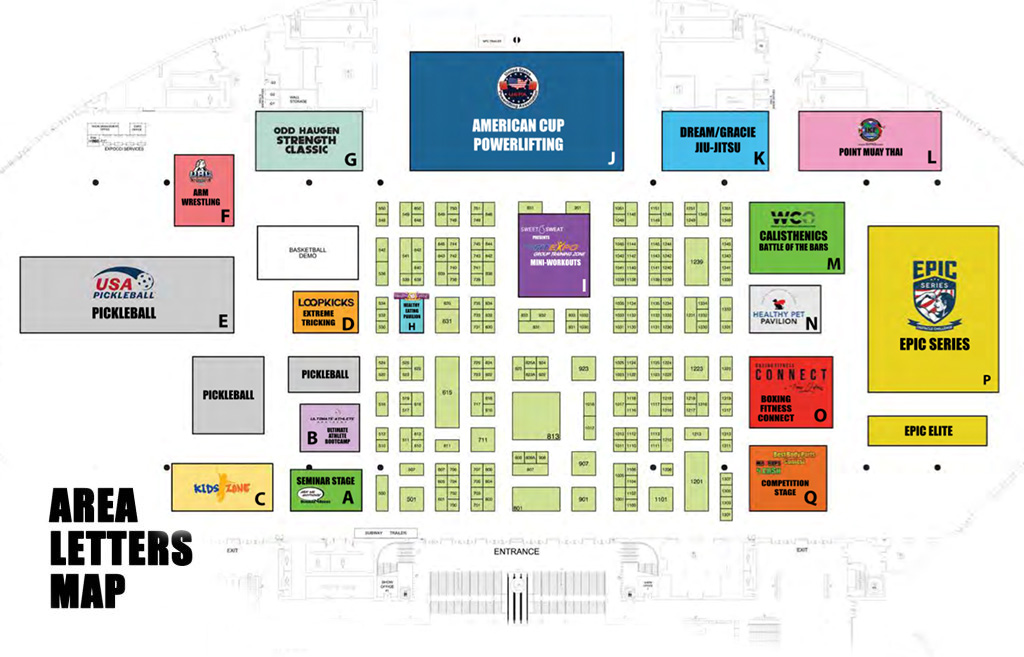 ALL DAY EVENTS:
EPIC RACE OBSTACLE CHALLENGE AREA "P"
*All day
IKF POINT MUAY THAI AREA "L"
*All day
DREAM JIU-JITSU AREA "K"
Blue Belt GI Divisions for Men & Women
Submission Only, No Time Limit
*All day
KIDS ZONE AREA "C"
*All day Playhouse inflatable fun!
TONY JEFFRIES BOXING FITNESS "O"
**WIN a Tony Jeffries Signature Speed Jump Rope
Olympic Jump Rope Challenge: Most Double Unders – Stop by anytime to compete
**WIN a Complimentary Level 1 Online Academy Course Worth $399!
Punch Machine: Highest Punch Power Score —Stop by anytime to compete
UA BOOTCAMP AREA "B"
*All day
UAL ARM WRESTLING AREA "F"
*All day events
USA PICKELBALL AREA "E"
Pickleball play and exhibitions all day! Sign-up for your chance to learn and practice at mini-clinics time TBD
MEET Matt "Pickleball Mcnasty" Manasse, Pickleball Coach to the Stars ™ (Saturday)
USPA POWERLIFTING AREA "J"
Women plus Men up to 82.5kg
*All day
VENICE BEACH BASKETBALL'S HOOPBUS LA "D2"
Open Play/Pick up with challenges for merch & prizes!
3 pt. contest, beat Team Hoopbus and more!
WCO BAR CALISTHENICS AREA "M"
Come by to Meet the WCO Athletes, Special Guests, @babymommafit, Starboy_UK, Littlefitness, ADotty, FitFlash, Proveit and many more! Presented by Reign Total Body Fuel
*All Day
SCHEDULED EVENTS:
| | Attendee Competition Stage - Area "Q" | Group Training Workouts - Area "I" | Healthy Eating Pavilion - Area "H" | Healthy Pets Canine Stunts - Area "N" | Loopkicks - Area "D" | Odd Haugen's Strength Classic - Area "G" | REIGN presents Battle of the Bars - Area "M" | Seminar Stage - Area "A" | Tony Jeffries Boxing Fitness Connect - Area "O" | USA Pickleball - Area "E" |
| --- | --- | --- | --- | --- | --- | --- | --- | --- | --- | --- |
| 10:00 am | | | | | | | | | | |
| 10:15 am | | | | | | | | | | |
| 10:30 am | | | | | | | | | | |
| 10:45 am | | | | | | | | | | |
| 11:00 am | | | | | | | | | | |
| 11:15 am | | | | | | | | | | |
| 11:30 am | | | | | | | | | | |
| 11:45 am | | | | | | | | | | |
| 12:00 pm | | | | | | | | | | |
| 12:15 pm | | | | | | | | | | |
| 12:30 pm | | | | | | | | | | |
| 12:45 pm | | | | | | | | | | |
| 1:00 pm | | | | | | | | | | |
| 1:15 pm | | | | | | | | | | |
| 1:30 pm | | | | | | | | | | |
| 1:45 pm | | | | | | | | | | |
| 2:00 pm | | | | | | | | | | |
| 2:15 pm | | | | | | | | | | |
| 2:30 pm | | | | | | | | | | |
| 2:45 pm | | | | | | | | | | |
| 3:00 pm | | | | | | | | | | |
| 3:15 pm | | | | | | | | | | |
| 3:30 pm | | | | | | | | | | |
| 3:45 pm | | | | | | | | | | |
| 4:00 pm | | | | | | | | | | |
| 4:15 pm | | | | | | | | | | |
| 4:30 pm | | | | | | | | | | |
| 4:45 pm | | | | | | | | | | |
| 5:00 pm | | | | | | | | | | |
| 5:15 pm | | | | | | | | | | |
| 5:30 pm | | | | | | | | | | |
| 5:45 pm | | | | | | | | | | |
| 6:00 pm | | | | | | | | | | |
| 6:15 pm | | | | | | | | | | |
| 6:30 pm | | | | | | | | | | |
| 6:45 pm | | | | | | | | | | |
| 7:00 pm | | | | | | | | | | |
| 7:15 pm | | | | | | | | | | |
| 7:30 pm | | | | | | | | | | |
| 7:45 pm | | | | | | | | | | |
| 8:00 pm | | | | | | | | | | |
| 8:15 pm | | | | | | | | | | |
| 8:30 pm | | | | | | | | | | |
| 8:45 pm | | | | | | | | | | |
| 9:00 pm | | | | | | | | | | |
| 9:15 pm | | | | | | | | | | |
| 9:30 pm | | | | | | | | | | |
| 9:45 pm | | | | | | | | | | |
| 10:00 pm | | | | | | | | | | |
| 10:15 pm | | | | | | | | | | |
| 10:30 pm | | | | | | | | | | |
| 10:45 pm | | | | | | | | | | |
| 11:00 pm | | | | | | | | | | |
| 11:15 pm | | | | | | | | | | |
| 11:30 pm | | | | | | | | | | |
| 11:45 pm | | | | | | | | | | |
| | Attendee Competition Stage - Area "Q" | Group Training Workouts - Area "I" | Healthy Eating Pavilion - Area "H" | Healthy Pets Canine Stunts - Area "N" | Loopkicks - Area "D" | Odd Haugen's Strength Classic - Area "G" | REIGN presents Battle of the Bars - Area "M" | Seminar Stage - Area "A" | Tony Jeffries Boxing Fitness Connect - Area "O" | USA Pickleball - Area "E" |
| --- | --- | --- | --- | --- | --- | --- | --- | --- | --- | --- |
| 11:15 am | | | | | | | | | | |
| 11:30 am | | | | | | | | | | |
| 11:45 am | | | | | | | | | | |
| 12:00 pm | | | | | | | | | | |
| | Attendee Competition Stage - Area "Q" | Group Training Workouts - Area "I" | Healthy Eating Pavilion - Area "H" | Healthy Pets Canine Stunts - Area "N" | Loopkicks - Area "D" | Odd Haugen's Strength Classic - Area "G" | REIGN presents Battle of the Bars - Area "M" | Seminar Stage - Area "A" | Tony Jeffries Boxing Fitness Connect - Area "O" | USA Pickleball - Area "E" |
| --- | --- | --- | --- | --- | --- | --- | --- | --- | --- | --- |
| 12:15 pm | | | | | | | | | | |
| | Attendee Competition Stage - Area "Q" | Group Training Workouts - Area "I" | Healthy Eating Pavilion - Area "H" | Healthy Pets Canine Stunts - Area "N" | Loopkicks - Area "D" | Odd Haugen's Strength Classic - Area "G" | REIGN presents Battle of the Bars - Area "M" | Seminar Stage - Area "A" | Tony Jeffries Boxing Fitness Connect - Area "O" | USA Pickleball - Area "E" |
| --- | --- | --- | --- | --- | --- | --- | --- | --- | --- | --- |
| 12:30 pm | | | | | | | | | | |
| 12:45 pm | | | | | | | | | | |
| 1:00 pm | | | | | | | | | | |
| 1:15 pm | | | | | | | | | | |
| | Attendee Competition Stage - Area "Q" | Group Training Workouts - Area "I" | Healthy Eating Pavilion - Area "H" | Healthy Pets Canine Stunts - Area "N" | Loopkicks - Area "D" | Odd Haugen's Strength Classic - Area "G" | REIGN presents Battle of the Bars - Area "M" | Seminar Stage - Area "A" | Tony Jeffries Boxing Fitness Connect - Area "O" | USA Pickleball - Area "E" |
| --- | --- | --- | --- | --- | --- | --- | --- | --- | --- | --- |
| 1:30 pm | | | | | | | | | | |
| | Attendee Competition Stage - Area "Q" | Group Training Workouts - Area "I" | Healthy Eating Pavilion - Area "H" | Healthy Pets Canine Stunts - Area "N" | Loopkicks - Area "D" | Odd Haugen's Strength Classic - Area "G" | REIGN presents Battle of the Bars - Area "M" | Seminar Stage - Area "A" | Tony Jeffries Boxing Fitness Connect - Area "O" | USA Pickleball - Area "E" |
| --- | --- | --- | --- | --- | --- | --- | --- | --- | --- | --- |
| 1:45 pm | | | | | | | | | | |
| 2:00 pm | | | | | | | | | | |
| 2:15 pm | | | | | | | | | | |
| 2:30 pm | | | | | | | | | | |
| | Attendee Competition Stage - Area "Q" | Group Training Workouts - Area "I" | Healthy Eating Pavilion - Area "H" | Healthy Pets Canine Stunts - Area "N" | Loopkicks - Area "D" | Odd Haugen's Strength Classic - Area "G" | REIGN presents Battle of the Bars - Area "M" | Seminar Stage - Area "A" | Tony Jeffries Boxing Fitness Connect - Area "O" | USA Pickleball - Area "E" |
| --- | --- | --- | --- | --- | --- | --- | --- | --- | --- | --- |
| 2:45 pm | | | | | | | | | | |
| 3:00 pm | | | | | | | | | | |
| 3:15 pm | | | | | | | | | | |
| 3:30 pm | | | | | | | | | | |
| 3:45 pm | | | | | | | | | | |
| | Attendee Competition Stage - Area "Q" | Group Training Workouts - Area "I" | Healthy Eating Pavilion - Area "H" | Healthy Pets Canine Stunts - Area "N" | Loopkicks - Area "D" | Odd Haugen's Strength Classic - Area "G" | REIGN presents Battle of the Bars - Area "M" | Seminar Stage - Area "A" | Tony Jeffries Boxing Fitness Connect - Area "O" | USA Pickleball - Area "E" |
| --- | --- | --- | --- | --- | --- | --- | --- | --- | --- | --- |
| 4:00 pm | | | | | | | | | | |
| | Attendee Competition Stage - Area "Q" | Group Training Workouts - Area "I" | Healthy Eating Pavilion - Area "H" | Healthy Pets Canine Stunts - Area "N" | Loopkicks - Area "D" | Odd Haugen's Strength Classic - Area "G" | REIGN presents Battle of the Bars - Area "M" | Seminar Stage - Area "A" | Tony Jeffries Boxing Fitness Connect - Area "O" | USA Pickleball - Area "E" |
| --- | --- | --- | --- | --- | --- | --- | --- | --- | --- | --- |
| 4:15 pm | | | | | | | | | | |
| 4:30 pm | | | | | | | | | | |
| 4:45 pm | | | | | | | | | | |
| | Attendee Competition Stage - Area "Q" | Group Training Workouts - Area "I" | Healthy Eating Pavilion - Area "H" | Healthy Pets Canine Stunts - Area "N" | Loopkicks - Area "D" | Odd Haugen's Strength Classic - Area "G" | REIGN presents Battle of the Bars - Area "M" | Seminar Stage - Area "A" | Tony Jeffries Boxing Fitness Connect - Area "O" | USA Pickleball - Area "E" |
| --- | --- | --- | --- | --- | --- | --- | --- | --- | --- | --- |
| 10:00 am | | | | | | | | | | |
| 10:15 am | | | | | | | | | | |
| | Attendee Competition Stage - Area "Q" | Group Training Workouts - Area "I" | Healthy Eating Pavilion - Area "H" | Healthy Pets Canine Stunts - Area "N" | Loopkicks - Area "D" | Odd Haugen's Strength Classic - Area "G" | REIGN presents Battle of the Bars - Area "M" | Seminar Stage - Area "A" | Tony Jeffries Boxing Fitness Connect - Area "O" | USA Pickleball - Area "E" |
| --- | --- | --- | --- | --- | --- | --- | --- | --- | --- | --- |
| 10:30 am | | | | | | | | | | |
| 10:45 am | | | | | | | | | | |
| | Attendee Competition Stage - Area "Q" | Group Training Workouts - Area "I" | Healthy Eating Pavilion - Area "H" | Healthy Pets Canine Stunts - Area "N" | Loopkicks - Area "D" | Odd Haugen's Strength Classic - Area "G" | REIGN presents Battle of the Bars - Area "M" | Seminar Stage - Area "A" | Tony Jeffries Boxing Fitness Connect - Area "O" | USA Pickleball - Area "E" |
| --- | --- | --- | --- | --- | --- | --- | --- | --- | --- | --- |
| 11:00 am | | | | | | | | | | |
| 11:15 am | | | | | | | | | | |
| | Attendee Competition Stage - Area "Q" | Group Training Workouts - Area "I" | Healthy Eating Pavilion - Area "H" | Healthy Pets Canine Stunts - Area "N" | Loopkicks - Area "D" | Odd Haugen's Strength Classic - Area "G" | REIGN presents Battle of the Bars - Area "M" | Seminar Stage - Area "A" | Tony Jeffries Boxing Fitness Connect - Area "O" | USA Pickleball - Area "E" |
| --- | --- | --- | --- | --- | --- | --- | --- | --- | --- | --- |
| 11:30 am | | | | | | | | | | |
| 11:45 am | | | | | | | | | | |
| | Attendee Competition Stage - Area "Q" | Group Training Workouts - Area "I" | Healthy Eating Pavilion - Area "H" | Healthy Pets Canine Stunts - Area "N" | Loopkicks - Area "D" | Odd Haugen's Strength Classic - Area "G" | REIGN presents Battle of the Bars - Area "M" | Seminar Stage - Area "A" | Tony Jeffries Boxing Fitness Connect - Area "O" | USA Pickleball - Area "E" |
| --- | --- | --- | --- | --- | --- | --- | --- | --- | --- | --- |
| 12:00 pm | | | | | | | | | | |
| 12:15 pm | | | | | | | | | | |
| | Attendee Competition Stage - Area "Q" | Group Training Workouts - Area "I" | Healthy Eating Pavilion - Area "H" | Healthy Pets Canine Stunts - Area "N" | Loopkicks - Area "D" | Odd Haugen's Strength Classic - Area "G" | REIGN presents Battle of the Bars - Area "M" | Seminar Stage - Area "A" | Tony Jeffries Boxing Fitness Connect - Area "O" | USA Pickleball - Area "E" |
| --- | --- | --- | --- | --- | --- | --- | --- | --- | --- | --- |
| 12:30 pm | | | | | | | | | | |
| 12:45 pm | | | | | | | | | | |
| | Attendee Competition Stage - Area "Q" | Group Training Workouts - Area "I" | Healthy Eating Pavilion - Area "H" | Healthy Pets Canine Stunts - Area "N" | Loopkicks - Area "D" | Odd Haugen's Strength Classic - Area "G" | REIGN presents Battle of the Bars - Area "M" | Seminar Stage - Area "A" | Tony Jeffries Boxing Fitness Connect - Area "O" | USA Pickleball - Area "E" |
| --- | --- | --- | --- | --- | --- | --- | --- | --- | --- | --- |
| 1:00 pm | | | | | | | | | | |
| 1:15 pm | | | | | | | | | | |
| | Attendee Competition Stage - Area "Q" | Group Training Workouts - Area "I" | Healthy Eating Pavilion - Area "H" | Healthy Pets Canine Stunts - Area "N" | Loopkicks - Area "D" | Odd Haugen's Strength Classic - Area "G" | REIGN presents Battle of the Bars - Area "M" | Seminar Stage - Area "A" | Tony Jeffries Boxing Fitness Connect - Area "O" | USA Pickleball - Area "E" |
| --- | --- | --- | --- | --- | --- | --- | --- | --- | --- | --- |
| 1:30 pm | | | | | | | | | | |
| 1:45 pm | | | | | | | | | | |
| | Attendee Competition Stage - Area "Q" | Group Training Workouts - Area "I" | Healthy Eating Pavilion - Area "H" | Healthy Pets Canine Stunts - Area "N" | Loopkicks - Area "D" | Odd Haugen's Strength Classic - Area "G" | REIGN presents Battle of the Bars - Area "M" | Seminar Stage - Area "A" | Tony Jeffries Boxing Fitness Connect - Area "O" | USA Pickleball - Area "E" |
| --- | --- | --- | --- | --- | --- | --- | --- | --- | --- | --- |
| 2:00 pm | | | | | | | | | | |
| 2:15 pm | | | | | | | | | | |
| 2:30 pm | | | | | | | | | | |
| 2:45 pm | | | | | | | | | | |
| | Attendee Competition Stage - Area "Q" | Group Training Workouts - Area "I" | Healthy Eating Pavilion - Area "H" | Healthy Pets Canine Stunts - Area "N" | Loopkicks - Area "D" | Odd Haugen's Strength Classic - Area "G" | REIGN presents Battle of the Bars - Area "M" | Seminar Stage - Area "A" | Tony Jeffries Boxing Fitness Connect - Area "O" | USA Pickleball - Area "E" |
| --- | --- | --- | --- | --- | --- | --- | --- | --- | --- | --- |
| 3:00 pm | | | | | | | | | | |
| 3:15 pm | | | | | | | | | | |
| | Attendee Competition Stage - Area "Q" | Group Training Workouts - Area "I" | Healthy Eating Pavilion - Area "H" | Healthy Pets Canine Stunts - Area "N" | Loopkicks - Area "D" | Odd Haugen's Strength Classic - Area "G" | REIGN presents Battle of the Bars - Area "M" | Seminar Stage - Area "A" | Tony Jeffries Boxing Fitness Connect - Area "O" | USA Pickleball - Area "E" |
| --- | --- | --- | --- | --- | --- | --- | --- | --- | --- | --- |
| 3:30 pm | | | | | | | | | | |
| 3:45 pm | | | | | | | | | | |
| | Attendee Competition Stage - Area "Q" | Group Training Workouts - Area "I" | Healthy Eating Pavilion - Area "H" | Healthy Pets Canine Stunts - Area "N" | Loopkicks - Area "D" | Odd Haugen's Strength Classic - Area "G" | REIGN presents Battle of the Bars - Area "M" | Seminar Stage - Area "A" | Tony Jeffries Boxing Fitness Connect - Area "O" | USA Pickleball - Area "E" |
| --- | --- | --- | --- | --- | --- | --- | --- | --- | --- | --- |
| 4:00 pm | | | | | | | | | | |
| 4:15 pm | | | | | | | | | | |
| 4:30 pm | | | | | | | | | | |
| 4:45 pm | | | | | | | | | | |
| | Attendee Competition Stage - Area "Q" | Group Training Workouts - Area "I" | Healthy Eating Pavilion - Area "H" | Healthy Pets Canine Stunts - Area "N" | Loopkicks - Area "D" | Odd Haugen's Strength Classic - Area "G" | REIGN presents Battle of the Bars - Area "M" | Seminar Stage - Area "A" | Tony Jeffries Boxing Fitness Connect - Area "O" | USA Pickleball - Area "E" |
| --- | --- | --- | --- | --- | --- | --- | --- | --- | --- | --- |
| 10:45 am | | | | | | | | | | |
| 11:00 am | | | | | | | | | | |
| | Attendee Competition Stage - Area "Q" | Group Training Workouts - Area "I" | Healthy Eating Pavilion - Area "H" | Healthy Pets Canine Stunts - Area "N" | Loopkicks - Area "D" | Odd Haugen's Strength Classic - Area "G" | REIGN presents Battle of the Bars - Area "M" | Seminar Stage - Area "A" | Tony Jeffries Boxing Fitness Connect - Area "O" | USA Pickleball - Area "E" |
| --- | --- | --- | --- | --- | --- | --- | --- | --- | --- | --- |
| 11:45 am | | | | | | | | | | |
| 12:00 pm | | | | | | | | | | |
| | Attendee Competition Stage - Area "Q" | Group Training Workouts - Area "I" | Healthy Eating Pavilion - Area "H" | Healthy Pets Canine Stunts - Area "N" | Loopkicks - Area "D" | Odd Haugen's Strength Classic - Area "G" | REIGN presents Battle of the Bars - Area "M" | Seminar Stage - Area "A" | Tony Jeffries Boxing Fitness Connect - Area "O" | USA Pickleball - Area "E" |
| --- | --- | --- | --- | --- | --- | --- | --- | --- | --- | --- |
| 12:30 pm | | | | | | | | | | |
| 12:45 pm | | | | | | | | | | |
| | Attendee Competition Stage - Area "Q" | Group Training Workouts - Area "I" | Healthy Eating Pavilion - Area "H" | Healthy Pets Canine Stunts - Area "N" | Loopkicks - Area "D" | Odd Haugen's Strength Classic - Area "G" | REIGN presents Battle of the Bars - Area "M" | Seminar Stage - Area "A" | Tony Jeffries Boxing Fitness Connect - Area "O" | USA Pickleball - Area "E" |
| --- | --- | --- | --- | --- | --- | --- | --- | --- | --- | --- |
| 1:30 pm | | | | | | | | | | |
| 1:45 pm | | | | | | | | | | |
| | Attendee Competition Stage - Area "Q" | Group Training Workouts - Area "I" | Healthy Eating Pavilion - Area "H" | Healthy Pets Canine Stunts - Area "N" | Loopkicks - Area "D" | Odd Haugen's Strength Classic - Area "G" | REIGN presents Battle of the Bars - Area "M" | Seminar Stage - Area "A" | Tony Jeffries Boxing Fitness Connect - Area "O" | USA Pickleball - Area "E" |
| --- | --- | --- | --- | --- | --- | --- | --- | --- | --- | --- |
| 2:30 pm | | | | | | | | | | |
| 2:45 pm | | | | | | | | | | |
| | Attendee Competition Stage - Area "Q" | Group Training Workouts - Area "I" | Healthy Eating Pavilion - Area "H" | Healthy Pets Canine Stunts - Area "N" | Loopkicks - Area "D" | Odd Haugen's Strength Classic - Area "G" | REIGN presents Battle of the Bars - Area "M" | Seminar Stage - Area "A" | Tony Jeffries Boxing Fitness Connect - Area "O" | USA Pickleball - Area "E" |
| --- | --- | --- | --- | --- | --- | --- | --- | --- | --- | --- |
| 3:15 pm | | | | | | | | | | |
| 3:30 pm | | | | | | | | | | |
| | Attendee Competition Stage - Area "Q" | Group Training Workouts - Area "I" | Healthy Eating Pavilion - Area "H" | Healthy Pets Canine Stunts - Area "N" | Loopkicks - Area "D" | Odd Haugen's Strength Classic - Area "G" | REIGN presents Battle of the Bars - Area "M" | Seminar Stage - Area "A" | Tony Jeffries Boxing Fitness Connect - Area "O" | USA Pickleball - Area "E" |
| --- | --- | --- | --- | --- | --- | --- | --- | --- | --- | --- |
| 4:00 pm | | | | | | | | | | |
| 4:15 pm | | | | | | | | | | |
| | Attendee Competition Stage - Area "Q" | Group Training Workouts - Area "I" | Healthy Eating Pavilion - Area "H" | Healthy Pets Canine Stunts - Area "N" | Loopkicks - Area "D" | Odd Haugen's Strength Classic - Area "G" | REIGN presents Battle of the Bars - Area "M" | Seminar Stage - Area "A" | Tony Jeffries Boxing Fitness Connect - Area "O" | USA Pickleball - Area "E" |
| --- | --- | --- | --- | --- | --- | --- | --- | --- | --- | --- |
| 12:00 pm | | | | | | | | | | |
| 12:15 pm | | | | | | | | | | |
| 12:30 pm | | | | | | | | | | |
| | Attendee Competition Stage - Area "Q" | Group Training Workouts - Area "I" | Healthy Eating Pavilion - Area "H" | Healthy Pets Canine Stunts - Area "N" | Loopkicks - Area "D" | Odd Haugen's Strength Classic - Area "G" | REIGN presents Battle of the Bars - Area "M" | Seminar Stage - Area "A" | Tony Jeffries Boxing Fitness Connect - Area "O" | USA Pickleball - Area "E" |
| --- | --- | --- | --- | --- | --- | --- | --- | --- | --- | --- |
| 2:00 pm | | | | | | | | | | |
| 2:15 pm | | | | | | | | | | |
| 2:30 pm | | | | | | | | | | |
| | Attendee Competition Stage - Area "Q" | Group Training Workouts - Area "I" | Healthy Eating Pavilion - Area "H" | Healthy Pets Canine Stunts - Area "N" | Loopkicks - Area "D" | Odd Haugen's Strength Classic - Area "G" | REIGN presents Battle of the Bars - Area "M" | Seminar Stage - Area "A" | Tony Jeffries Boxing Fitness Connect - Area "O" | USA Pickleball - Area "E" |
| --- | --- | --- | --- | --- | --- | --- | --- | --- | --- | --- |
| 4:00 pm | | | | | | | | | | |
| 4:15 pm | | | | | | | | | | |
| 4:30 pm | | | | | | | | | | |
| | Attendee Competition Stage - Area "Q" | Group Training Workouts - Area "I" | Healthy Eating Pavilion - Area "H" | Healthy Pets Canine Stunts - Area "N" | Loopkicks - Area "D" | Odd Haugen's Strength Classic - Area "G" | REIGN presents Battle of the Bars - Area "M" | Seminar Stage - Area "A" | Tony Jeffries Boxing Fitness Connect - Area "O" | USA Pickleball - Area "E" |
| --- | --- | --- | --- | --- | --- | --- | --- | --- | --- | --- |
| 11:30 am | | | | | | | | | | |
| 11:45 am | | | | | | | | | | |
| | Attendee Competition Stage - Area "Q" | Group Training Workouts - Area "I" | Healthy Eating Pavilion - Area "H" | Healthy Pets Canine Stunts - Area "N" | Loopkicks - Area "D" | Odd Haugen's Strength Classic - Area "G" | REIGN presents Battle of the Bars - Area "M" | Seminar Stage - Area "A" | Tony Jeffries Boxing Fitness Connect - Area "O" | USA Pickleball - Area "E" |
| --- | --- | --- | --- | --- | --- | --- | --- | --- | --- | --- |
| 11:00 am | | | | | | | | | | |
| 11:15 am | | | | | | | | | | |
| | Attendee Competition Stage - Area "Q" | Group Training Workouts - Area "I" | Healthy Eating Pavilion - Area "H" | Healthy Pets Canine Stunts - Area "N" | Loopkicks - Area "D" | Odd Haugen's Strength Classic - Area "G" | REIGN presents Battle of the Bars - Area "M" | Seminar Stage - Area "A" | Tony Jeffries Boxing Fitness Connect - Area "O" | USA Pickleball - Area "E" |
| --- | --- | --- | --- | --- | --- | --- | --- | --- | --- | --- |
| 12:00 pm | | | | | | | | | | |
| 12:15 pm | | | | | | | | | | |
| 12:30 pm | | | | | | | | | | |
| 12:45 pm | | | | | | | | | | |
| | Attendee Competition Stage - Area "Q" | Group Training Workouts - Area "I" | Healthy Eating Pavilion - Area "H" | Healthy Pets Canine Stunts - Area "N" | Loopkicks - Area "D" | Odd Haugen's Strength Classic - Area "G" | REIGN presents Battle of the Bars - Area "M" | Seminar Stage - Area "A" | Tony Jeffries Boxing Fitness Connect - Area "O" | USA Pickleball - Area "E" |
| --- | --- | --- | --- | --- | --- | --- | --- | --- | --- | --- |
| 1:00 pm | | | | | | | | | | |
| 1:15 pm | | | | | | | | | | |
| 1:30 pm | | | | | | | | | | |
| 1:45 pm | | | | | | | | | | |
| | Attendee Competition Stage - Area "Q" | Group Training Workouts - Area "I" | Healthy Eating Pavilion - Area "H" | Healthy Pets Canine Stunts - Area "N" | Loopkicks - Area "D" | Odd Haugen's Strength Classic - Area "G" | REIGN presents Battle of the Bars - Area "M" | Seminar Stage - Area "A" | Tony Jeffries Boxing Fitness Connect - Area "O" | USA Pickleball - Area "E" |
| --- | --- | --- | --- | --- | --- | --- | --- | --- | --- | --- |
| 2:00 pm | | | | | | | | | | |
| 2:15 pm | | | | | | | | | | |
| | Attendee Competition Stage - Area "Q" | Group Training Workouts - Area "I" | Healthy Eating Pavilion - Area "H" | Healthy Pets Canine Stunts - Area "N" | Loopkicks - Area "D" | Odd Haugen's Strength Classic - Area "G" | REIGN presents Battle of the Bars - Area "M" | Seminar Stage - Area "A" | Tony Jeffries Boxing Fitness Connect - Area "O" | USA Pickleball - Area "E" |
| --- | --- | --- | --- | --- | --- | --- | --- | --- | --- | --- |
| 2:30 pm | | | | | | | | | | |
| 2:45 pm | | | | | | | | | | |
| 3:00 pm | | | | | | | | | | |
| 3:15 pm | | | | | | | | | | |
| 3:30 pm | | | | | | | | | | |
| 3:45 pm | | | | | | | | | | |
| 4:00 pm | | | | | | | | | | |
| 4:15 pm | | | | | | | | | | |
| 4:30 pm | | | | | | | | | | |
| 4:45 pm | | | | | | | | | | |
| | Attendee Competition Stage - Area "Q" | Group Training Workouts - Area "I" | Healthy Eating Pavilion - Area "H" | Healthy Pets Canine Stunts - Area "N" | Loopkicks - Area "D" | Odd Haugen's Strength Classic - Area "G" | REIGN presents Battle of the Bars - Area "M" | Seminar Stage - Area "A" | Tony Jeffries Boxing Fitness Connect - Area "O" | USA Pickleball - Area "E" |
| --- | --- | --- | --- | --- | --- | --- | --- | --- | --- | --- |
| 10:00 am | | | | | | | | | | |
| 10:15 am | | | | | | | | | | |
| 10:30 am | | | | | | | | | | |
| 10:45 am | | | | | | | | | | |
| | Attendee Competition Stage - Area "Q" | Group Training Workouts - Area "I" | Healthy Eating Pavilion - Area "H" | Healthy Pets Canine Stunts - Area "N" | Loopkicks - Area "D" | Odd Haugen's Strength Classic - Area "G" | REIGN presents Battle of the Bars - Area "M" | Seminar Stage - Area "A" | Tony Jeffries Boxing Fitness Connect - Area "O" | USA Pickleball - Area "E" |
| --- | --- | --- | --- | --- | --- | --- | --- | --- | --- | --- |
| 11:00 am | | | | | | | | | | |
| 11:15 am | | | | | | | | | | |
| | Attendee Competition Stage - Area "Q" | Group Training Workouts - Area "I" | Healthy Eating Pavilion - Area "H" | Healthy Pets Canine Stunts - Area "N" | Loopkicks - Area "D" | Odd Haugen's Strength Classic - Area "G" | REIGN presents Battle of the Bars - Area "M" | Seminar Stage - Area "A" | Tony Jeffries Boxing Fitness Connect - Area "O" | USA Pickleball - Area "E" |
| --- | --- | --- | --- | --- | --- | --- | --- | --- | --- | --- |
| 11:30 am | | | | | | | | | | |
| 11:45 am | | | | | | | | | | |
| 12:00 pm | | | | | | | | | | |
| 12:15 pm | | | | | | | | | | |
| | Attendee Competition Stage - Area "Q" | Group Training Workouts - Area "I" | Healthy Eating Pavilion - Area "H" | Healthy Pets Canine Stunts - Area "N" | Loopkicks - Area "D" | Odd Haugen's Strength Classic - Area "G" | REIGN presents Battle of the Bars - Area "M" | Seminar Stage - Area "A" | Tony Jeffries Boxing Fitness Connect - Area "O" | USA Pickleball - Area "E" |
| --- | --- | --- | --- | --- | --- | --- | --- | --- | --- | --- |
| 1:00 pm | | | | | | | | | | |
| 1:15 pm | | | | | | | | | | |
| 1:30 pm | | | | | | | | | | |
| 1:45 pm | | | | | | | | | | |
| | Attendee Competition Stage - Area "Q" | Group Training Workouts - Area "I" | Healthy Eating Pavilion - Area "H" | Healthy Pets Canine Stunts - Area "N" | Loopkicks - Area "D" | Odd Haugen's Strength Classic - Area "G" | REIGN presents Battle of the Bars - Area "M" | Seminar Stage - Area "A" | Tony Jeffries Boxing Fitness Connect - Area "O" | USA Pickleball - Area "E" |
| --- | --- | --- | --- | --- | --- | --- | --- | --- | --- | --- |
| 2:00 pm | | | | | | | | | | |
| 2:15 pm | | | | | | | | | | |
| 2:30 pm | | | | | | | | | | |
| 2:45 pm | | | | | | | | | | |
| 3:00 pm | | | | | | | | | | |
| 3:15 pm | | | | | | | | | | |
| 3:30 pm | | | | | | | | | | |
| 3:45 pm | | | | | | | | | | |
| | Attendee Competition Stage - Area "Q" | Group Training Workouts - Area "I" | Healthy Eating Pavilion - Area "H" | Healthy Pets Canine Stunts - Area "N" | Loopkicks - Area "D" | Odd Haugen's Strength Classic - Area "G" | REIGN presents Battle of the Bars - Area "M" | Seminar Stage - Area "A" | Tony Jeffries Boxing Fitness Connect - Area "O" | USA Pickleball - Area "E" |
| --- | --- | --- | --- | --- | --- | --- | --- | --- | --- | --- |
| 11:00 am | | | | | | | | | | |
| 11:15 am | | | | | | | | | | |
| 11:30 am | | | | | | | | | | |
| 11:45 am | | | | | | | | | | |
| 12:00 pm | | | | | | | | | | |
| 12:15 pm | | | | | | | | | | |
| 12:30 pm | | | | | | | | | | |
| 12:45 pm | | | | | | | | | | |
| 1:00 pm | | | | | | | | | | |
| 1:15 pm | | | | | | | | | | |
| 1:30 pm | | | | | | | | | | |
| | Attendee Competition Stage - Area "Q" | Group Training Workouts - Area "I" | Healthy Eating Pavilion - Area "H" | Healthy Pets Canine Stunts - Area "N" | Loopkicks - Area "D" | Odd Haugen's Strength Classic - Area "G" | REIGN presents Battle of the Bars - Area "M" | Seminar Stage - Area "A" | Tony Jeffries Boxing Fitness Connect - Area "O" | USA Pickleball - Area "E" |
| --- | --- | --- | --- | --- | --- | --- | --- | --- | --- | --- |
| 2:30 pm | | | | | | | | | | |
| 2:45 pm | | | | | | | | | | |
| 3:00 pm | | | | | | | | | | |
| 3:15 pm | | | | | | | | | | |
| 3:30 pm | | | | | | | | | | |
| 3:45 pm | | | | | | | | | | |
| 4:00 pm | | | | | | | | | | |
| 4:15 pm | | | | | | | | | | |
| 4:30 pm | | | | | | | | | | |
| 4:45 pm | | | | | | | | | | |
| | Attendee Competition Stage - Area "Q" | Group Training Workouts - Area "I" | Healthy Eating Pavilion - Area "H" | Healthy Pets Canine Stunts - Area "N" | Loopkicks - Area "D" | Odd Haugen's Strength Classic - Area "G" | REIGN presents Battle of the Bars - Area "M" | Seminar Stage - Area "A" | Tony Jeffries Boxing Fitness Connect - Area "O" | USA Pickleball - Area "E" |
| --- | --- | --- | --- | --- | --- | --- | --- | --- | --- | --- |
| 11:30 am | | | | | | | | | | |
| 11:45 am | | | | | | | | | | |
| 12:00 pm | | | | | | | | | | |
| | Attendee Competition Stage - Area "Q" | Group Training Workouts - Area "I" | Healthy Eating Pavilion - Area "H" | Healthy Pets Canine Stunts - Area "N" | Loopkicks - Area "D" | Odd Haugen's Strength Classic - Area "G" | REIGN presents Battle of the Bars - Area "M" | Seminar Stage - Area "A" | Tony Jeffries Boxing Fitness Connect - Area "O" | USA Pickleball - Area "E" |
| --- | --- | --- | --- | --- | --- | --- | --- | --- | --- | --- |
| 12:15 pm | | | | | | | | | | |
| 12:30 pm | | | | | | | | | | |
| | Attendee Competition Stage - Area "Q" | Group Training Workouts - Area "I" | Healthy Eating Pavilion - Area "H" | Healthy Pets Canine Stunts - Area "N" | Loopkicks - Area "D" | Odd Haugen's Strength Classic - Area "G" | REIGN presents Battle of the Bars - Area "M" | Seminar Stage - Area "A" | Tony Jeffries Boxing Fitness Connect - Area "O" | USA Pickleball - Area "E" |
| --- | --- | --- | --- | --- | --- | --- | --- | --- | --- | --- |
| 1:30 pm | | | | | | | | | | |
| 1:45 pm | | | | | | | | | | |
| | Attendee Competition Stage - Area "Q" | Group Training Workouts - Area "I" | Healthy Eating Pavilion - Area "H" | Healthy Pets Canine Stunts - Area "N" | Loopkicks - Area "D" | Odd Haugen's Strength Classic - Area "G" | REIGN presents Battle of the Bars - Area "M" | Seminar Stage - Area "A" | Tony Jeffries Boxing Fitness Connect - Area "O" | USA Pickleball - Area "E" |
| --- | --- | --- | --- | --- | --- | --- | --- | --- | --- | --- |
| 2:00 pm | | | | | | | | | | |
| 2:15 pm | | | | | | | | | | |
| | Attendee Competition Stage - Area "Q" | Group Training Workouts - Area "I" | Healthy Eating Pavilion - Area "H" | Healthy Pets Canine Stunts - Area "N" | Loopkicks - Area "D" | Odd Haugen's Strength Classic - Area "G" | REIGN presents Battle of the Bars - Area "M" | Seminar Stage - Area "A" | Tony Jeffries Boxing Fitness Connect - Area "O" | USA Pickleball - Area "E" |
| --- | --- | --- | --- | --- | --- | --- | --- | --- | --- | --- |
| 2:30 pm | | | | | | | | | | |
| 2:45 pm | | | | | | | | | | |
| 3:00 pm | | | | | | | | | | |
| | Attendee Competition Stage - Area "Q" | Group Training Workouts - Area "I" | Healthy Eating Pavilion - Area "H" | Healthy Pets Canine Stunts - Area "N" | Loopkicks - Area "D" | Odd Haugen's Strength Classic - Area "G" | REIGN presents Battle of the Bars - Area "M" | Seminar Stage - Area "A" | Tony Jeffries Boxing Fitness Connect - Area "O" | USA Pickleball - Area "E" |
| --- | --- | --- | --- | --- | --- | --- | --- | --- | --- | --- |
| 3:15 pm | | | | | | | | | | |
| 3:30 pm | | | | | | | | | | |
| 3:45 pm | | | | | | | | | | |
| | Attendee Competition Stage - Area "Q" | Group Training Workouts - Area "I" | Healthy Eating Pavilion - Area "H" | Healthy Pets Canine Stunts - Area "N" | Loopkicks - Area "D" | Odd Haugen's Strength Classic - Area "G" | REIGN presents Battle of the Bars - Area "M" | Seminar Stage - Area "A" | Tony Jeffries Boxing Fitness Connect - Area "O" | USA Pickleball - Area "E" |
| --- | --- | --- | --- | --- | --- | --- | --- | --- | --- | --- |
| 4:00 pm | | | | | | | | | | |
| 4:15 pm | | | | | | | | | | |
| 4:30 pm | | | | | | | | | | |
| | Attendee Competition Stage - Area "Q" | Group Training Workouts - Area "I" | Healthy Eating Pavilion - Area "H" | Healthy Pets Canine Stunts - Area "N" | Loopkicks - Area "D" | Odd Haugen's Strength Classic - Area "G" | REIGN presents Battle of the Bars - Area "M" | Seminar Stage - Area "A" | Tony Jeffries Boxing Fitness Connect - Area "O" | USA Pickleball - Area "E" |
| --- | --- | --- | --- | --- | --- | --- | --- | --- | --- | --- |
| 11:00 am | | | | | | | | | | |
| 11:15 am | | | | | | | | | | |
| 11:30 am | | | | | | | | | | |
| 11:45 am | | | | | | | | | | |
| 12:00 pm | | | | | | | | | | |
| 12:15 pm | | | | | | | | | | |
| 12:30 pm | | | | | | | | | | |
| 12:45 pm | | | | | | | | | | |
| | Attendee Competition Stage - Area "Q" | Group Training Workouts - Area "I" | Healthy Eating Pavilion - Area "H" | Healthy Pets Canine Stunts - Area "N" | Loopkicks - Area "D" | Odd Haugen's Strength Classic - Area "G" | REIGN presents Battle of the Bars - Area "M" | Seminar Stage - Area "A" | Tony Jeffries Boxing Fitness Connect - Area "O" | USA Pickleball - Area "E" |
| --- | --- | --- | --- | --- | --- | --- | --- | --- | --- | --- |
| 1:00 pm | | | | | | | | | | |
| 1:15 pm | | | | | | | | | | |
| 1:30 pm | | | | | | | | | | |
| 1:45 pm | | | | | | | | | | |
| 2:00 pm | | | | | | | | | | |
| 2:15 pm | | | | | | | | | | |
| | Attendee Competition Stage - Area "Q" | Group Training Workouts - Area "I" | Healthy Eating Pavilion - Area "H" | Healthy Pets Canine Stunts - Area "N" | Loopkicks - Area "D" | Odd Haugen's Strength Classic - Area "G" | REIGN presents Battle of the Bars - Area "M" | Seminar Stage - Area "A" | Tony Jeffries Boxing Fitness Connect - Area "O" | USA Pickleball - Area "E" |
| --- | --- | --- | --- | --- | --- | --- | --- | --- | --- | --- |
| 2:30 pm | | | | | | | | | | |
| 2:45 pm | | | | | | | | | | |
| 3:00 pm | | | | | | | | | | |
| 3:15 pm | | | | | | | | | | |
| 3:30 pm | | | | | | | | | | |
| 3:45 pm | | | | | | | | | | |
| 4:00 pm | | | | | | | | | | |
| 4:15 pm | | | | | | | | | | |
| 4:30 pm | | | | | | | | | | |
| 4:45 pm | | | | | | | | | | |
| 5:00 pm | | | | | | | | | | |
| 5:15 pm | | | | | | | | | | |
| 5:30 pm | | | | | | | | | | |
| 5:45 pm | | | | | | | | | | |
| 6:00 pm | | | | | | | | | | |
| 6:15 pm | | | | | | | | | | |
| 6:30 pm | | | | | | | | | | |
| 6:45 pm | | | | | | | | | | |
| 7:00 pm | | | | | | | | | | |
| 7:15 pm | | | | | | | | | | |
| 7:30 pm | | | | | | | | | | |
| 7:45 pm | | | | | | | | | | |
| 8:00 pm | | | | | | | | | | |
| 8:15 pm | | | | | | | | | | |
| 8:30 pm | | | | | | | | | | |
| 8:45 pm | | | | | | | | | | |
| 9:00 pm | | | | | | | | | | |
| 9:15 pm | | | | | | | | | | |
| 9:30 pm | | | | | | | | | | |
| 9:45 pm | | | | | | | | | | |
| 10:00 pm | | | | | | | | | | |
| 10:15 pm | | | | | | | | | | |
| 10:30 pm | | | | | | | | | | |
| 10:45 pm | | | | | | | | | | |
| 11:00 pm | | | | | | | | | | |
| 11:15 pm | | | | | | | | | | |
| 11:30 pm | | | | | | | | | | |
| 11:45 pm | | | | | | | | | | |
| | Attendee Competition Stage - Area "Q" | Group Training Workouts - Area "I" | Healthy Eating Pavilion - Area "H" | Healthy Pets Canine Stunts - Area "N" | Loopkicks - Area "D" | Odd Haugen's Strength Classic - Area "G" | REIGN presents Battle of the Bars - Area "M" | Seminar Stage - Area "A" | Tony Jeffries Boxing Fitness Connect - Area "O" | USA Pickleball - Area "E" |
| --- | --- | --- | --- | --- | --- | --- | --- | --- | --- | --- |
| 3:30 pm | | | | | | | | | | |
| 3:45 pm | | | | | | | | | | |
| | Attendee Competition Stage - Area "Q" | Group Training Workouts - Area "I" | Healthy Eating Pavilion - Area "H" | Healthy Pets Canine Stunts - Area "N" | Loopkicks - Area "D" | Odd Haugen's Strength Classic - Area "G" | REIGN presents Battle of the Bars - Area "M" | Seminar Stage - Area "A" | Tony Jeffries Boxing Fitness Connect - Area "O" | USA Pickleball - Area "E" |
| --- | --- | --- | --- | --- | --- | --- | --- | --- | --- | --- |
| 2:00 pm | | | | | | | | | | |
| 2:15 pm | | | | | | | | | | |
| 2:30 pm | | | | | | | | | | |
| 2:45 pm | | | | | | | | | | |
| 3:00 pm | | | | | | | | | | |
| 3:15 pm | | | | | | | | | | |
| 3:30 pm | | | | | | | | | | |
| 3:45 pm | | | | | | | | | | |
| 4:00 pm | | | | | | | | | | |
| 4:15 pm | | | | | | | | | | |
| 4:30 pm | | | | | | | | | | |
| 4:45 pm | | | | | | | | | | |
OUR SPONSORS: