JANUARY 14 • SATURDAY SCHEDULE
10:00 AM – 5:00 PM
CLICK HERE TO VIEW FLOOR PLAN AND EXHIBITOR LISTINGS
Guests & sessions are subject to change. Active classes require participants to sign a waiver of liability to attend.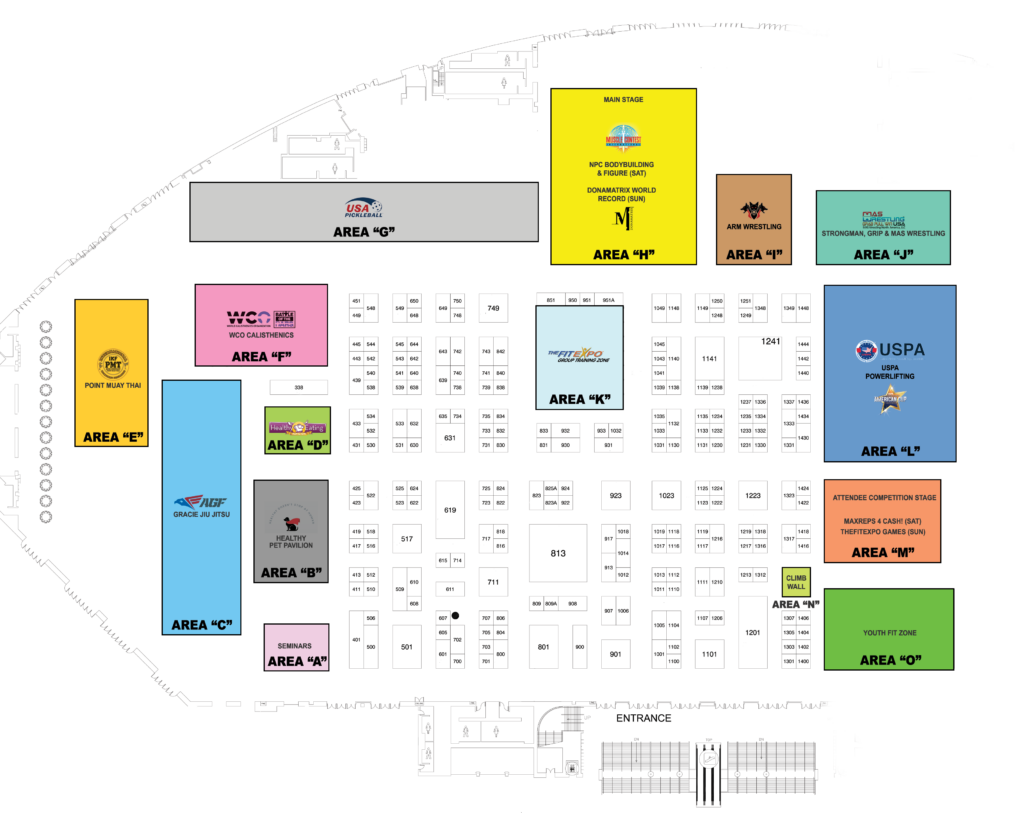 ALL DAY EVENTS: TBD
Against Odds Standing Hurdle & Running Hurdles Competition SUNDAY. STOP BY BOOTH #1418 SATURDAY to qualify to compete WIN CASH!
AGF 2023 Los Angeles BJJ Championships
Attendee Competition Stage WIN CASH! MaxReps 4 Cash (sign up to compete at stage) and FitTv's Babes n' Biceps (sign-up booth #1416)
Canine Stars Stunt Team Performances 12:00 pm, 2:00 pm and 4:00 pm
CLIMB-IT Rock Climbing Wall (for all ages)
Group Training Zone Mini-Workouts (stop by and take a class–see SCHEDULE BY TIME for each session)
Healthy Eating Pavilion (cooking demos, nutritional advice, samples)
IFK Point Muay Thai (no knockout/semi contact)
NPC Muscle Contest Challenge (National Qualifer)
REIGN Total Body Fuel presents WCO's BATTLE OF THE BARS ™
Seminar Stage featuring Q&A's, Tips and more from Pro-Athletes, Influencers & Celebrity Trainers (see SCHEDULE BY TIME for each session)
The 2023 Odd Haugen Strength Classic All-American Strongman Challenge (MAS Wrestling/Armlifting) presented by Cerberus
UAL Armwrestling
USA Pickleball Demos & Beginner Courts (all welcome)
USPA 2023 American Cup
WATCH LIVE AS B STREET SHOES CUSTOMIZES KICKS BOOTH #930
Youth Fit Zone (fun & creative activities for the whole family)
SCHEDULED EVENTS:
OUR SPONSORS: