TheFitExpo San Diego 2018
Group Training Zone Stage
You can view or download the GTZ schedule click HERE for PDF.
Saturday Only
Presenters and Workout Sessions, Demos & Challenges:
10:00 am (Saturday only) | Powerful Play Games for Adults with Brett Klika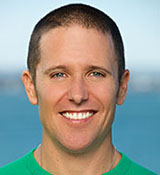 Unleash the power of play and inspire adults to be active for life! In this hands on, dynamic workshop, discover how to integrate games and other fun activities into group training sessions. Discover how play-based activities are actually powerful not only for fitness, but brain power as well. Go home with over 20 unique games and activities you can use right away to get your clients smiling while they sweat!
11:00 am (Saturday only) | Total Body Bootcamp – @GetFitWithGiddy with Gideon Akande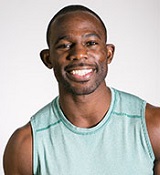 Prepare to sweat like you've never sweat before! Join fitness expert Gideon Akande, the Men's Health Next Top Trainer and RIPTENSITY™ training program creator, for a fast-paced workout designed to light your fitness fire! This experience will introduce you to creative movement patterns while experiencing forward thinking training protocols. Gideon's elite training style, exhilarating enthusiasm, and robust exercise catalogue will be sure to revive your inner athlete and leaving you gasping…for more! All ages and fitness levels are welcome.
12:00 pm (Saturday only) | Zumba Dance Party with Eliza Stone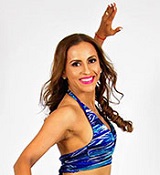 Are you ready to party yourself into shape? Forget the workout, just lose yourself in the music and find yourself in shape at the original dance-fitness party. Zumba® classes feature exotic rhythms set to high-energy Latin and International beats. Before you know it, you'll be getting fit and your energy levels will be soaring! It's easy to do, effective and totally exhilarating.
12:30 pm (Saturday only) | Muscle Up with Mike Douglass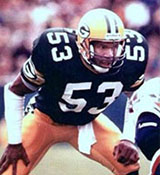 Challenge your body with resistance and intention. You can become lean and mean in half the time simply by using resistance tubing in a focused way. Put in the work and enjoy the results!
1:00 pm (Saturday only) | IMMABEAST Dance Workout with Will Adams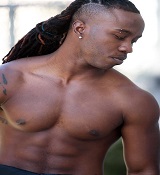 Join FitExpo Sponsor IMMABEAST for an original dance workout where your instructors will put the dance in the workout!
IMMABEAST is a dance company created by one of our countries most sought after choreographers, Will "WilldaBeast" Adams who has danced for artists such as Usher, T-Pain, The Black Eyed Peas, Jason Derulo, Zendaya, 5th Harmony, Demi Lovato, GLEE, X-Factor, Nissan, MTV, Butterfinger, and Madonna.
4:00 pm (Saturday only) | Product Palooza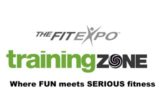 TheFitExpo is the place to try new products and meet your favorite fitness influencers. Come check out what's new in the workout world at the GTZ Stage and get a chance to try something new. Participants who do stop by and try will either win an instant prize from our amazing FitExpo exhibitors or be entered in a stage drawing.
5:00 pm (Saturday Only) | WOW the Crowd Dance Fitness Instructor Challenge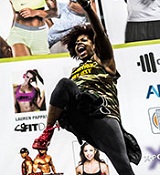 Are you a dance fitness instructor with a dynamic personality, entertaining skills, and fierce originality that can Wow The Crowd? Want to win a huge cash prize and the chance to show out on stage at TheFitExpo? Now's your chance to join our search for the best instructors on the scene! From Latin to Urban Hip Hop, Dancehall to Jazzercise, the search is on to find the most dynamic, entertaining and fierce fitness instructor. GROOV3 is on a mission to expose the most talented dance fitness instructors on the scene by giving them an opportunity to shine in front of a live audience. Each instructor will have 5 minutes to WOW THE CROWD with their charisma, personality, and talent by leading the crowd in their favorite style. In the end, the crowd will vote on who they believe is the "Best in the Business" and 1 winner will be crowned.
Register Online