NASM/AFAA Fit Pro Day – "The latest in training and nutrition"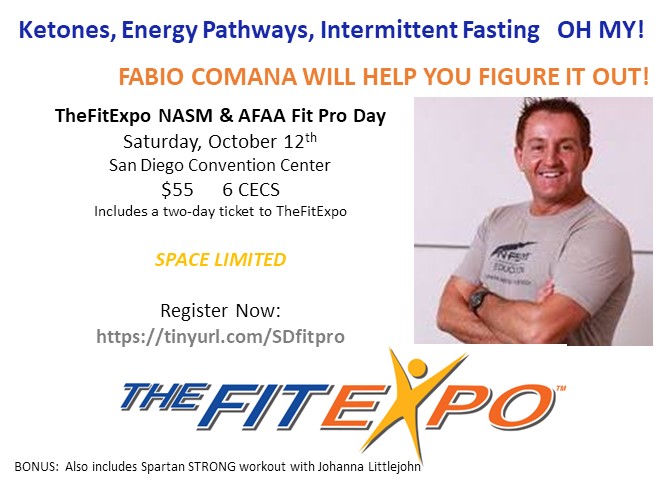 As the leader in certifications and continuing education for personal trainers and group exercise instructors, TheFitExpo turns to NASM and AFAA for Fit Pro Education. In San Diego, NASM will offer an exclusive Fit Pro Day on Saturday, October 12th from 9:00 a.m. to event closing. This Special Day will feature industry expert, Fabio Comana and will include a two-day wristband to TheFitExpo. Check in at the Group Training Zone Kiosk at 8:30am on Saturday and make your way to the Fit Pro Conference Room. You will spend 3 hours with Fabio and other trainers learning the latest in training and nutrition. After a lunch break, Fit Pro Day Attendees will jump in to workouts at the Group Training Zone Stage (GTZ) including a Spartan Studio SGX Workout with Johanna Littlejohn. Your clients are training for challenges, like Spartan. Experience grip training, full body preparation for going over and under walls AND focus on team building. Other GTZ Workouts are offered that afternoon and included in your day. Workout & Win at the GTZ or experience all that TheFitExpo has to offer. The NASM Fit Pro Day will be offered at $55 (includes FitExpo entrance) and will include 5 ceus.
SCHEDULE:
TheFitExpo Fit Pro Day – Saturday October 12, 2019
Earn .5/5 CEUs and enjoy the full weekend at the Expo!
$55.00 includes
– Weekend wristband to the San Diego FitExpo ($40.00 value)
– 3 hour Nutrition Updates workshop with Fabio Comma
– 2 hour Spartan Strong in Studio Session
Nutrition Updates – 2020 and Beyond (9:00 am to 12:00 pm)
Join us for a comprehensive review of hot nutrition topics, sorting through the myths with research, separating fact from fiction and learn relevant applications to help yourself and others well into the New Year and beyond.
1. Sugar v. Non-nutritive sweeteners – which is worse
2. Fat and metabolism – updates
3. Ketones and the energy pathways
4. Intermittent fasting v. dieting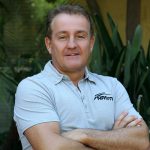 Presenter: Fabio Comana, MA, MS. NASM CPT, CES & PES; ACE CPT & HC; NSCA CSCS; USAW1; ACSM EP-C, CISSN. Exercise Physiologist and Faculty Instructor – SDSU, National Academy of Sports Medicine (NASM).
To register, click this link: PRO Day Registration