TheFitExpo Fit Pro Opportunities
VIRTUAL EVENTS – All virtual events offered by partners will require technology to access the content
LIVE EVENTS – All live education includes a two day wristband to TheFitExpo ($45 value)
Fit Pro Days
We have teamed up with Zumba, NASM/AFAA and other GTZ Sponsors to bring you both virtual and live events in 2020. CECs vary for virtual events and our live events include up to 8/.8 cecs. Check back frequently as we continue to update this page.
Partner Trainings at TheFitExpo – Prices Vary
Zumba and Strong Nation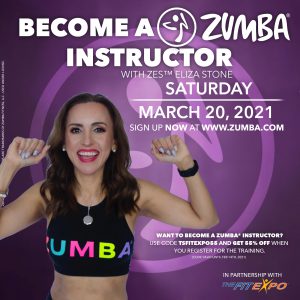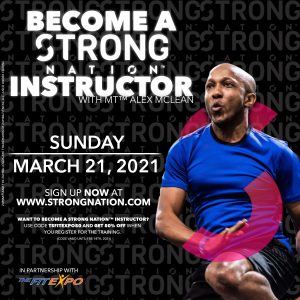 Zumba® is offering 3 instructor training workshops at TheFitExpo — Zumba®Basic SPANISH, Zumba®Basic and Strong Nation. Learn the Zumba® formula! You can also reserve space to win prizes in the Strong Nation Challenge happening Sunday at 12:30 on the Group Training Zone Stage.
ZUMBA
STRONG NATION
Billy Blanks Taebo Experience
The Billy Blanks Workshop is an exciting workout, consisting of 8 basic Martial Arts moves combined with upper body boxing Kata techniques. It is a high intensity workout, joining cardio-kickboxing and mixed martial arts, performed to music specifically designed for the exercise. Boxing bags and hand pads are used for striking, but the exercise can be done without these accessories.
Other Fit Pro Opportunities at TheFitExpo – Included with Regular Admission
Fitness Career Center
Consider your next career move at TheFitExpo. Whether you are just getting started with your career in fitness or are a seasoned industry pro, TheFitExpo has you covered! LEARN MORE
Group Training Zone
The Group Training Zone Stage features workout sessions and contests for all FitExpo and FitnessFest attendees. Come dressed to workout and WIN with your favorite fitness celebrities and top workout brands. Cash and prizes will be given out throughout the weekend for participating attendees.LEARN MORE
WOW the Crowd
Is dance or dance fitness your go to for cardio? If so, you are going to want to be a part of our Wow the Crowd experience at TheFitExpo with our Fit Pro Contest on Saturday and Attendee Contest on Sunday with $500 in cash being given away! Everyone loves a good challenge and both days we will see who can "bring it" to the GTZ Stage and Wow the Crowd. LEARN MORE