TheFitExpo San Diego Schedules
SATURDAY
SUNDAY
CLICK HERE TO VIEW FLOOR PLAN AND EXHIBITOR LISTINGS
Guests & sessions are subject to change. Active classes require participants to sign a waiver of liability to attend.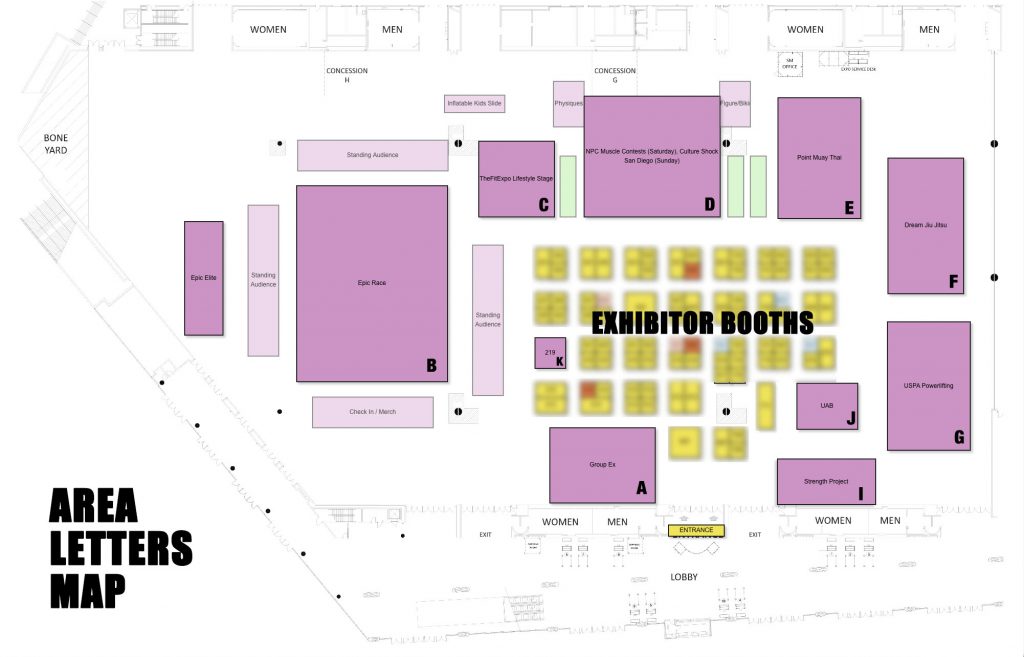 Celebrity Guest Booths
Arms Race Nutrition # 331
Julian Smith, Sam Sweeney & Zach Andrews
AsktheExperts "Area K"
Saturday-
12:00 pm & 3:30 pm -Chef Mareya
1:00 pm & 2:30 pm- Chef Andre Rush
1:30 pm-Paige Hathaway
3:00 pm-Sarah & Xavisus Gayden
Sunday-
11:30 pm & 3:00 pm-Chef Mareya
12:30 pm & 2:00 pm-Chef Andre Rush
1:00 pm-Terry & Tina Shorter
Brad Castleberry #530
C4 Booth #706
Diego Sebastian
Center Stage "Area D"
Saturday – NPC Bodybuilding Competition
Sunday – Culture Shock Dance
Chef Andre Rush #321
Cutler Athletics #631
Jay Cutler
Elite Bodies By Eddie #326
Chris Cormier
Gideon Akande #213
Group Training Zone Stage and Booth # 213
All weekend check schedule for appearance times:
Gideon Akande, Kris Barr, Eric Bassett, Simon Carter,
Michael Cummings, Dance Fever 3D, Abhish Desai, Mike Douglass, Bo Francy, Kaleila Jordan, Krista Jacobs,
Correy Jones, Maria Kang , Lita Lewis, Mychele & Eliza Stone
Grown Strong #231
Lauren Fisher & Rasmus Anderson
Guy Cisternino, Jr. # 831
Kai Collection Booth #420
Fernanda Lily Amaya
Kinetik Performance #215
Jonathan Pierce
Demi Bagby Saturday, 1:00 pm
Mobility Wall #413, #512
Aaron Williamson
Paige Hathaway #324 Saturday
Regan Grimes #332
Sergio Oliva, Jr. #832
Strength Project Truck "Area "I"
Athletes & Performers all weekend:
Arash Baboo, Enrique Bribiesca, Oksana Grishini, Andrew Hoskins,
Gabriel Padilla, Dru Peebles & Sam Tribble
TheFitExpo Stage Area "C"
Saturday—
11:45 am- Rick Simmons, Christina Sisk & Josh Simon
12:45 pm- Gideon Akande, Mike Douglass, Chris Keith & Aaron Williamson
1:30 pm -Chris Cormier, Pete Ciccone, Xavisus & Sarah Gayden, Jared Wollmann & Brad Castleberry
3:00 pm -Julian Smith & Sam Sweeney
3:30 pm -Lauren Fisher
Sunday-
12:00 pm-Coach Hunt & Jonathan Pierce
1:30 pm-VisionTwins
2:30 pm-Sergio Oliva, Jr., Oksana Grishini, Julian Smith, Yarishna Ayala, Regan Grimes & Guy Cisternino, Jr.
Thick Athletics #418
Lita Lewis
TheFitFoodie (eatCleaner) #319
Chef Mareya
Ultimate Athlete Bootcamp "Area J"
Michael Myers & D'Juan Woods
VisionTwins #527
Xavisus & Sarah Gayden #830
Yarishna Ayala #330