THEFITEXPO PODCAST SERIES
IN PARTNERSHIP WITH ESCAPE FITNESS
HOSTED BY MATTHEW JANUSZEK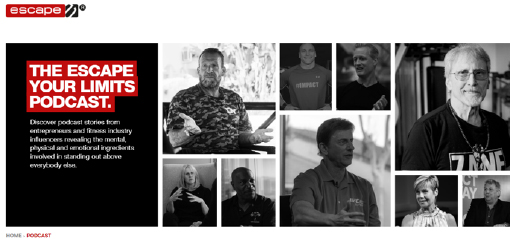 SUCCESS STORIES AND LIFE ADVICE FROM BUSINESS LEADERS, ENTREPRENEURS AND FITNESS ICONS
Escape Fitness, a world-wide Fitness Brand, has curated a special TheFitExpo podcast series. ​The series includes a special interview with Erin Ferries, executive director of TheFitExpo and we turn the tables on Matthew in a special podcast when he is interviewed by TheFitExpo emcee Katerina Kountouris.
The Escape Your Limits podcast enables subscribers to discover why successful people keep going when most others stop, and what keeps them on the hunt for further success day after day. It's not about shortcuts for dreamers; these people prove that constant hard work fueled by the right frame of mind is what makes dreams a reality. In every episode, entrepreneurs share how to make this happen for anyone.
Guests have included Mr Olympia winners and bodybuilding legends such as Frank Zane, Lee Haney, Dorian Yates; fitness celebrities Kali Muscle, Jim Stoppani, Mike Rashid; business leaders and entrepreneurs from fitness industry institutions such as 24 Hour Fitness, ukactive, DW Fitness First, Gymbox, 1Rebel, IHRSA, UFC GYM, MMA fighters and motivational speakers that inspire audiences around the world. Follow this link to choose a podcast to listen to today, tomorrow, or another time in the future.