Exhibiting at TheFitExpo San Jose 2024
NOW AT THE SANTA CLARA CONVENTION CENTER
---
TheFitExpo will be returning to Northern California with its unique blend of fitness competitions, famous celebrities and fabulous exhibit booths at the Santa Clara Convention Center. Conveniently located on the southern coast of San Francisco Bay immediately west of San Jose and just 45 miles southeast of San Francisco, Santa Clara is easily accessible to people who live anywhere in the Bay Area.
As with all of our shows, the Expo includes amazing fitness, physique, martial arts, and strength contests. In addition, there are demonstrations of popular fitness trends like Epic Series Obstacle Racing; a group exercise program featuring some of the most popular classes and top instructors; dozens of celebrity athlete appearances, and our popular "Healthy Eating Pavilion" featuring cooking demonstrations, recipe makeovers and plenty of sampling.
More importantly, the Expo attracts tens of thousands of knowledgeable and engaged fitness enthusiasts, as well as some influential industry professionals (personal trainers, group exercise instructors, gym owners and retail store buyers), making it one of the most cost effective ways to reach the lucrative Northern California health and fitness market.
So whether you're a start-up just launching your company, or an established brand looking to grow your market share, don't miss this unique opportunity to meet and network with all of them in one place, on one weekend.
Additional information about the show and becoming an exhibitor can be found by scrolling down this page.
Of course, if you still have any questions, feel free to email or call us at your convenience and we'll address them for you right away.
Until then, thanks again for your interest and we hope you'll be able to join us in 2024 at the Santa Clara Convention Center.
EMAIL US
(888) FIT-EXPO or sales@thefitexpo.com
www.thefitexpo.com
---
WHY YOU SHOULD EXHIBIT AT THEFITEXPO
---
EXHIBITOR TESTIMONIALS
Don't just take our word…click on the video below to watch a short 3-minute video of testimonials from some of the thousands of companies that actually exhibited at our Expos…
Click here for more written testimonials from some of our exhibitors.
---
DIGITAL BROCHURE
To view our current event brochure please click to LEARN MORE (PDF 7MB)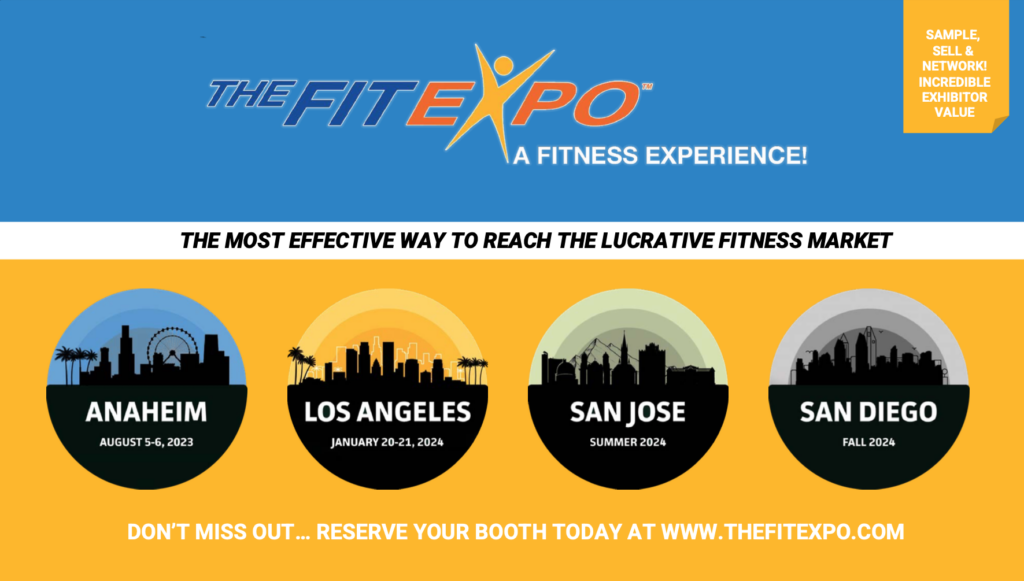 ---
PREVIOUS EXHIBITORS
Click here to see a full list of previous SJ exhibitors.
---
ATTENDEE DEMOGRAPHICS
| | |
| --- | --- |
| • 61% Male, 39% Female | • 79% In the key 18-35 demographic |
| • 57% Earn at least $50,000 per year | • 26% Earn $100,000 or more |
| • 95% Work out at least 3 times a week | • 67% Work out 5 or more times a week |
| • 91% Take vitamins or supplements | • 71% Use energy drinks |
| • 53% Want to lose weight | • 72% Want a healthier lifestyle |
| • 54% Own home exercise equipment | • 66% Bought workout clothing in the last 12 months |
---
COST OF A BOOTH
All exhibit booths are 10 feet x 10 feet in size. Inline booth spaces go for $1,800 for the weekend and corner booth spaces are just $1,900. Exhibitors can purchase multiple booths in almost any configuration they desire. Each booth comes with a skirted 6 foot long table, 2 chairs, and a small waste basket.
---
SHARING A BOOTH
Companies with a limited budget, or that don't need a lot of space in order to effectively promote their goods or services, can "share" a booth and cut the cost in half.
The way we do this is by splitting a 10' x 10' corner booth in half diagonally. That way, each company still has access to one of the 10 foot long sides of the booth that is on an aisle.
If you know another company that wants to share it with you, we will gladly place you together. If not, we will introduce you in advance to another company that also wants to share a booth and doesn't offer similar products. That way you can make sure you'll be compatible together in the same booth.
---
DISCOUNT COUPON
All exhibitors will receive a complimentary, digital discount coupon that you can send to your existing customers, prospects, family, friends or followers for savings on daily admission tickets to the expo.
---
EXHIBITOR CONTRACT
If you're ready to sign up, simply download the Exhibitor Contract and email or fax it back to us.
Go to the live floorplan so you can select your top 3 booth choices and enter them in Section 2 on Page 1.
We normally require a deposit of 50% to hold a space with the balance due 60 days prior to the start of the show.
If you're paying by credit card, download and complete the Credit Card Authorization Form and email or fax it to us. If you prefer to provide your credit card info via phone, that is perfectly fine.
Be sure to sign Section 7 on Page 1 and initial all 5 of the boxes on Page 2.
---
FLOOR PLAN
TheFitExpo San Jose will be held at the Santa Clara Convention Center. Info coming soon!
---
SPONSORSHIP PACKAGES
We offer 4 sponsorship packages designed to fit different budgets: Supporting, Major, Presenting and Title Sponsorship.
Keep in mind, these packages are designed to work for almost any type of company regardless of what kind of product or service they sell. Where it gets to be fun is when we can be creative and customize the packages around the unique sales or marketing goals of the sponsoring company.
---
EXHIBITOR KIT
*Links to Exhibitor Kits will be sent to the contact listed in the contract.

---
HOTEL INFORMATION
Click here for more San Jose hotel information.
---
Please note: If you are being contacted by companies asking if you would like to purchase TheFitExpo Exhibitor and or Attendee email or contact information, please note that they are NOT legitimate companies and they do NOT have our lists for sale. Please forward any such inquiries you may receive to info@thefitexpo.com.