Exhibitors & Sponsors at
TheFitExpo Virtual Experience 2020
Over the last 17 years TheFitExpo brand has come to represent the most diverse, consumer-oriented and family-friendly, fitness expos in the country. In 2019 our 4 California based shows collectively drew over 125,000 people with our Los Angeles show drawing over 60,000, making it the largest consumer fitness expo in the western United States.
But as a result of the Covid-19 virus, large events like ours have been postponed or cancelled, resulting in companies like yours losing out on valuable exposure and sales you were counting on. And without shows to exhibit at, you need other ways to reach the people who would have attended them.
So now, is the perfect time for us to launch our first "Virtual FitExpo".
Our goal is not to replace our in-person events. Rather it's to add the Virtual component to them when we're able to resume holding in-person events again. But in the meantime, we're going to launch a completely virtual Expo in mid-November.
What You Get With Your Virtual Booth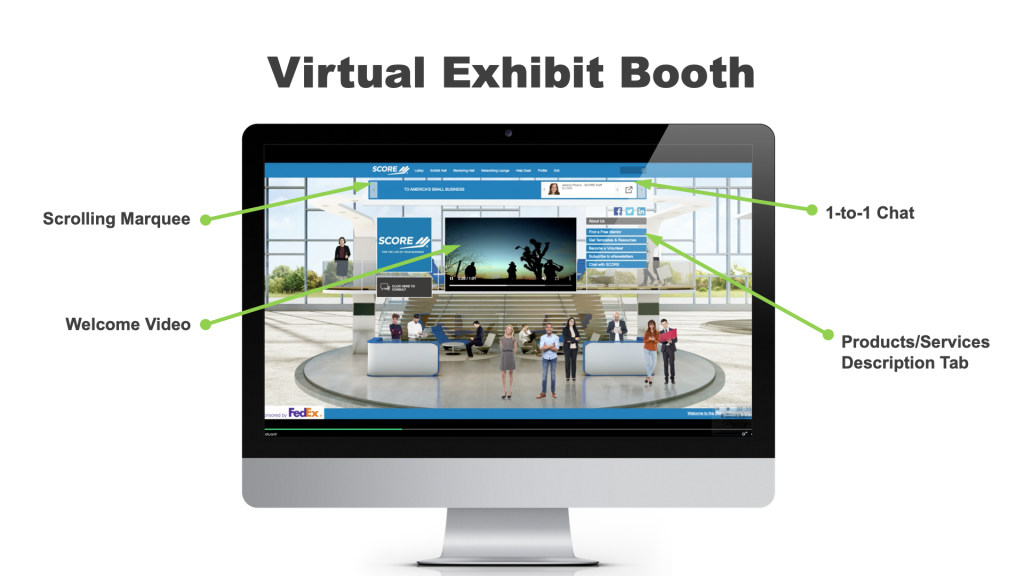 The virtual exhibit booth is an opportunity to brand, promote, and sell for up to 3 months of time. Features available within the booth space include:
Product/Services Description Tab: upload flyers or sales sheets that attendees can view, download and print, or provide links to take them directly to your website or social media sites.
Welcome Video: upload a pre-recorded "Welcome" video promoting your company and products, or highlighting any other element of the Virtual Expo you may be participating in.
Scrolling Marquee: use the scrolling text message along the top of your virtual booth to promote special offers, new products/services or events happening in your booth.
1 to 1 Chat: have your staff members or spokespeople interact directly with attendees during the live, launch weekend on a 1 to 1 basis using the built-in chat feature.
Zoom Presentation: your staff or spokespersons can host a live, Zoom meeting or seminar during the live, launch weekend.
Gift Card in Attendees' Goodie Bags: provide a Gift Card of any value which will be included in all attendees' Goodie Bags that they receive when they enter the Virtual Expo.
Prize Center: donate products or services that will be featured in the "Prize Center" during the live, launch weekend.
Fitness Career Center: post job openings for your company during the entire 90 days the Virtual Expo will be online. Attendees interested in applying will be able to click on a button to contact you or upload a resume.
How Much Does It Cost To Exhibit?
It's just $699* for all 3 months the Virtual Expo will be up online. And if you've exhibited with us before, we'll apply the 5% or 10% multi-show discount that will reduce it by $35 to $70. We'll also apply $200 to the cost of a booth at any of our future in-person Expos. So your true net cost may be as low as $429. *Price guaranteed through August 15, 2020
And since you won't have to worry about airfare, hotel, shipping or labor costs, participating in the Virtual Expo could really be viewed as an advertising expense instead of coming from your events budget.
Sponsorship Packages
For those of you interested in additional exposure and benefits, we're offering some really affordable integrated sponsorship packages. Click on the tab on this page to view them.
How To Sign Up
If you're ready to sign up for the Virtual FitExpo, simply complete the Exhibitor Contract on this page and return it to us.
Exhibitor Contract (pdf)
Of course, if you have any questions about either the Virtual Expo or our in-person shows, feel free to email or call us. Sales@TheFitExpo.com and (888) FIT-EXPO
So I hope you'll consider joining us as I think you'll find what we're attempting to build will be both innovative as well as potentially valuable to you as an exhibitor.