IFBB Pro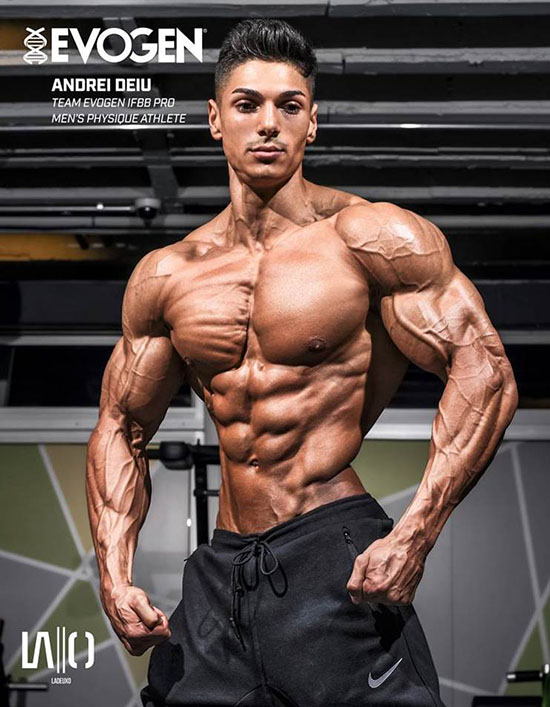 IFBB Pro League Men's Physique Athlete and London-based fitness model, Andrei Deiu, has signed with Team Evogen Elite. Andrei may be a fresh face on the Men's Physique stage, but he already brings an impressive track record with him.
Andrei currently works as a fitness influencer and professional sponsored athlete. He began working out at the age of 15, right after moving from Romania to the United Kingdom with his family. Suddenly in a new environment with few friends, Andrei decided to find himself a hobby to pass the time: weightlifting. The gym became a second home and new social outlet for him.
Andrei competed in his first bodybuilding competition at the age of 17, and while he didn't place at this show, he knew his new hobby had become his passion and was excited to continue competing. A few years later, at age 19, Andrei won the 2014 Miami UK Fitness & Model Championships in St. Albans near London taking the overall in Men's Physique.
Andrei continued his impressive winning streak, placing 1st in Men's Physique at both the UKBFF FitCon and UKBFF Portsmouth, and placing 2nd at the Arnold Classic Europe. More recently, Andrei was awarded his IFBB PRO card at the 2017 Amateur Olympia San Marino after placing 1st in his category.
At age 22, it's clear that Andrei has the dedication and drive to become a true contender on the Men's Physique stage. Furthermore, he now has the expertise and support of Team Evogen behind him, all of which can only help him further his promising fitness career.
Between competitions, Andrei admits that he doesn't really have an 'off-season', since he's always trying to stay in shape for videos or shoots as a fitness model. Nevertheless, he does manage to clock some down time with family and friends and is forever thankful for the new sense of self confidence that competing has given him. Andrei will be joining Team Evogen at the Olympia Expo this year, so be sure to keep an eye out for this rising star at the booth!