IF YOU'VE GOT THE WILL, TAE BO® FITNESS IS THE WAY!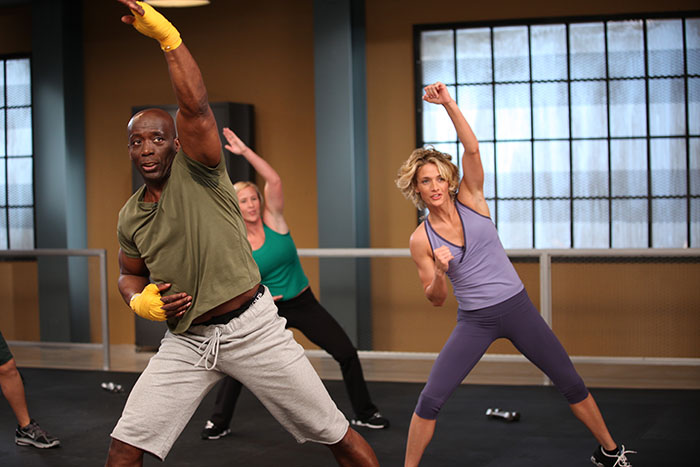 Billy Blanks® has built a worldwide reputation as one of the most trusted names in fitness. As a 7-time Martial Arts Champion, creator of Tae Bo® Fitness, actor, humanitarian, husband, and father, Billy Blanks is a man of many talents. But he also is a man of a singular goal – helping others discover the power within themselves to achieve and do anything they want to.
Born the forth child of fifteen, Billy struggled early on in a hard neighborhood of Erie Pennsylvania. He had a difficult time in school because of undiagnosed dyslexia and was additionally burdened with a hip problem. But through martial arts classes and incredible determination, Billy became an eight-degree black belt in Tae Kwon Do going on to win 36 gold medals in international competition, becoming a 7-time world karate champion and earning admissions to the Karate Hall of Fame in 1982.
Billy Blanks has devoted much of his life to helping millions of people around the world get in shape and feel great. He has trained numerous celebrities, athletes, military personnel, and everyday people around the world with his revolutionary Tae Bo® Workout.
Check out Billy at the Group Training Zone!
About Tae Bo
Tae Bo® Fitness is the original, groundbreaking workout that is over twenty years strong! Our revolutionary workouts are proven to heighten self-awareness and self-confidence by fostering a complete sense of well-being and empowerment. Tae Bo® Fitness' trademark workouts are known to enhance strength, speed, balance, and mental awareness, by combining aspects of Boxing, Martial Arts, and dance with adrenaline racing musical beats, creating an unparalleled total body workout for any fitness level. The combination of these elements gives our workouts energy and rhythm, which improves coordination and cardiovascular health, and keeps them entertaining and fun while at the same time burning tons of calories.
Our workouts change people from the inside out and have helped millions of fitness enthusiast around the world change their waistlines, while pushing them to achieve more physically and mentally. Regardless of age or current fitness level, Tae Bo® Fitness has a program that will help you reach your fitness goals and maintain a healthy, active lifestyle.