Fitness Model, Owner of CaitlinRiceFit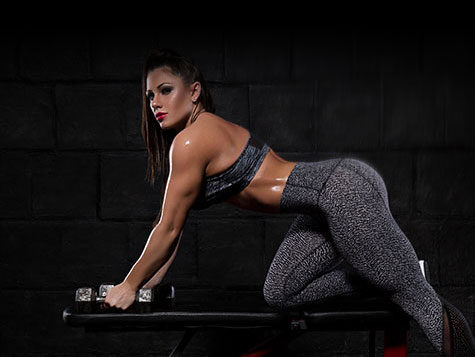 I'm originally from the United States. I grew up an "Army brat," constantly moving from place to place. I started in fashion modeling at the age of 16 in Atlanta, Georgia. My diet was absolutely horrible. The fashion industry put pressure on me to be rail thin so my diet ended up consisting of pretty much nothing. I was on the verge of an eating disorder, malnourished and unhappy.
I decided to get away from that lifestyle and focus on my college career. I started doing a bit of cardio and a lot of partying! I was eating again but not very healthfully. I gained 15 pounds and was what I call "skinny fat." I had no muscle definition and a little belly from all the alcohol and bad food I was consuming. I decided it was time to turn things. I stopped going out on the weekends and stopped partying. I started hitting the weights and did some research. I learned how to lift weights properly and quite simply fell in love with it. Lifting became a lifestyle and pretty much the best part of my day. I always strive for progress. Being fit is so much more than just looking good and having a good body.
I became addicted to the feeling of being healthy and full of energy. In addition to learning how to lift weights properly, I taught myself all about proper nutrition as well. Always looking online at videos and how-to tutorials on proper form and different routines etc., I finally started putting my own routine together made up of the exercises that I found were the most beneficial to me – the exercises and combinations of exercises that were giving me the most results. I started very casually providing personal training guidance to some of my friends, trying to get them into fitness. It felt great to help other people! The more I shared how awesome it is to feel amazing about yourself from eating properly and working out on my Instagram page, the more I got noticed by some of the bigger fitness pages and social media. It kept me focused and motivated and thinking about a career in the Fitness Industry. I was studying Political Science at Southern Methodist University in Dallas, TX. My plans were to attend law school after I graduated.
As my social media expanded, so did my reach. I realized how much of an opportunity social media could be and decided to turn my new found notoriety into an outlet through which I could help others. I am truly humbled by the support and love of all my followers. As much as I inspire and motivate them, they do the same for me. I've literally cried reading some of their emails. There are so many inspiring stories about people who are ready to change their lives and find the courage to get up and do what they have to do to get the results they want. Absolutely amazing! And I am beyond flattered that these awesome people come to me for advice. I am SO excited and ready to help you change your life!
I feel like there is no personal achievement more satisfying than helping others. And I plan on doing just that. I not only want to help people reach their health and fitness goals, I want to help them feel amazing about themselves inside and out. I've learned so many things in the process that I can apply to all areas of my life, including how to be dedicated and really put your all into something, how to persevere and not give up on your goals and dreams, how to motivate yourself and be the source of your own happiness, and how to focus and stay committed to the task at hand. I've really gotten to know myself and my limits and how far I can push myself. I didn't know what I was capable of before. And now I'm ready to share my knowledge and experience of what's worked for me and my clients with YOU!
www.caitlinricefit.com