3X Mr. Universe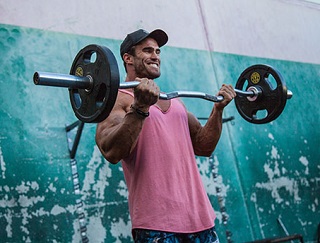 Calum von Moger has catapulted onto the global stage with his recent crowning as Mr. Universe. With a light-hearted charisma and a style all his own, the international response to Calum's achievements is stunning and he is on an adventure of a lifetime! Calum grew up in a small town in central Victoria, Australia (population 690) with 5 siblings on a small hobby farm. Calum's parents kept several small farm animals and grew most of the family's fruits and vegetables. Calum remembers growing up in an organized household where the entire family followed a daily routine. The environment where Calum grew up undoubtedly helped shape his mindset on discipline and he learned to place a high value on food and nutrition. Eventually, Calum and his family moved to a larger town on the coast, and at age 14 he and his brother started training at an old warehouse with rusty iron dumbbells and barbells. Skinny and not very strong, Calum's fitness goal at that time was to catch up to his older brother who was bigger and stronger than he was. His days were spent training, watching Pumping Iron, eating cans of tuna and whole chickens and hitting the beach, all while attending high school. It was at this time when Calum learned about the body and how to build muscle and definition. Calum's body responded naturally very quickly providing an opportunity for him to enter the local body building community.
It was in 2010 when Calum entered his first body building competition in Victoria, Australia and he won. In 2011 he was recruited to enter the WFF Junior Mr. Universe competition. Calum competed in the NABBA Junior International championships and won that competition and then went on to take first place in the Jr. Mr. Universe all in the same year.
Calum grew up watching Steve Reeves on television as Hercules, and of course Arnold became his primary source of inspiration. The physiques of the 1970's were the epitome of body building for Calum. Taking inspiration from these body building icons, Calum is driven with a strong ambition to create a customized classic physique that is all his own.
Determined to earn his place as one of the greats, Calum will remain with the federation that judges primarily on aesthetic bodybuilding and includes categories that are classed into height and weight, The World Fitness Federation that awarded him Mr. Universe in June of 2014. The universal interest to Calum winning the Mr. Universe competition has been extraordinary. He has graced the covers of several magazines, his Mad Desire video has topped over three million views and over one million followers are tracking Calum's every move on social networks. Calum's latest release of his Fitness and Nutrition APP has garnered excellent reviews.
Currently, Calum resides in Los Angeles, CA as he continues to train to defend his title. He is working as a brand ambassador, fitness/fashion model and often speaks to kids around the world on fitness and nutrition along with an inspirational message about his quest to reach the highest level of excellence in every area of his life.