Senior Master Instructor, Piloxing Academy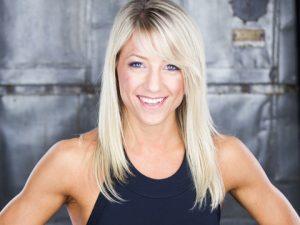 A native of Pataskala, Ohio, Cortney exhibited a natural athletic ability and astute body awareness in childhood. Growing up, she distinguished herself as a competitive tap and jazz dancer, cheerleader and gymnast.
Her love of fitness and sports led her to study at Ohio State University, where she obtained a Bachelor of Science in Occupational Therapy. Upon graduation, Cortney moved to Los Angeles and joined Rancho Los Amigos National Rehabilitation Center, where she treated patients suffering from strokes, brain injuries, spinal cord injuries and orthopedic injuries.
In 2002, after an injury of her own, Cortney was introduced to Pilates and V Pilates studio owner and PILOXING creator Viveca Jensen. Cortney instantly fell in love with everything that Pilates stood for and two years later she decided to study under Ivon Dahl, Master Pilates Instructor and become a certified International Pilates Instructor.
Currently, Cortney is the studio manager of V Pilates and a senior instructor. She uses her occupational therapy knowledge and experience, combined with Pilates to help her clients not only lose weight, tone, and increase flexibility, but also to reduce pain, create balance and improve body awareness.
Cortney has also played a vital role in the development of the PILOXING program and is a senior master instructor at the PILOXING Academy. As President of Education at the PILOXING Academy, Cortney is also actively involved in training and supporting PILOXING instructors all over the United States and developing opportunities for PILOXING instructors internationally.