Founder, Nucleus Central Core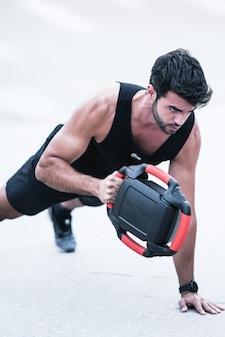 NUCLEUS founder, Diego Calvo, is a Professional fitness trainer based in Los Angeles with a degree in Physical Education and a masters degree in Nutrition. The idea for NUCLEUS come from the high intensity workouts that he developed for his clients. They got incredible results, but he knew that adding targeted, dynamic resistance could make these workouts even more effective. Serious training is a job requirement for them, and many struggled with finding enough time to train. He wanted to create something for everybody — beginners, athletes, and even older people. With a team of engineers, Diego created NUCLEUS Central Core Pro. Over the past two years, NUCLEUS has gone through dozens of different prototypes. Clients have experienced results like never before, and Diego couldn't be more excited to share it with the world.
This portable hand-held powerhouse uses the latest patented liquid technology and provides a full-body workout for any age and at any fitness level. Weighing in at just five pounds, the NUCLEUS offers a high-intensity interval training system that can shred, tone, and sculpt in just 12 minutes a day. The patented technology is the key to this product with liquid blend contained therein which is completely organic and biodegradable. The operation is based on energized weight that is created by the user moving the liquid stored inside. The faster you move the device the more energy is created, and the more muscle stress is produced.
Even MMA fighters, bodybuilders, and pro athletes who have used NUCLEUS were very sore after using Nucleus for 1 or 2 days. This fact indicates that NUCLEUS reach muscular fibers and portion of muscles where other workouts can not stimulate.