Mega-Celebrity Certified Personal Fitness Trainer, Fitness Philanthropist, and Group Instructor
Kicking off the Fun Sunday, 1/15 on the Group Training Zone Stage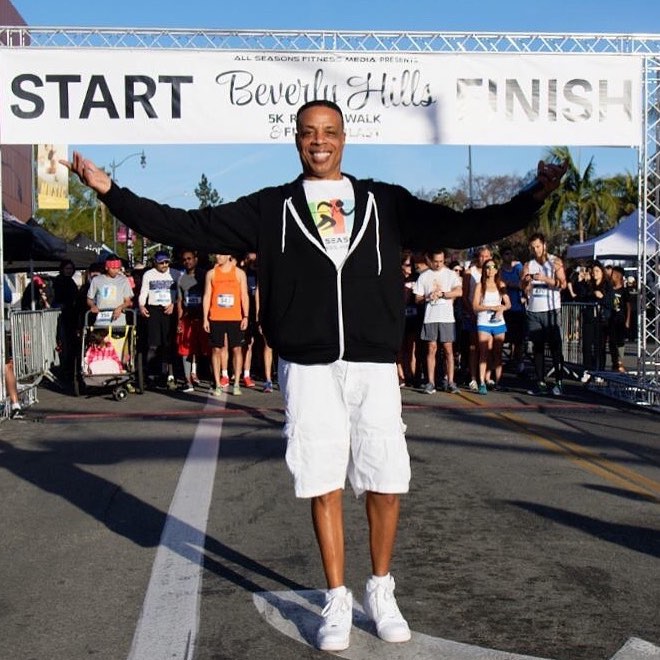 For over 30 years, Dion Jackson has been training top names in the entertainment industry, including such luminaries as Jim Carrey, Jennifer Lopez, Al Pacino, Dustin Hoffman, Aaliyah, Pam Anderson, Sean Lennon, Raquel Welch, Barry Levinson, Richard Pryor, Rob Lowe, Nia Long, Carrie Fisher, Alicia Silverstone, Robert Evans, Peter Thiel, Belinda Carlisle, Johnny Gill, Peter Bogdanovich, Harvey Keitel, Lorraine Bracco, Vince Neil, Miki Howard, and Cherrelle. Dion also teaches group classes at LA Fitness Hollywood and Universal City locations. Dion contributes a great amount of his time to important community causes such as Let's Move Hollywood, Beverly Hills Walk with the Mayor, and countless others.
Dion is has been a featured guest on the Group Training Zone Stage since 2013. His passion for sharing fitness and inspiring others to be well is infectious!  Dion is not stranger to the stage as he and his trainers appear at as many as 40 events per year as a part of his Charity Fitness Tour.  Through his company, All Seasons Fitness Media, Dion has reached more than a million people and inspires people to be the hero of their own fitness story!  His Charity Fitness Tour is a community of exercisers who go from one fitness event to another walking, hiking and/or biking their way to better health.  All Seasons Fitness Media asks followers to "give it all you got" by supporting Charities and their mission.  Every body wins when Dion's Charity Fitness Tour matches his community's desire to be more fit with the Charity's need for support.
You can Find Dion at the GTZ or here.