Group Training Zone Stage – Workout & Win with Elizabeth & Country Fusion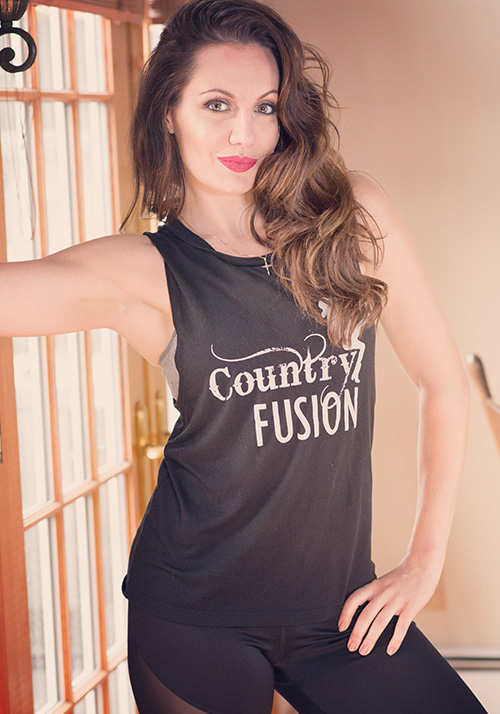 Country Fusion® is created and founded by Elizabeth Mooney. Elizabeth has been a dancer since the age of 2 and has taught fitness for over 10 years now. She has produced and directed her own Off Broadway show and has owned her own dance studio in NY. She recently moved to Nashville, TN, where she now resides and has opened Country Fusion® Headquarters. Her certifications include AFAA Personal Trainer, Zumba, Pole Dance, Pound, Zumbatonic, Barre Assets, and training in BOSU, Bootcamp, HIIT, and Cardio Tai Box. Also CPR/AED certified and founder of Burlesque Booty Camp as well as Country Fusion®. Elizabeth is a successful Entrepreneur with instructors all over the world teaching Country Fusion, a professional dancer, choreographer, and a highly experienced dance instructor. You can catch her dance choreography with some of today's top Country Artist's and dancing on Broadway in Nashville.
Elizabeth's past experience includes directing her own off-Broadway show and owning her own dance studio in New York. As owner and lead performer of Wild Cherryz and Wild Cherryz Burlesque, Elizabeth was noticed by America's Got Talent Season 6, Mercedes Benz fashion week, The Gong Show Live at BB Kings, as well as a featured segment on Sirius XM Radio. Ms. Mooney's personal achievements include being a finalist in the annual Miss Italia competition, a finalist for an Elite Model Management competition, a contestant in Bikini USA and in Miss Hawaiian Tropic as well. Being an accomplished actress as well as a dancer, choreographer and model, Ms. Mooney has appeared in many television roles, including playing a showgirl in the premiere episode of HBO's "Boardwalk Empire", and roles on USA's "Royal Pains", and NBC's "The Black Donnellys. She has also been featured on "World's Astonishing News" as a dancer and the lead choreographer. Her most recent film and television appearances have been as a featured dancer on the Stars network show "Power", and in a feature film called Inside Game, which was released in Spring of 2019.
Through her popular fitness studio and brand, Elizabeth has created an instructor training program and trained a large group of new fit pros in the Nashville area as well as an emerging group in other cities and states. If you like a little "boot scootin boogie," check out her program: https://countryfusion.net/product/online-instructor-certification/