Motivational Performance Trainer, Former Pro Soccer Player & Creator of StingFIT by Scorpio Liberates®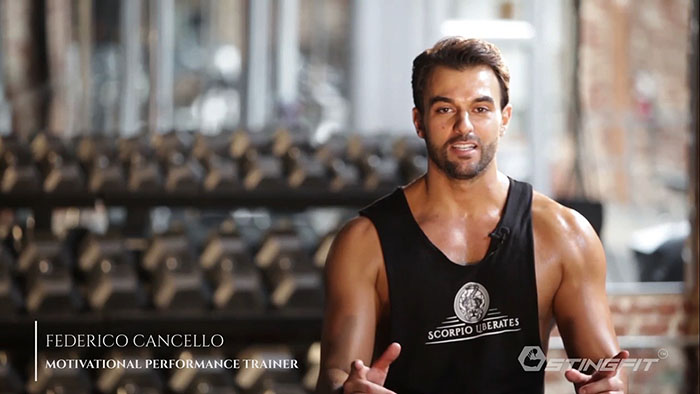 Federico Cancello, MA, BS, ACE-CPT, ASFA, NASM-PES is a motivational performance trainer and a former professional player in Italy's Top Soccer League with 20+ years of combined experience. He has been featured as an expert in motivation, performance training, and core strength in Men's Health, ACE-IDEA Fitness Journal, and many other online print and online/social media outlets. Federico has worked with numerous athletes and celebrities and collaborated with international sports & fitness, nutrition, and apparel brands such as the Italian Soccer Federation, Fat Gripz, Beaming, Vimmia, and many more.
Federico is also the owner and creator of StingFIT by Scorpio Liberates® – Get energized and train like an athlete with our all bodyweight, high intensity, full-body workout that incorporates a specifically crafted sequence of compound movements with emphasis on core strengthening, cardio, and explosive exercises. StingFIT is perfect for anyone who wants to improve stamina, agility, and max performance as well as incinerate fat and build lean muscle tone; all while enjoying a fun, energetic, and highly motivating class charged by trance beats.
We've created our all bodyweight StingFIT program with YOU in mind so you can achieve the best next version of yourself!
Gather all the benefits of a synergistic mind-body connection through motivational speaking as well as focus & visualization techniques throughout the workout.
Build lean muscle and a stronger upper and lower body with our proprietary StingFIT® workout towel.
Develop a strong core, which is the foundation piece to great health and proper posture as well as increased productivity and ease while performing daily activities.
Get ready to elevate your metabolism and boost your stamina where it has never gone before!
Push yourself with explosive movements; any athlete's best-kept secret! Increasing your blood and oxygen flow as you are fighting gravity with your body weight will make you develop explosive strength and power.
"I have been an athlete all my life, growing up in Modena, Italy and playing soccer for 15 years. I've learned some key life lessons from it and some of my coaches; from the value of teamwork to the importance of having a strong work ethic and consistency. Most importantly, training 4-5 hours every day taught me that strategic planning paired with relentless hard work is crucial to success.
No harsh circumstances nor fear of the unknown CAN possibly stop a highly motivated individual with a strong vision. That's the reason why I decided to relocate to the United States where my vision for what I was ultimately destined to be in life became even clearer; to use my passion and experience and bring the best out of people through exercise; pushing them to believe that any life goals of theirs ARE achievable."
-Federico Cancello