MMA Strength and Conditioning Coach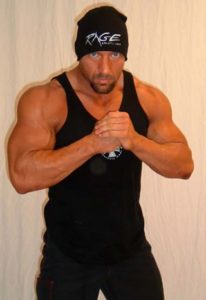 Freddy George is a world famous strength and conditioning coach, nutritionist, fighter and fight coach. Fred has a Sports Science Degree from Albion College in Michigan that he puts to work daily with his MMA, football, and hockey cliental.
Fred never lost a Pro MMA fight in his short lived career. He was sidelined with a career ending injury otherwise he might have made history. He was also a collegiate football and hockey player, a great athlete and a true "Jack Of All Trades." His passion for all three sports and coaching world class athletes fueled his desire to invent these cutting edge functional training technologies. Freddy can perform each of his modalities as well if not better than the athletes he trains. "How can you teach from the sidelines?…get in there and do it yourself…lead by example."
He has appeared in several major motion pictures such as A.I., Hoffa, and Virtuosity, numerous commercials including Snickers, Tylenol, and Capitol One and many TV Productions. You have also seen him in hundreds of National and International Fitness Magazines including Muscle & Fitness, Flex, Grappling, and Max Muscle to name a few.
Freddy is now the fitness editor for MMA Worldwide and Tapout Magazines. Freddy became a fixture in the bodybuilding and fitness world where he invented personalized fitness and nutrition programs for some of the top bodybuilders in the world. In 1999, the MMA world started to take off and Freddy began training and fighting under Todd Medina and Erik Paulson.
By 2001, Erik took him under his wing and in 2007 they teamed up to start the CSW Training Center currently located in Fullerton, CA. CSW is the home of Brock Lesnar, Josh Barnett, Ken Shamrock, Cub Swanson, Sean Sherk, James Wilks, and many others.
Fred and Erik also trained Seal Team members, Israeli Defense Force in Tel Aviv and Haifa, Compton Gang Unit members, Special Forces, etc. in close quarters combat CQB, and arrest and control techniques.
Fred is currently conducting Strength & Conditioning, Nutrition, and Fight seminars around the world. He also trained the L.A. Select 16AAA and 18 AAA hockey teams. This year he picked up the LA Jr. Kings and the Jr. Ducks of Anaheim. Using science to design personalized nutrition and training programs, Fred is revolutionary in coming up with some of the most state of the art linear and functional training tools on the market today. Fred designed the "ULTIFIT Circuit" using "The Burn Machine", Stroops MMA and the Crosscore "War Machine." These products are unbelievably challenging even for professional athletes..They test your core strength , biomechanical chain linking, and increase the strength of your secondary movers in order to stabilize the athletes shoulders and hips.
Fred teaches world class athletes to live in a positive nitrogen balance using unsaturated fats for sustained energy versus carbohydrates as a fuel source. He keeps the athletes strength at a high level, while maintaining or dropping body fat. This is the state of the art scientific nutrition that has been adopted by the MMA and bodybuilding worlds. He calls it "walking the ketotic line."
Fred is a huge proponent of Beta Alanine, Arginine, Methylcobalamin, ANSI Extreme Shock, and CNP Propeptide protein supplementation. He helped design and build some of these products, which include probiotics, live yogurt cultures, real micellar cassein from Germany, and 5 gms. of peptide bonded glutamine in order to keep the athlete in a positive nitrogen balance and an anabolic state.
He has also teamed up with legendary Rigan Machado in order to strength train his Hollywood Star packed client list. Fred and Tapout Magazine are also assisting Rigan with his new world BJJ Organization that is about to launch in order to find the best grapplers in the world.