Trainer & Coach of 19 Olympia Titles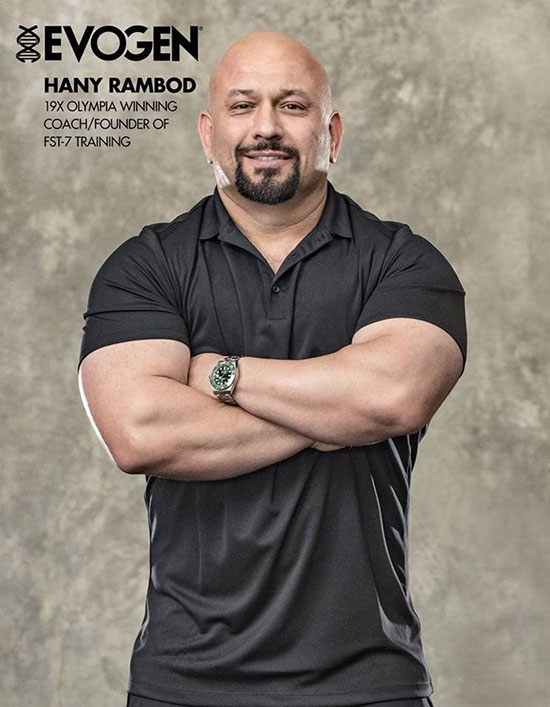 With 19 Olympia titles to his credit, Hany Rambod, otherwise known as "The Pro Creator," is the mastermind behind some of the top physiques in the world. He graduated from the University of California, Santa Barbara with a bachelor's degree in Biology and an emphasis in Neurophysiology. Shortly after graduation, Hany began consulting with top athletes in bodybuilding, fitness, figure, bikini, pro football, and Olympic track & field.
Hany began competing in natural bodybuilding as a teenager, and continued his amateur bodybuilding career through his time at UCSB; allowing him to put his classroom education into practical use in the gym and on the stage. Shortly after graduation, the overwhelming demand for Hany's unique knowledge and abilities took him off the stage and put him behind the scenes as the top contest prep advisor in bodybuilding. Through his experience with an incredibly diverse genetic pool of athletes, he has fine tuned each formula into some of the best products in the business.

FOUNDING EVOGEN. It used to be that only a select athlete clientele had access to the ultra exclusive, custom nutritional supplement formulas developed by Hany Rambod. As he turned out winner after winner at national level and professional bodybuilding contests, people began to notice that all of these champions had something in common –in an addition to being bone-dry shredded; they were all big, full and round. Many possessed roundness and fullness only rivaled by bodybuilding legends.
Soon an underground buzz began about some of the formulas Hany was using with his athletes. Although many of the components were accessible, but results were limited. Hany had no choice but to fill the void by responding to the incredible demand in the marketplace launching Evogen Nutrition making his supplements available to everyone. Now Evogen is sold in over 25 countries internationally.