Olympia Physique Top 3 IFBB Champion LIV Body Athlete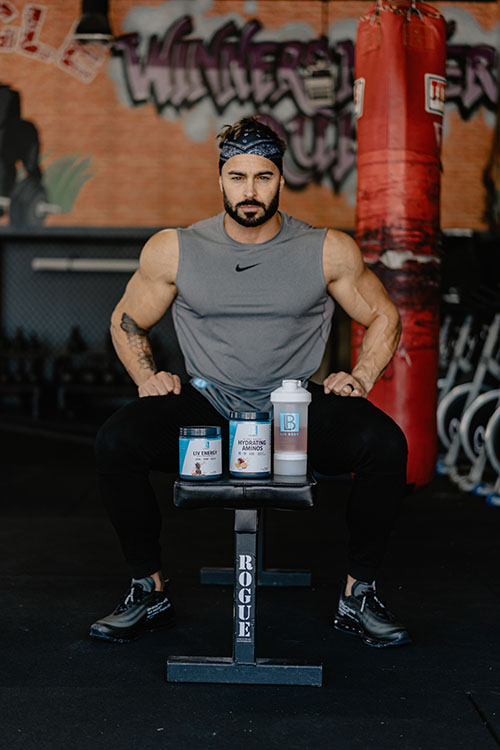 BIRTH PLACE: Oklahoma City, OK
BIRTHDAY: 7/12/1984
HEIGHT: 5'10
CONTEST WEIGHT: 198
OFF SEASON WEIGHT: 218
ATHLETIC BACKGROUND: Every sport, anything competitive
INTERESTS/HOBBIES: Church, dogs, travel, 4×4 jeeps, shoes, eat, sleep, train
FAVORITES
BODY PART: Legs and Back
PREP MEAL: Orange Roughy and burned asparagus
CHEAT MEAL: Bison Hamburger with bacon and avocado, all the toppings and any chocolate Ice Cream
EXERCISE: Deadlift and straight bar curl
MOVIE: Rudy
MUSIC GENRE: Hard Rock
SPORT: Football
QUOTE: When we strive to become better, everything around us becomes better too.
AWARDS
2015 IFBB Arnold Sports Festival 2nd
2014 IFBB Europa Phoenix 1st
2014 IFBB Olympia Weekend 3rd
2014 IFBB New York Pro 1st
2014 IFBB Europa Dallas 1st
2014 IFBB Pittsburgh Pro 2nd
2014 IFBB Europa Show of Champions Orlando 1st
2013 IFBB Olympia Weekend 5th
2013 IFBB Valenti Gold Cup Pro 4th
2013 IFBB Greater Gulf States Pro 4th
2013 IFBB Pittsburgh Pro 2nd
2013 IFBB Europa Show of Champions Orlando 8th
2013 IFBB Pro Grand Prix Physique Los Angeles 11th
2012 IFBB Houston Pro 3rd
2012 NPC USA Championships 2nd
2012 NPC Los Angeles Championships 4th
2012 NPC Junior National Championships 8th
2012 NPC Ronnie Coleman Classic 1st
2011 NPC Oklahoma City Grand Prix Bodybuilding, Figure, Fitness, and Bikini Championships 5th
FEATURES
Cover model and featured fitness model in multiple US and international magazines. Appearing in reality television shows and his recent fitness documentary film "The Perfect Physique"
HOW DID YOU GET INTO FITNESS AND COMPETING?
I dreamt of inspiring and teaching the world how to live healthy and look fit at age 15. I studied, trained hard,stayed determined, and made my clients and others health a priority. My philosophy of expecting nothing less than greatness out of your body pushed me into the NPC and now IFBB pro physique competitions. Health issues tried to stop me but I overcame those obstacles and learned that pushed me even more. After a decade of dedication in the kitchen and the gym I realized the true value of a body that fires on all cylinders. My mind was more mature and healthier than ever so it was time to start sharing my knowledge on fitness programs to the world on a mass scale.
HOW DO YOU BALANCE YOUR SOCIAL LIFE AND FITNESS LIFE?
Thats easy! The competition and fitness world is a very social environment full of great people so its easy to meet friends who share the same goals and mindset. We do let loose every know and then!
WHO DO YOU LOOK UP TO IN THE FITNESS INDUSTRY?
Anyone and everyone that has a selfless passion to help those around them. I look up to true leaders who have built platforms for others to follow in their footsteps and stand next to them at the top when they have reached their pinnacle.
---