Personal Trainer, Weight Loss Specialist & Fitness Nutrition Specialist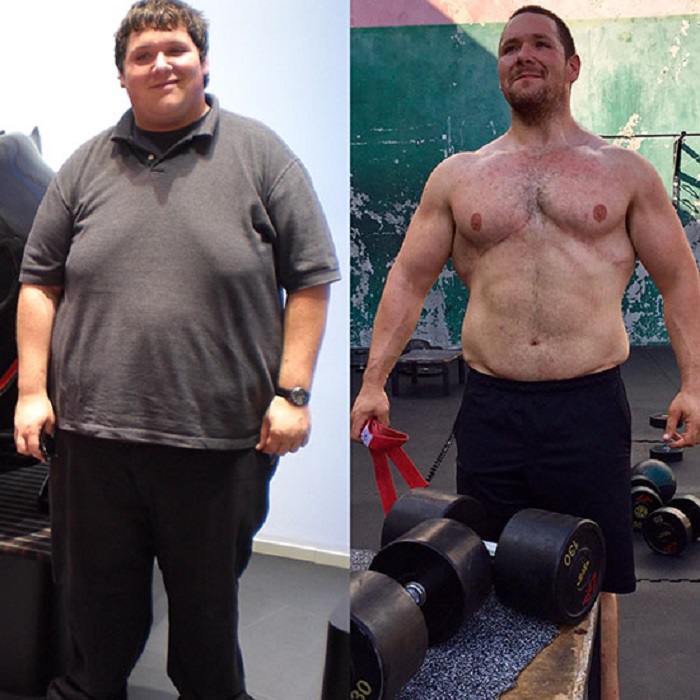 As far back as he can remember Jordan was overweight. Growing up it was hard being the big kid. He was subject to a lot of teasing, ridicule, and bullying which caused him to develop a very defensive and protective state of mind. He notes there is nothing good about being fat and unhappy through one's childhood. In 9thgrade he started playing football, weighing in at 290lbs standing 5'9" at only 13 years old. The coaches wanted him to keep getting bigger, stronger, and faster so he ate a lot and trained hard.
Jordan's mom always motivated him and wanted him to get in better shape so that I could enjoy his life more. She had big dreams for him that included being in good shape. When he was 14, tragedy struck when his mom suddenly passed away. He quit the football team and my motivation to train and get in better shape completely vanished. Food became his outlet to help cope with the depression due to his mom's death. He was also addicted to food using it to try to numb his feelings and escape reality but it didn't work.
Jordan was eating himself to death, and did not care about his future at all. Doctors told him he would die young from obesity-related health complications; he told them if that happens then so be it. By the end of his senior year in high school at 17 years old I was already around 400 pounds. He graduated high school and stopped looking at the scale. He didn't plan for my future because he didn't care. Time went on, he worked a sedentary job and continued to gain weight.
By late 2007 Jordan was over 420lbs wearing 5XL shirts, depression, food and destructive habits still had a powerful grip on him. On March 30th 2008 at 3am he was in a car collision that could have killed he. His airbag was just reconnected a couple hours before the crash and saved his life. He feels that his mom was looking out for him that night and that it was not his time to go.
In the accident Jordan suffered a separated shoulder and broken wrist among other injuries. It took 5 paramedics to lift him up on the stretcher. When he went for an MRI he barely fit in to the machine, they were going to send him to a special, bigger one. That day he decided that I had enough! He decided to change the way he lived, change how he ate and start exercising.
Jordan started by walking his dog 1 mile a day on a hill and it would take them an hour to complete the mile. Slowly but surely, they got faster and upped it to 2 miles; his dog was always pushing him to up the pace and the distance. Blackberry, his dog helped to save his life; she was his first personal trainer!
Jordan and his beloved dog upped the pace of the walks and started jogging some of the hill, this eventually turned into running 4 miles on it 6 days a week. In 2009 after losing well over 100lbs on his hill and local trails and roads, I joined a gym and signed up for a year of personal training. Jordan started going on bodybuilding.com and was very active on the forums, reading and interacting with other members, and learning so much. When starting in the gym, he was in bad shape strength and mobility wise and could barely bench press the 45lbs bar due to his shoulder injury. He didn't let anything stop him, he kept working hard and training in the gym and running and hiking with Blackberry. He decided to go back to school and studied nutrition.
His social life improved greatly as he kept making progress on his relationship with himself, relationships with others followed suit. He got to enjoy parts of life that he had never believed he deserved or was good enough for. Jordan was finally becoming happy!
Fast-forward the next few years later and Jordan had completely transformed, losing over 200lbs of body fat and bringing up his strength and fitness tremendously. He worked his way up to be able to squat 434lbs, deadlift 500lbs, bench press 335lbs, do pull-ups and dips with weight added. He remembers when he thought he would NEVER be able to do a pull-up! He knew that all the hard work was paying off.
In December 2013 after prepping similarly to how one would for a bodybuilding competition, Jordan underwent a massive excess skin removal surgery that was a major turning point in his life. The surgery was over 6 hours and the recovery lasted months, the skilled surgeon removed over 10 pounds of skin and Jordan was finally able to really see all of his hard work from his transformation. The amazing people at bodybuilding.com surprised Jordan by helping him immensely with the funds he was unable to raise for the surgery and he is forever grateful to them.
10 months after his surgery Jordan successfully competed in his first powerlifting competition. He had set a goal to squat more than he used to weigh and was able to do it in training with a 425lb squat and on competition day with a 434lb squat. Feeling the literal weight of his old self on his back was a monumental success for him.
In the summer of 2016 Jordan was diagnosed with thyroid cancer and in October of that year underwent surgery to remove the half of his thyroid where the tumor was found. He trained exceptionally hard to come in to the surgery in the best shape possible and as of now has completely beaten the cancer with no signs of it left in his body.
During his transformation Jordan left his old career of real estate behind and got certified as a Personal Trainer, Weight Loss Specialist, and Fitness Nutrition Specialist through the National Academy of Sports Medicine (NASM). Now he trains hard and enjoys life, helping others reach their goals. He has been able to reach people all over the world thanks to outlets such as Bodybuilding.com, TRAIN magazine, his appearance on the live finale of NBC's The Biggest Loser (as an audience success story) and he feels so lucky to help inspire others and help them change their lives.