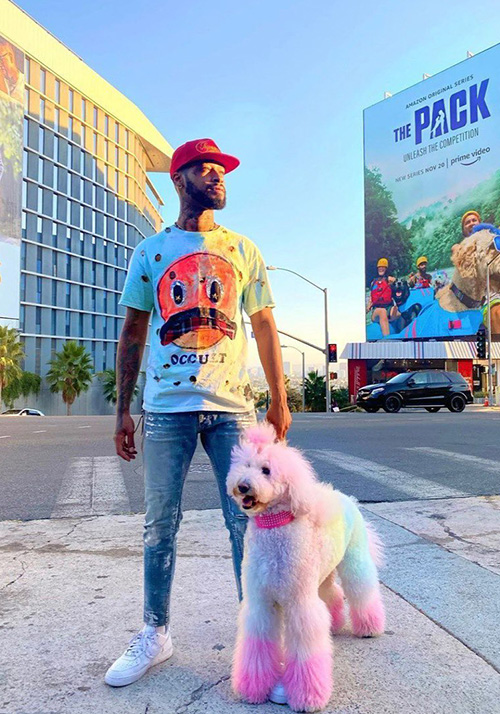 Los Angeles native, Joshua White or "Josh", has always had a passion for animals, especially dogs ever since he could remember. As a child, he would study dog breed books and watch dog shows on TV for hours. At a very young age, Josh volunteered for numerous dog shelters, working at doggie day cares and as a vet technician. He first interned for his local grooming salon before becoming one of their star groomers and grooming manager for almost 10 years before deciding to open his own salon.
Josh and Snow became an Internet / TV sensation in 2020, after competing for "The Pack" — a dog travel competition series, hosted by Lindsey Vonn on Amazon Prime Video. Snow, Josh's beloved Poodle, came into his life in a rather unexpected fashion. He had always dreamed about owning a Standard Poodle but never quite had the chance to adopt one. One cold winter night, Josh and his partner Mehdi received a call from a friend, who happened to be a Poodle breeder in San Diego. She mentioned that one of her 10-month-old puppies was too petite to be shown in Kennel pageants and was anxiously awaiting adoption. That same night, Mehdi and Josh drove to San Diego. When they saw Snow: It was love at first sight. They took her home and Snow quickly became part of the family.
​
About Dogue
We offer a unique, high end salon experience to you and your four legged best friend. As a full service Spa, our main goal is to provide the highest level of excellence when styling your dog, starting with premium shampoo and conditioner. Each dog is given a thorough consult by one of our stylists to assure the best results, allowing our artists to connect with both you and your dog. By the end of the consult, your stylist will recommend what's best for your pet so that he can feel, look and smell his/her best.
​
Dogue currently carries exclusive dog apparel pieces from Barks First Avenue, a variety of one of a kind premium chews and treats, and will soon launch its own signature dog apparel and accessory line.
Visit Dogue at: https://www.doguespa.net