Revenge Body Trainer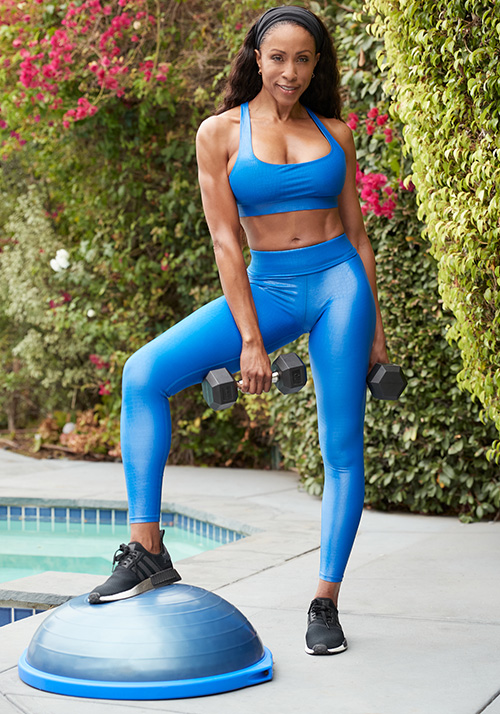 Latreal Mitchell is one of the top Celebrity Fitness Trainer/Wellness Coaches and Group Fitness Instructors in the industry. Celebrity Clients Include Michael Strahan, Terry Crews, Alex Rodriguez, and Anna Sophia Robb to name a few! She has been featured in fitness magazines like Good Housekeeping, Women's Day, Shape, SELF, Men's Fitness, Muscle & Fitness, and EDGE magazine, highlighting exercise routines and her work with adults, athletes, and children. She was also the Columnist for Good Housekeeping Magazine for over two years, creating exercise routines and fitness content for their readers. As a Figure Competitor for more than five years, she demonstrated physical transformation and used this knowledge to benefit her clients. In addition to fitness magazines, she has appeared on television programs like Revenge Body with Khloe Kardashian on E! for three seasons, and The Seven Year Stitch with Heather Dubrow of RHOC. Latreal has also appeared multiple times as a fitness expert on shows like Good Morning America, LIVE with Kelly and Michael, The Steve Harvey Show, The Doctors, The View, Here and Now, and local news programs in Los Angeles and Memphis on ABC, NBC, and CBS.
Latreal Mitchell is the proud Founder and CEO of Fitness Bunch Foundation, a non-profit organization fighting childhood obesity. She has run afterschool programs, school assemblies, and classroom visits to discuss the importance of healthy eating and exercise to children. She partnered with The American Heart Association and conducted workouts for the kids before teaching them how to plant and grow their vegetables through AHA's Teaching Garden Program.
Latreal holds multiple certifications including the Aerobics and Fitness Association of America (AFAA) Personal Training (PT) and Group Fitness, NASM (National Academy of Sports Medicine) PT, Corrective Exercise Specialist (CES), FRC Specialist (Functional Range Conditioning), Youth Exercise Specialist (YES) and helped NASM launch their YES certification with a national webinar. Latreal has successfully applied NASM's model to create result-oriented training for youth, plus incorporated most of the flexible programming in her "Get Fit" kid's workout video to bring a quality of life to kids through fitness, and she holds another youth certification with IYCA (International Youth Fitness Association). Latreal also has her nutritional certifications with Precision Nutrition and the Institute for Integrative Nutrition. In the fitness industry for over 20 years, her training and certifications have enhanced her knowledge of the importance of functional movement, exercise, supplementation, and nutrition for adults and children.