President of National Academy of Strength and Power, NASPOWER
USPA Director of Coaches Certification
Appearing at TheFitExpoLA Saturday, USPA Powerlifting Seminar: Training Tips for Beginners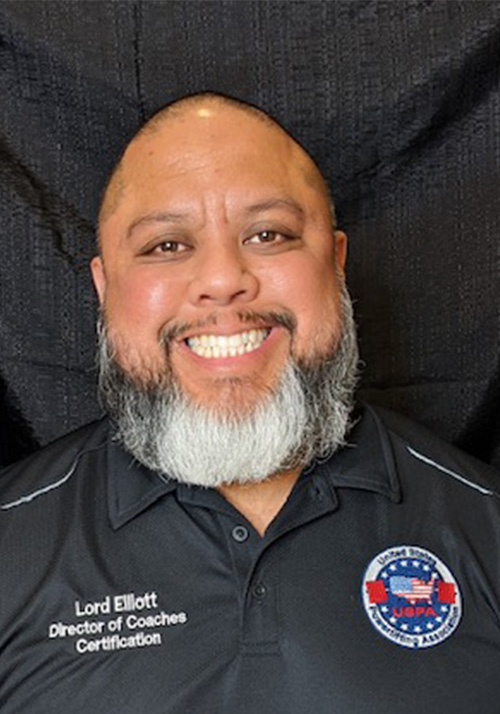 Meet Lord Elliott! His first experience in the fitness industry began at the age of twelve. In 1989 he watched his father compete for the first time at a Powerlifting competition in Venice Beach, CA and was in awe. Months later he started lifting to prepare for his first Powerlifting competition in May of 1990 at the age of fourteen.
Lord started his career as a fitness instructor at eighteen and became a Certified Personal Trainer at nineteen. His foundation of powerlifting and technical experience of the three main lifts was a niche in the profession that separated him from other fitness professionals. He earned his Bachelors degree in Business and Masters degree in Exercise Science. In 2012 he had the idea of creating a coaching certification for the United States Powerlifting Association, USPA, to educate coaches in applying science to movement. He partnered up with the USPA in 2014 and the Coaches Certification Course was launched.
Opportunities developed over the years and he challenged myself to learn about the sport on many levels. First you become an athlete, then you grow the sport by working with people and coach them in competition. Next level is to give back to the sport by certifying as a referee which he achieved in 2011.
In 2014 he wanted to be a part of growing the sport by directing competition events and held his first championship February 14, 2015, with the USPA. The events grew from three championships his first year to as many as twenty-five a year in conjunction with instructing an average of fifteen coach courses around the United States. In 2018 he was offered the opportunity to be the Head Coach of the USPA National Powerlifting Team to compete at the World Championship. As Head Coach, Team USA won five consecutive World Championships from 2018-2021 hosted in the United States, Ireland, Germany, and England. By 2020 they launched a new division of NASPOWER and began working on manufacturing strength equipment with the NASPOWER Combo Racks being used on the USPA Powerlifting Platform at the LA Fit Expo.
Appearance courtesy of: