The Most Photographed Fitness Personality in History Owner/Designer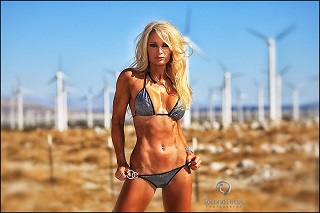 Sherry Goggin reigns as The Most Photographed Fitness Personality in history and featured in and on the cover of over 300 National Fitness Magazines, over 35 infomercials, and over 14 national commercials.
Goggin shines as author, producer and role model for women everywhere and Sherry is currently in the new Total Gym Infomercial, National Wendy's Commercial and featured weekly on www.lamuscle.tv/player/hollywoodextra/49
Ms. Fitness America
The most photographed fitness personality in history
Owner/Designer of www.FitGirlWear.com
Fitness Athlete Spokesperson for ANSI
Bright, articulate and full of energy Sherry Goggin has broken the stereotype of the fitness model to become a world known trainer, author, producer, fitness guru, clothes designer ..and..just about anything else she puts her mind to. Sherry Goggin is the definitive version of a 'renaissance woman' and once she sets her mind to something..nothing gets in her way. And right now, she has Fit, Fun and Fashion on her mind with her clothing line, www.FitGirlWear.com where Fitness meets Fashion.
While Goggin is a Certified Fitness Expert and a former Ms. Fitness America, She is also a top notch business entrepreneur. From owning a Gold's Gym and Dynasty Women's Fitness Centers to Health Food stores and Alternative Motorsports companies, Sherry Goggin has virtually done it all. Sherry also acts as VP and Director of the Women's Fitness Division of the Personal Trainers Association and is also certified by PROPTA.
Currently, Sherry Goggin has a number of projects in the works – Her own reality shows, a new 2017 Calendar, Training and Lifestyle DVD series and a new beauty/supplement line. All of Sherry's merchandise is available for purchase at any of her web sites including:

Fit Girl Wear is designed and created by Sherry Goggin, Ms. Fitness America. Fit Girl Wear is all about making you look great and feel sexy. It is invigorating, innovative and creative.
"I want Fit Girl Wear to inspire and motivate you, to give you self confidence and self esteem.
Once you wear Fit Girl Wear, you will become a life-long fan as the fit is like no other. Fit Girl Wear hugs your booty to give a contoured fit yet maintain a fashionable relaxed look suitable for everyday wear. "I make the suits to compliment with perfection your body type and coloring."
All swimwear is custom designed for fit and durability. Material is world renowned as the best with support and fit. Whether you are in tip top shape or still have some work to do, Fit GIrl Wear makes your legs and booty look great.
Sherry works closely with professional athletes and trainers to formulate the best competition suits for women. Sherry's Fit Girl Wear is worn by professional athletes nationally and has been featured in numerous National Fitness Magazines including, FitnessX.com, Natural Muscle, Tapout, World Physique, and many others. Fit Girl Wear has also been seen in numerous National commercials, Infomercials, (Total Gym) and print ads for ANSI, Egg Whites International, Status Calendar, Fitness Icons Calendar, Propta.com, etc.
You can finally enjoy the comfort of sexy clothes that show off your body while having firm but comfortable support.
Sherry's mission is to offer the highest quality with the best fitting suits of the most unique designs…"I will design "The Winning Suit with the best Fit for you."