Former UFC Fighter/Martial Artist/ Multiple Hall of Fame Inductee Trainer/Teacher/Mentor/Speaker/Personality/Actor MOTIVATOR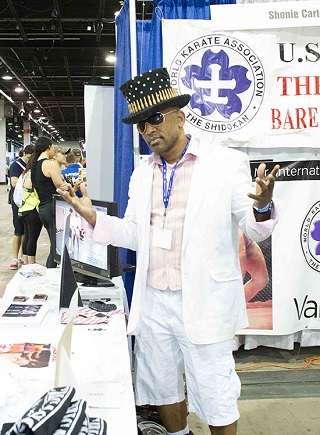 Mearion Shonie Bickhem III (born May 3, 1972), better known as Shonie Carter, is an American mixed martial artist. He is a former World Extreme Cagefighting (WEC) welterweight champion, an Ultimate Fighting Championship (UFC) veteran, and a contestant on The Ultimate Fighter 4 reality show. He is known for his flashy dress, colorful vocabulary, incredible personality and use of the spinning backfist Carter was born in Chicago, Illinois and served for six years in the United States Marine Corps before beginning his profession as a fighter. He began his martial arts training in Greco-Roman wrestling, then moving on to master judo and Japanese Jiu-Jitsu, followed by a stint as an All-American wrestler and participated in the Olympic trials. Carter later added boxing and Shid?kan karate to his repertoire.
In addition to his MMA career, he also holds a record of 57 wins and 5 losses as a professional kickboxer.
Carter has fought in a wide variety of shows, both large and small. He has won at least ten belts in various organizations throughout his career. He began his career in 1997, fighting primarily in the Extreme Challenge promotion. He went on to rack up an 11-1-2 record.
Carter began to make appearances in Pancrase and won his UFC debut at UFC 24 against Brad Gumm. He went on to win notable victories over Chris Lytle and Matt Serra. In 2003, he appeared in fledgling promotion World Extreme Cage fighting and became the WEC welterweight champion after defeating JT Taylor. Other notable fights included a loss to future UFC title contender Jon Fitch, a victory over future UFC fighter Jess Liaudin, and a victory over Jason Black, who was undefeated in 22 fights prior to the bout.
Carter applied as a contestant for the fourth season of The Ultimate Fighter, a reality show on Spike. The season, subtitled "The Comeback". Carter joined Team Mojo and was picked to fight first against Team No Love's Rich Clementi. With help from his corner man Matt Serra, Carter won a two-round decision over Clementi. In the second round, Carter fought a rematch with Matt Serra.
Throughout the show, Carter earned notoriety and sparked irritation from his cast-mates with his habits, including his unusual style of dress and various artistic projects. He angered both teams by unilaterally deciding to train with Team No Love for a day. He also asked Clementi to corner him in his fight with Serra. On the show, his MMA record showed that he had 198 professional fights.
After finishing his stint on The Ultimate Fighter, Carter appeared on BET's similar program The Iron Ring as a coach for Lil Jon's team, Headbusters. While taping, Carter verbally sparred with Floyd Mayweather, the leader of another team, over a fight stoppage. Mayweather was condescending toward the sport of mixed martial arts throughout the show. Carte gained additional notoriety from members of the community since his appearance on The Iron Ring in addition to his UFC and The Ultimate Fighter appearances.
On May 16, 2008, Carter served as an impromptu guest referee for a notorious bout at a Legends of Fighting event that resulted in a double-knockout. Eight seconds into the bout, newcomers Tyler Bryan and Shaun Parker landed simultaneous knockout punches. The video of the double-knockout, and Carter's subsequent reaction, has been viewed on YouTube over 1 million times.
Shonie Carter is not just a fighter but an artist, a well read and educated man who is dedicated to his community and several charity causes including the Saint Jude's Foundation and Wounded Warriors. He has three beautiful Children that he adores and makes every effort to make any fan feel like a friend. He takes pictures and signs autographs without hesitation as his fists are tough as metal but his heart is made of gold.