GTZ WORKOUT: Sunday @ 1:30
Try YogiFi
Terry Shorter created R.I.P.P.E.D. – The One Stop Body Shock® in 2008, the R.I.P.P.E.D. Fit Factory On Demand system, and the newest program, RUMBLE- a cardio based mixed martial arts program, with the help of his wife, Tina. Since 2008 the R.I.P.P.E.D. program has amassed over 15,000 global instructors teaching at over 1,000 gyms nationwide. Terry and Tina's success with R.I.P.P.E.D. was fueled by their passion for helping people fall in love with fitness and the overwhelmingly positive response from the workout community.
Terry also teaches Yoga, Dance, Cycling, just to name a few fitness modalities and has been featured in: PopSugar Instructional workout videos, KTLA Morning News, Turbo Jam ®, IDEA World, SCW, DCAC, The Arnold and FitExpo Fitness Conventions, and more.
R.I.P.P.E.D. -The One Stop Body Shock® is a family affair, Terry and Tina Shorter, actively co-create the upcoming R.I.P.P.E.D. quarterly instructional videos. Along with their production team, the custom music tracks that fuel the R.I.P.P.E.D. workouts are also created by Terry, and feature Tina, their daughter Tawnie, and Timmy (Terry's brother), as songwriters and vocalists.
Fun Facts about Terry:
​Competed on Jr. Star Search at the age of 11
​Studied Ethnomusicology at UCLA as an undergrad and played on the Men's Soccer Team
​Credentials include Singer-Songwriter, Music Producer,  Dancer, and International Fitness Expert/Presenter
​Worked with some of the greats including: Natalie Cole, Ben Harper, and Quincy Jones
​On-screen talent for networks ABC, CBS, NBC, FOX, and UPN
​2005 Cast as a member of the wildly successful Turbo Jam® Infomercial
​Creates all the custom music for R.I.P.P.E.D. and RUMBLE quarterly albumns
Enjoys the balance of teaching Vinyasa Yoga and Hip Hop fitness classes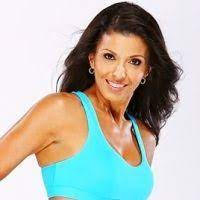 Also Appearing Tina Shorter, Co-Founder, R.I.P.P.E.D. & RUMBLE
Tina Shorter will join Terry at TheFitExpo for a presentation in the Healthy Living Pavilion.  The two were brought together by their shared passion for music and movement. Well equipped with certifications from Athletics and Fitness Association of America and American Council on Exercise, as well as over 40 years of combined fitness experience and a wide array of continued education programs under their belts, this power couple works with the nation's premier gyms and fitness studios as the founders of R.I.P.P.E.D.-The One Stop Body Shock® & RUMBLE by R.I.P.P.E.D. health & lifestyle programs. The Shorter's also share their passion for helping people with their Master Trainer Team and thousands of R.I.P.P.E.D. trained fitness professionals in all 50 U.S. states and several countries, which they refer to as their family.
Appearance courtesy of: