Celebrity MMA Fighter, UFC Hall of Famer, Owner of Punishment Athletics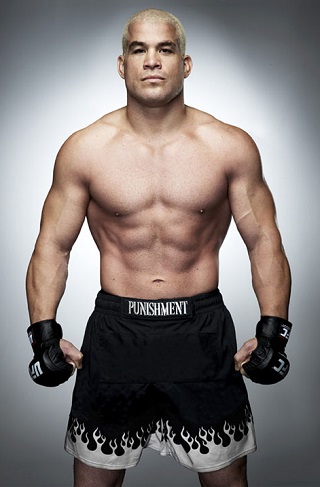 Tito "The Huntington Beach Bad Boy" Ortiz
Jacob "Tito" Ortiz powered his way to the top of the Ultimate Fighting game unlike any other fighter of today. Starting from very humble beginnings and keeping his heritage strong along the way. Tito has become the world's most famous face of MMA and a multi-million dollar brand in the process.
"Tito", Spanish for" tyrant" was a name coined for him by his father. He had a rough start with both parents suffering from drug addiction and bouncing from living in trailer parks, motels and garages. Realizing that he had to get away from the life that many kids around him were living of hustling the streets, Tito threw himself into sports and began wrestling in High School. He continued his wrestling career at Golden West College and Cal State Bakersfield. While still in college, Tito competed in the Ultimate Fighting Championships in 1997 as an amateur for no prize money and won his first ever fight in 31 seconds.
This was the beginning of a long run of battles for Tito in the UFC and after 3 years of competing and only 6 professional fights, he won the Light Heavyweight Championship by defeating Wanderlei Silva at UFC 25 in Japan. He would go on to defend his championship 6 times over the next 3 years until losing to fellow legend Randy Couture at UFC 44. He has since fought some of the most high profile fights in UFC History with main event Battles against the likes of Ken Shamrock and Chuck Lidell. He coached the 3rd and 11th season of The Ultimate Fighter and this is when fans got to know the real Tito Ortiz as a person and coach and his popularity grew even stronger as an unparalleled fan favorite. His fight record stand at 29 fights, with only 9 loses and 1 draw.
Tito was inducted into the Wrestling Hall of Fame in May 2012 and was the 8th fighter to be inducted into the UFC Hall of Fame on the eve of his retirement fight on July 7, 2012.

www.titoortiz.com
Outside the ring, he runs his own hugely successful clothing line, Punishment Athletics as well as his gym Punishment Training Center. He raises money for children's charities and regularly travels abroad on USO missions to support the troops. He frequently appears on the cover of magazines and other media and has appeared in numerous films and TV shows. He authored a bestselling autobiography, "This Is Gonna Hurt", and became a crossover star on NBC's "Celebrity Apprentice" where he made it through nine of the season's 12 episodes. A true character of life, Tito Ortiz will give his all to whatever is thrown at him. He is now the very proud father of 3 boys. A man with many talents both in and out of the ring, Tito has overcome tremendous adversity to rise to the top and is a true American success story.