From 'Eat Like You Give a Fork: The Real Dish on Eating to Thrive' by Mareya Ibrahim
My version features a beta carotene-rich sweet potato at its base, full of Vitamin A and fiber – much like the spaghetti squash we used. One medium sweet potato only has about 100 calories and because its full of fiber, helps you feel very satisfied, especially with all these nutrient dense toppings like black beans, avocado, Greek yogurt and hemp hearts instead of a lot of cheese and sour cream. The creaminess of the sweet potato makes up for it! Even though they're 'sweet' or sweeter than regular potatoes, they have fewer calories and are considered low glycemic index so they help to balance your blood sugar. They're also amazing for managing blood pressure, helping with weight loss and balancing hormones. Plus, there's additional nutrient and fiber benefit in the peel, so clean them well and you can eat the whole package! – I absolutely adore using the purple sweet potatoes whenever I can because they contain anthocyanins, a special class of compounds with super antioxidant benefits, commonly found in foods that are purple – so you get extra benefits.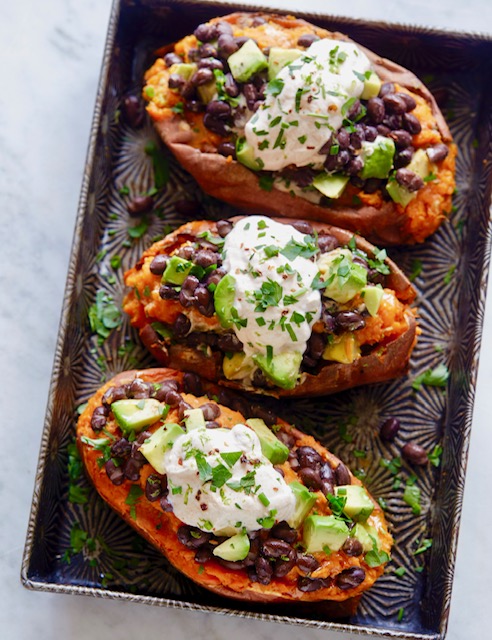 Overstuffed Sweet Potatoes with Chipotle-Lime Yogurt
Ingredients
4 small to medium sweet potatoes, or 2 large sweet potatoes cut in half
2 tablespoons ghee (clarified butter) or raw coconut oil
Sea salt and freshly ground black pepper
1 cup plain Greek yogurt
½ teaspoon dried chipotle chile powder
1 tablespoon fresh lime juice
1 cup cooked or canned black beans (drained and rinsed, if canned)
1 avocado, cubed
2 tablespoons chopped fresh cilantro
2 teaspoons chopped fresh chives
1 tablespoon hemp hearts (optional)
Freshly ground black pepper
Instructions
Preheat the oven to 425 degrees F. Line a rimmed baking sheet with aluminum foil
Put the sweet potatoes on the prepared baking sheet and roast until fork-tender, about 45 minutes. Remove from the oven.
Slice the potatoes lengthwise down the center and rake fork through to "fluff up" the soft flesh. Work 1 teaspoon of the ghee and a light sprinkle of salt and pepper into each potato.
MAKE THE CHIPOTLE-LIME YOGURT: Combine all the chipotle-lime yogurt ingredients in a small bowl and stir well.
Put each sweet potato on a serving plate and top with ¼ cup of the black beans each. Top with 1 tablespoon of the cubed avocado, 1 ½ teaspoons of the parsley, ½ teaspoon of the chives, and a drizzle of the chipotle-lime yogurt. Garnish with a sprinkle of hemp hearts, if desired, and another grind of black pepper. #nomnom
About the author:
Mareya Ibrahim
Founder and CEO
Grow Green Industries, INC./Eat Cleaner
Mareya@eatcleaner.com
O: 888-284-2435
Check out my book Eat Like You Give a Fork: The Real Dish on Eating to Thrive and all of our award winning products at www.eatcleaner.com.