Especially during unprecedented times, like these, TheFitExpo continues to be impressed by many of our special guests and partners who leverage their celebrity status for good. Recently, we were introduced to Bachelor in Paradise Star, Dylan Barbour, who used his love of fitness to join forces with a team of movers and shakers leading a social wellness movement to make your movement count. Dylan's team created a free app you can find in the app store called Vizer.
Vizer, the social fitness rewards app fights hunger! When you reach one of Vizer's daily activity goals and tap Donate, corporate sponsors will donate a meal through a partner food bank on your behalf!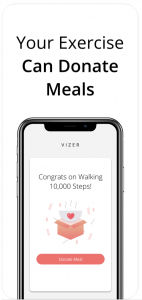 Daily goals include:
• Walking 10,000 Steps
• Exercising for 30 Minutes (like joining our friends at Zumba and Strong Nation for our World Workout Tour)
• Taking Class at a Vizer Partner Studio
Just Reach Your Goal and Tap Donate. You have until midnight each day to reach your goal and tap Donate in-app. Meal donations are sponsored by corporate partners and distributed by community partners.
Download Vizer to combat hunger in America. Every day you reach your goal and tap donate, the Vizer App sponsors donate a meal on your behalf. Free to download and use, your sweat is your currency!