TheFitExpo Seminar Panels

T.J. Hoban and Caroline de Campos Posing Seminar
Saturday 11:00 AM – 11:30 AM Competition Stage

"Dieting 101: How to Build Your Own Diet" Seminar
Presented by Jim Stoppani, PhD
Saturday 12:45 PM – 1:15 PM Competition Stage

CURRENT & RISING Superstars of Bodybuilding Q&A
Saturday 3:00 PM – 3:45 PM Competition Stage
Hosted by Sugar Shawn Ray, Pro Bodybuilder Hall of Fame
Panelists: Shawn Rhoden, 2018 Mr. Olympia Champion, Brandon Hendrickson, 2018 MP MR. Olympia Champion, Breon Ansley, 2X Mr. Olympia Classic Champion, Angelica Teixeira, 2X Ms. Olympia Bikini, IFBB Pro Regan Grimes & Hany Rambod "The Pro Creator"

Business & BS Podcast LIVE
Sunday 11:00 AM – 12:00 PM Bodybuilding Stage
On Stage with Tim & Pat Curran and special guests Mike Rashid, Corey Calliet & Breon Ansley…more to be announced!
On the Business & BS Podcast, brothers Pat & Tim Curran chat about growing their business (CurranMedia.co & OurCityCoffee.com) while they talk to others growing theirs. From influencers and startups to well established companies every individual has a unique story. We often chat best decisions, biggest mistakes, and hopefully have some laughs along the way. We're excited to see where the convo goes at TheFitExpo with special guests.

Secret Transformative Tips from Top Trainers!
Sunday 12:00 PM – 12:45 PM Competition Stage
Host: Eric the Trainer, Hollywood Physique Expert
Panelists: Corey Calliet, Trainer for Michael B. Jordan (CREED I & II plus Black Panther), Julian Smith "The Quad Guy", Bret Contreras "The Glute Guy", Adam von Rothfelder & Wes Okerson, Netflix's STRONG Master Trainers, Alec Penix, Celebrity Trainer and Danny Hester, 2016 Mr. Olympia Classic

NPC Training, Posing & Nutrition Seminar
With NPC Head Judge Terrick El Guindy and Special Guest Athletes
Sunday 12:00 PM – 1:00 PM Bodybuilding Stage


"Full-Split Training for Max Results" Seminar
Presented by Jim Stoppani, PhD
Sunday 1:00 PM – 1:30 PM Competition Stage


The Dumbbell Awards: 2019 Inductee Ceremony
Sunday 1:30 PM – 2:15 PM Bodybuilding Stage
Shawn Rhoden, 2018 Mr. Olympia Champion; Jason Ellis, King of Covers; Candice Lewis-Carter, 4X Arnold Champion; Breon Ansley, 2X Classic Physique Mr. Olympia; Rich Gaspari, 1st Arnold Classic Winner/3X Runner up Mr. Olympia


LEGENDARY Superstars of Bodybuilding Q&A
Sunday 2:15 PM – 3:00 PM Bodybuilding Stage
Hosted by Sugar Shawn Ray, Pro Bodybuilder Hall of Fame
Lee Haney, 8X Mr. Olympia Champion; Rich Gaspari, 1st Arnold Classic Winner/3X Runner up Mr. Olympia; Chris "The Real Deal" Cormier, 4X Ironman Pro Champ/Olympia Competitor & 6X Arnold Classic Runner up; Flex Wheeler, 4X Arnold Classic Champion; & Godfather of Bodybuilding, Charles Glass


David 'Avocado' Wolfe "Longevity & Detoxification Substances"
Sunday 3:00 PM – 3:30 PM Competition Stage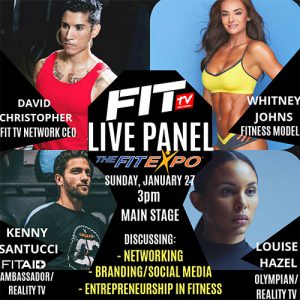 FitTV presents "Talking Fit:Networking, Rebranding & Entrepreneurship in the Fitness Industry" LIVE PODCAST with Special Guests!
Sunday 3:00 PM – 4:00 PM Bodybuilding Stage
David Christopher, Whitney Johns, Louise Hazel & Kenny Santucci