TheFitExpo San Jose 2019 Events, Competitions and Registration Information
AskMeAnything! Celebrity Athlete Seminar Series
Kali Muscle on Saturday @ 12:15 am
Julian Smith on Saturday @ 12:45 pm
Julian Smith on Sunday @ 12:00 pm
Our brand-new event, "AskMeAnything!" Celebrity Athlete Seminar Series @ TheFitExpo is designed to give fans & followers a more personal experience with some of their favorite celebrity athletes & influencers. Immediately following the seminar Q&A, you will get the opportunity for a photo-op (bring your smartphone/camera) and you will receive an autographed photo too! The series is reasonably priced and is a separate ticket purchase as you must also have an admission ticket for TheFitExpo on the day of the seminar you plan to attend.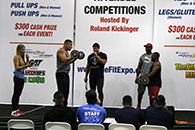 Reign presents MaxReps 4 Cash
Put all of your hard work and training at the gym to the test by competing in The MAXREPS 4 Ca$h contest at The FitExpo for both men and women. And, in recognition of the many fine athletes that have helped turn this into one of our most popular events at the expo, we will be crowning an overall MAXREPS 4 Ca$h champion.LEARN MORE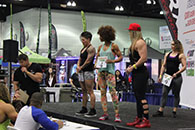 Reign presents TheFitExpo's BEST
Guys and gals, do you think you have the BEST body in the County? Well, here is your chance to show us your stuff and win a $200 cash prize and bragging rights in TheFitExpo's BEST! competition.LEARN MORE


These are the seminars and Q&As presented by your favorite fitness celebrities occurring on the Competition Stage, Healthy Living Pavilion and Main Stage throughout the weekend.
"History of Posing" Seminar
CURRENT & RISING Superstars of Bodybuilding Q&A
LEGENDARY Superstars of Bodybuilding Q&A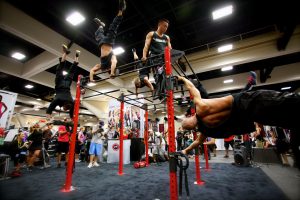 Muscle Monster presents Battle of the Bars
Battle of the Bars® at the TheFitExpo is a can't miss event where we match up the Best Calisthenics Athletes from around the world against one another to see who will walk away with the cash prize, bragging rights, and all kinds of SWAG!LEARN MORE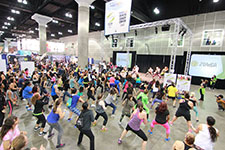 Group Training Zone
Come dressed to workout at TheFitExpo Group Training Zone. The Group Training Zone Stage features workout and demo sessions as well as contests for FitExpo, Fan Experience, and FitnessFest attendees.LEARN MORE
Healthy Living Pavilion
The Healthy Living Pavilion will be showcasing some of the most innovative natural products. The HLP attracts vendors, health and fitness industry influencers, trainers, and gym owners, as well as vitamin and supplement store owners and distributors.
Point Muay Thai
Inertia technical bouts sanctioned by International Kickboxing Federation (IKF) Point Muay Thai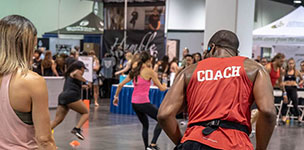 Ultimate Athlete Bootcamp Presents: The Gauntlet Attendee Challenge
The Gauntlet is a series of 3 exercises that must be completed for time. Fastest time wins. The setup consists of 3 lines, 3 coaches, 3 competitors going at a time. They will be racing against a time, not necessarily one another. Drills include Hexagon, trapezoid and cone/tennis ball drill. The Challenge takes place at the UAB Booth #114 on Saturday from 5:00 pm – 6:00 pm. TO COMPETE SIGN-UP at the UAB Booth #114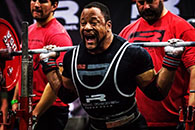 U.S. Air Force Special Ops presents TheFitExpo San Jose Powerlifting
U.S. Powerlifting Association Events held at TheFitExpo are limited to 45 lifters each day. Events include full power, bench only, deadlift only.LEARN MORE
WOW the Crowd
Have you got what it takes to 'WOW THE CROWD" as a dance fitness instructor? Here is your chance to show TheFitExpo attendees what you got! Contests who meet a few basic requirements* and reach out to our Wow the Crowd organizers via email will be entered. There will be a small cash prize of $150 plus a trophy and bragging rights. Contestants prepare a 5-7 minute dance fitness routine, teach the routine to the crowd and wait to see who the crowd selects from the on-site contestants.LEARN MORE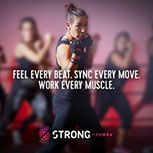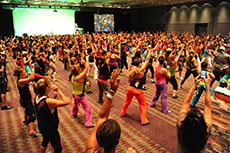 Zumba® Full Day Trainings & Strong By Zumba® Challenge
Zumba® is offering 2 instructor training workshops at TheFitExpo — Zumba®Basic and Strong by Zumba®. Learn the Zumba® formula! You can also reserve space to win prizes in the Strong By Zumba Challenge happening Sunday at noon on the Group Training Zone Stage. LEARN MORE