Welcome Back My Friends…
…To The Show That Never Ends
Exhibiting at TheFitExpo Los Angeles 2022
---
TheFitExpo returns to the City of Angels with its unique blend of fitness competitions, famous celebrities and fabulous exhibit booths on Saturday and Sunday, May 21st & 22nd, 2022. As the center of the fitness world, Los Angeles is not only home to hundreds of thousands of active and fit people, it is also where many new trends in the industry are launched. As such, it is the ideal place for the largest and longest running of our 4 consumer fitness Expos!
As with all of our shows, the Los Angeles Expo includes amazing fitness, physique, martial arts, and strength contests. In addition, there are demonstrations of popular fitness trends like Epic Series Obstacle Racing; a group exercise program featuring some of the most popular classes and top instructors; dozens of celebrity athlete appearances, and our popular "Healthy Eating Pavilion" featuring cooking demonstrations, recipe makeovers and plenty of sampling.
More importantly, over each of the last 6 years, the L.A. Expo has attracted over 60,000 knowledgeable and engaged fitness enthusiasts, as well as some influential industry professionals (personal trainers, group exercise instructors, gym owners and retail store buyers), making it a really cost effective way to reach the lucrative Los Angeles health and fitness market.
That's why over 450 companies exhibit at this show each year, the most of any fitness expo in the country!
So whether you're a start-up just launching your company, or an established brand looking to grow your market share, don't miss this unique opportunity to meet and network with all of them in one place, on one weekend.
Additional information about the show and becoming an exhibitor can be found by scrolling down this page. Of course, if you still have any questions, feel free to email or call us at your convenience and we'll address them for you right away.
Until then, thanks again for your interest and we hope you'll be able to join us May 21st & 22nd, 2022 at the Los Angeles Convention Center.
Regards,
Marc Missioreck
Vice President, Sales & Sponsorships
(888) FIT-EXPO
www.thefitexpo.com
---
WHY YOU SHOULD EXHIBIT AT THEFITEXPO
| | |
| --- | --- |
| Reason 1: | Reason 4: |
| Reason 2: | Reason 5: |
---
EXHIBITOR TESTIMONIALS
Don't just take our word…click on the video below to watch a short 3-minute video of testimonials from some of the thousands of companies that actually exhibited at our Expos…
Click here for more written testimonials from some of our exhibitors.
---
DIGITAL BROCHURE
To view our current event brochure please click to LEARN MORE (PDF 7MB)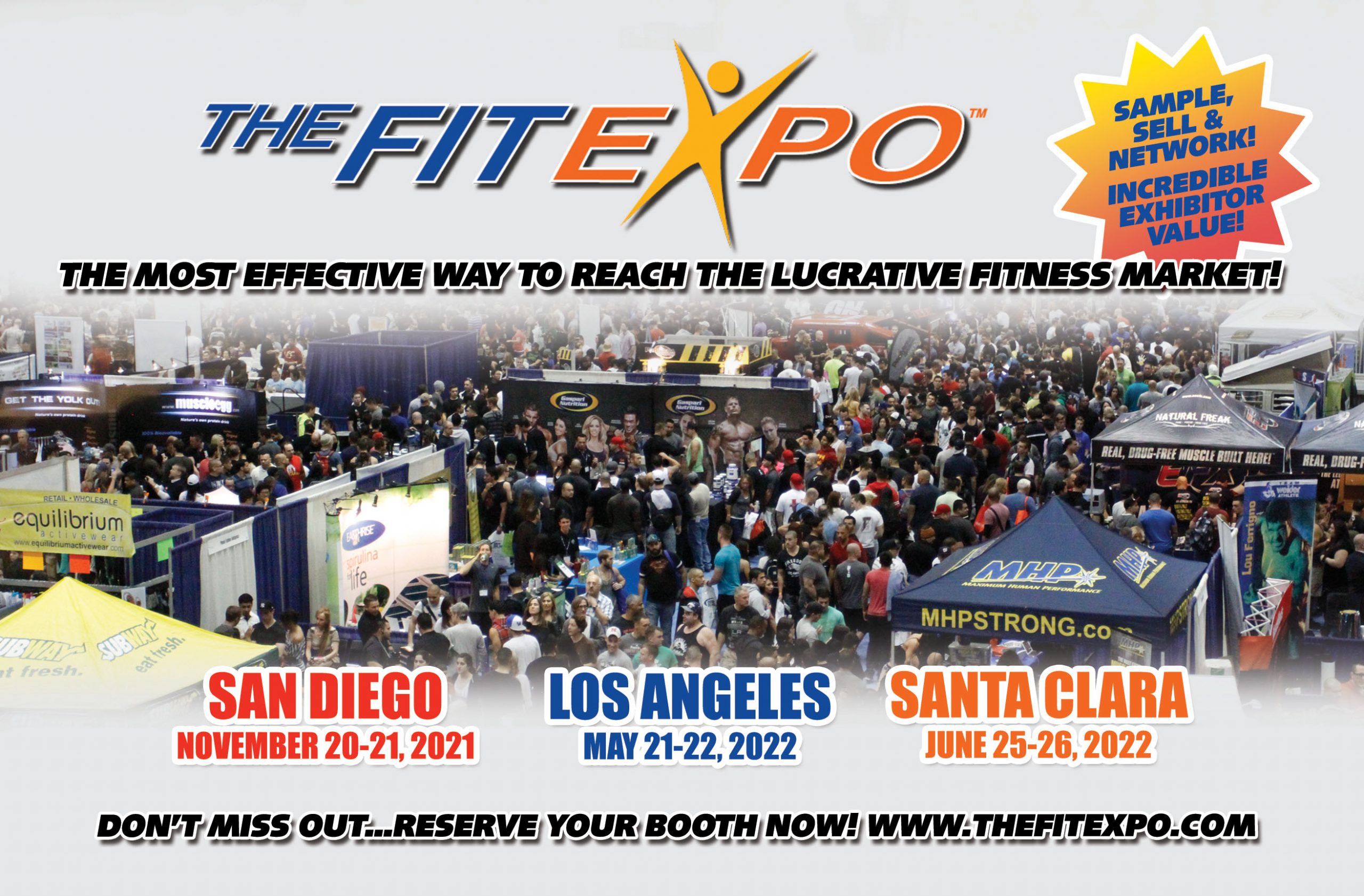 ---
PREVIOUS EXHIBITORS
Click here to see a full list of previous LA exhibitors.
---
ATTENDEE DEMOGRAPHICS
| | |
| --- | --- |
| • 61% Male, 39% Female | • 79% In the key 18-35 demographic |
| • 57% Earn at least $50,000 per year | • 26% Earn $100,000 or more |
| • 95% Work out at least 3 times a week | • 67% Work out 5 or more times a week |
| • 91% Take vitamins or supplements | • 71% Use energy drinks |
| • 53% Want to lose weight | • 72% Want a healthier lifestyle |
| • 54% Own home exercise equipment | • 66% Bought workout clothing in the last 12 months |
---
COST OF A BOOTH
---
SHARING A BOOTH
Companies with a limited budget, or that don't need a lot of space in order to effectively promote their goods or services, can "share" a booth and cut the cost in half.
The way we do this is by splitting a 10' x 10' corner booth in half diagonally. That way, each company still has access to one of the 10 foot long sides of the booth that is on an aisle.
If you know another company that wants to share it with you, we will gladly place you together. If not, we will introduce you in advance to another company that also wants to share a booth and doesn't offer similar products. That way you can make sure you'll be compatible together in the same booth.
---
DISCOUNTS & SPECIAL OFFERS
Multi-Show Discount: We offer a multi-show discount of 5% off if you exhibit at any 2 of our shows within a 12 month period, and it jumps to 10% off if you exhibit at any 3 or all 4 of them.
Law Enforcement Agency & Military Branch Discount: law enforcement agencies, fire departments and military branches and are entitled to a 10% discount off of any size booth, at any show.
Non-Profit Organizations: bona fide 501(c)(3) non-profit organizations are entitled to a 10% discount off any size booth at any show.
Wholesale Buyer's Pass
All exhibitors are entitled to receive a complimentary, digital "Wholesale Buyers Pass" that your sales team can send out to existing wholesale accounts as well as prospects. Each pass they send out is good for one buyer, from one account, to attend one day of the Expo for FREE!

Invite them to come and enjoy the Expo as guests of your company, make an appointment to stop by your booth, and hopefully write some new business with you. You may even want to consider offering some sort of "Show Special" that is too good to pass up.

In recent years, exhibitors that took advantage of this opportunity, especially those from out of state, wrote a significant amount of wholesale business onsite, in addition to all the sampling, branding, networking and retail sales they made to the thousands of consumers in attendance.

All registered exhibitors will receive a separate email explaining how to receive, set up and use their complimentary Wholesale Buyer's Pass.

$10 Discount Coupon
All exhibitors will receive a complimentary, digital discount coupon that can save your existing customers, prospects, family, friends or followers "$10 Off" of the regular $25 one-day admission price to TheFitExpo.

Feel free to post it on social media, place it on your website, insert it into a digital newsletter or email it the old-fashioned way. The more people that see it and can use it, the better it will be for both the Expo and your company. That's because you can insert your logo on it so it generates good will for your company every time someone sees it, regardless of whether they actually attend the Expo or not.

All registered exhibitors will receive a separate email explaining how to receive, set up and use their complimentary $10 Discount Coupon.

---

EXHIBITOR CONTRACT

If you're ready to sign up, simply download the Exhibitor Contract and email or fax it back to us.

Go to the live floorplan so you can select your top 3 booth choices and enter them in Section 2 on Page 1.

We normally require a deposit of 50% to hold a space with the balance due 60 days prior to the start of the show.

If you're paying by credit card, download and complete the Credit Card Authorization Form and email or fax it to us. If you prefer to provide your credit card info via phone, that is perfectly fine.

Be sure to sign Section 7 on Page 1 and initial all 5 of the boxes on Page 2.

---

FLOOR PLAN

TheFitExpo Los Angeles will be held at the Los Angeles Convention Center in Halls G-H-J-K.

The live floor plan shows which exhibit booths are still available as well as where other companies and performance areas are located. It will give you the ability to select your top 3 choices for your booth location when submitting your Exhibitor Contract.

Note: we are still waiting for some of our sponsors and exhibitors with large booths to select their preferred spaces. Once they do we'll be able to start assigning booths to all other registered exhibitors. So while all booths appear to be "Available", some of them may not be.

Color Code:
Blue = Available Booth
Yellow = Assigned Booth
Orange = Reserved Booth
Green = Line Control Area
Purple = Competition/Performance Stage

Click here for the live floor plan.

---

SPONSORSHIP PACKAGES

We offer 4 sponsorship packages designed to fit different budgets: Supporting, Major, Presenting and Title Sponsorship.

Keep in mind, these packages are designed to work for almost any type of company regardless of what kind of product or service they sell. Where it gets to be fun is when we can be creative and customize the packages around the unique sales or marketing goals of the sponsoring company.

---

EXHIBITOR KIT

Coming soon!

---

HOTEL INFORMATION

Millennium Biltmore Hotel Los Angeles

506 Grand Avenue
Los Angeles, CA 90071, USA


Courtyard • Residence Inn L.A. LIVE

901 West Olympic Boulevard
Los Angeles, CA 90015


Click here for more Los Angeles hotel information.

---

Please note: If you are being contacted by companies asking if you would like to purchase TheFitExpo Exhibitor and or Attendee email or contact information, please note that they are NOT legitimate companies and they do NOT have our lists for sale. Please forward any such inquiries you may receive to info@thefitexpo.com.