Exhibiting at TheFitExpo Los Angeles 2024
---
TheFitExpo returns to the City of Angels with its unique blend of fitness competitions, famous celebrities and fabulous exhibit booths on Saturday and Sunday, January 20-21, 2024. As the center of the fitness world, Los Angeles is not only home to hundreds of thousands of active and fit people, but it is also where many new trends in the industry are launched. As such, it is the ideal place for the largest and longest running of our 4 consumer fitness Expos!
As with all our shows, the Expo includes:
amazing fitness, physique, martial arts, and strength contests
group exercise program featuring the most popular classes and top instructors
"Healthy Pet Pavilion" and "Kids Zone" where fitness and fun collide
over two hundred influencer appearances
and our popular "Healthy Eating Pavilion" featuring cooking demonstrations, recipe makeovers and plenty of sampling
The L.A. Expo attracts tens of thousands of knowledgeable and engaged fitness enthusiasts, as well as influential industry professionals (personal trainers, group exercise instructors, gym owners and retail store buyers), making it one of the most cost-effective ways to reach the lucrative Los Angeles health and fitness market.
That's why over 450 companies exhibit at this show each year, the most of any fitness expo in the country!
So, whether you're a start-up just launching your company, or an established brand looking to grow your market share, don't miss this unique opportunity to meet and network with all of them in one place, on one weekend, at TheFitExpo.
EMAIL US
(888) FIT-EXPO or sales@thefitexpo.com
www.thefitexpo.com
---
WHY YOU SHOULD EXHIBIT AT THEFITEXPO
---
DIGITAL BROCHURE
To view our current event brochure please click to LEARN MORE (PDF 7MB)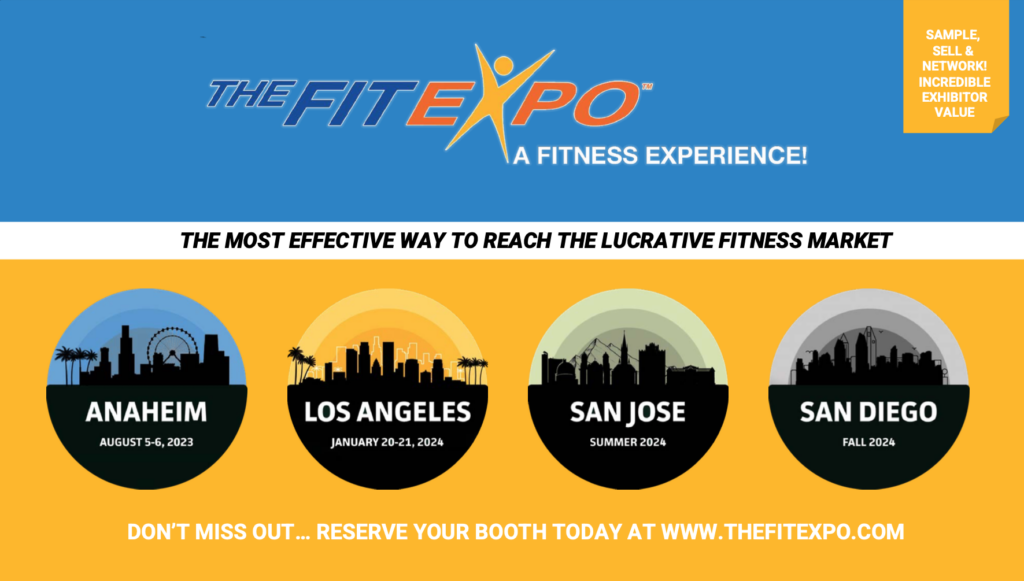 ---
PREVIOUS EXHIBITORS
Click here to see a full list of previous exhibitors.
---
ATTENDEE DEMOGRAPHICS
| | |
| --- | --- |
| | 79% In the key 18-35 demographic |
| 57% Earn at least $50,000 per year | 26% Earn $100,000 or more |
| 95% Work out at least 3 times a week | 67% Work out 5 or more times a week |
| 91% Take vitamins or supplements | |
| | 72% Want a healthier lifestyle |
| 54% Own home exercise equipment | 66% Bought workout clothing in the last 12 months |
---
COST OF A BOOTH
*If you are interested in splitting or sharing a booth, please submit your inquiry to sales@thefitexpo.com
---
DISCOUNT COUPON & PROMOTIONS
---
EXHIBITOR CONTRACT
If you're ready to sign up, please follow the instructions below:
Simply download the Exhibitor Contract and email or fax it back to us.
Go to the floorplan so you can select your top 3 booth choices and enter them in Section 2 on Page 1.
A 50% deposit is required to hold a space on the exhibit floor, with the remaining balance due 60 days prior to the start of the show.
If you're paying by credit card, download and complete the Credit Card Authorization Form and email or fax it to us. If you prefer to provide your credit card info via phone, that is perfectly fine.
Be sure to sign Section 7 on Page 1 and initial all 5 of the boxes on Page 2.
---
FLOOR PLAN
TheFitExpo Los Angeles will be held at the Los Angeles Convention Center in Halls G-H-J-K.
The floor plan shows which exhibit booths are still available as well as where other companies and performance areas are located. It will give you the ability to select your top 3 choices for your booth location when submitting your Exhibitor Contract.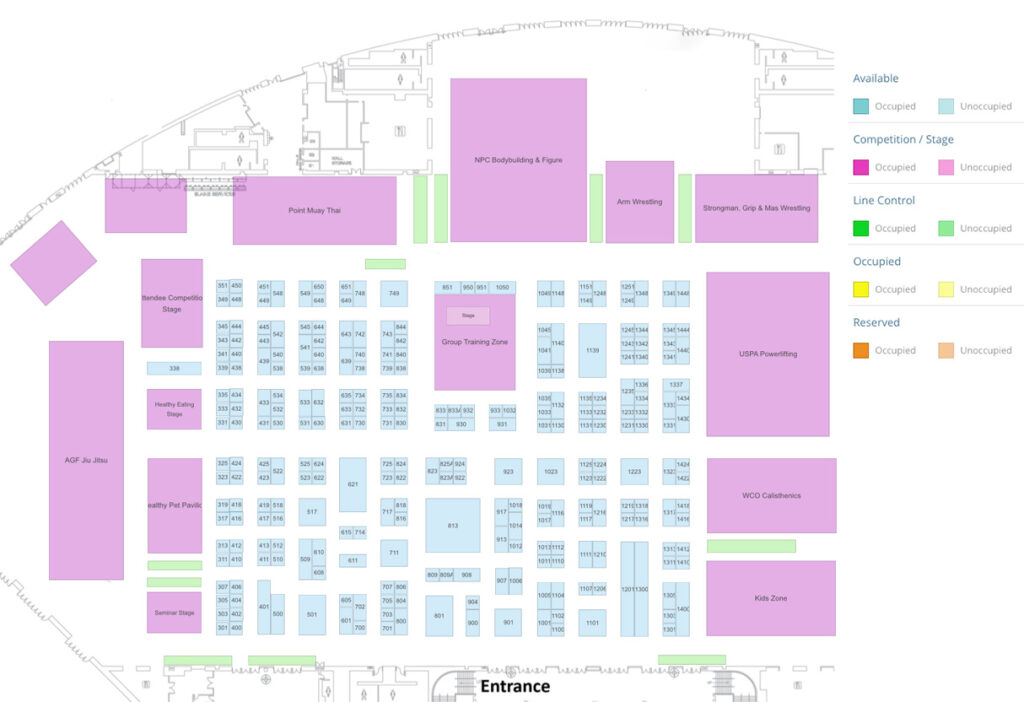 Click here to view the live floor plan.
---
SPONSORSHIP PACKAGES
We offer 4 sponsorship packages designed to fit different budgets: Supporting, Major, Presenting and Title Sponsorship.
Keep in mind, these packages are designed to work for almost any type of company regardless of what kind of product or service they sell. Where it gets to be fun is when we can be creative and customize the packages around the unique sales or marketing goals of the sponsoring company.
---
EXHIBITOR KIT
*Links to Exhibitor Kits will be sent to the primary contact person listed on the Exhibitor Contract you submit.

---
HOTEL INFORMATION
Millennium Biltmore Hotel Los Angeles
506 Grand Avenue
Los Angeles, CA 90071, USA
(213) 612-1575
E-Central Hotel
1020 S Figueroa St.
Los Angeles, CA 90015
(213) 748-1291

VIEW ALL HOTELS
---