Welcome Back My Friends…
…To The Show That Never Ends
Exhibiting at TheFitExpo San Diego 2024
---
TheFitExpo returns with its unique blend of fitness competitions, famous celebrities and fabulous exhibit booths to "America's Finest City" in the Fall 2024. With year-round perfect climate and 70 miles of magnificent coastline, San Diego is home to hundreds of thousands of active and fit people. As such, it is the ideal place for the one of our consumer fitness Expos!
As with all of our shows, the San Diego Expo includes amazing fitness, physique, martial arts, and strength contests. In addition, there are demonstrations of popular fitness trends like Epic Series Obstacle Racing; a group exercise program featuring some of the most popular classes and top instructors; dozens of celebrity athlete appearances, and our popular "Healthy Eating Pavilion" featuring cooking demonstrations, recipe makeovers and plenty of sampling.
More importantly, the Expo attracts tens of thousands of knowledgeable and engaged fitness enthusiasts, as well as some influential industry professionals (personal trainers, group exercise instructors, gym owners and retail store buyers), making it one of the most cost effective ways to reach the lucrative San Diego health and fitness market.
So whether you're a start-up just launching your company, or an established brand looking to grow your market share, don't miss this unique opportunity to meet and network with all of them in one place, on one weekend.
Additional information about the show and becoming an exhibitor can be found by scrolling down this page. Of course, if you still have any questions, feel free to email or call us at your convenience and we'll address them for you right away.
Until then, thanks again for your interest and we hope you'll be able to join us in the Fall of 2024 at the San Diego Convention Center.
Regards,
Marc Missioreck
Vice President, Sales & Sponsorships
(888) FIT-EXPO
www.thefitexpo.com
---
WHY YOU SHOULD EXHIBIT AT THEFITEXPO
---
EXHIBITOR TESTIMONIALS
Don't just take our word…click on the video below to watch a short 3-minute video of testimonials from some of the thousands of companies that actually exhibited at our Expos…
Click here for more written testimonials from some of our exhibitors.
---
DIGITAL BROCHURE
To view our current event brochure please click to LEARN MORE (PDF 7MB)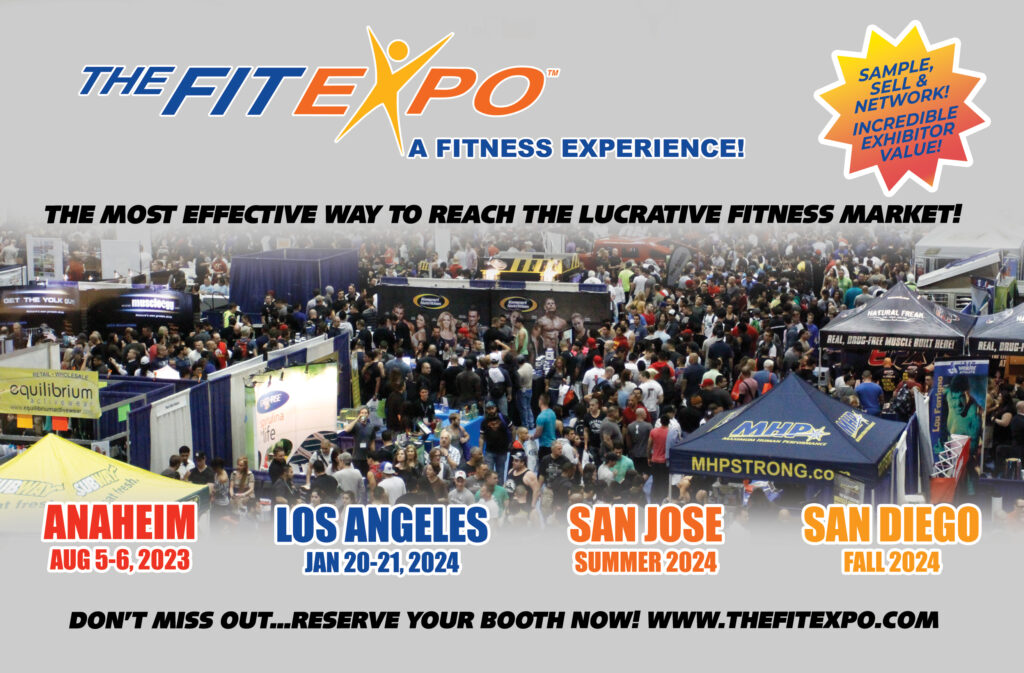 ---
PREVIOUS EXHIBITORS
24 Hour Fitness
A&K Wellness/Hidow
Acme Business Valuations
Adam von Rothfelder/Strong Coffee
Aesthreadics
Air Relax
Alis Sportswear
Allmax Nutrition
Alpha Tech Performance
Ambrosia Nutraceuticals
American Cancer Society
Ana Malvaez
Ananda Hemp
Antidote
Arro Athletics
Astavita
AT&T
Balou
BeneYou
Beverly Hills Police Department
Blue Botanicals CBD
Blue Shield of California
Body Angel Activewear
Bodybuilding.com
Bolero
Brad Castleberry
Brandon Hendrickson/Big Waves Fitness
Bret Contreras
Bucked Up
BullyStrong Apparel
Bxactiv
BYLT
Califlour Pizza
California University of PA
CalyFx
Candice Lewis Carter
Candid
CareCredit
Carlson Laboratories
Caroline de Campos
Cassandra Martin
Castleberry Nutrition
Christian Woelk
Chula Vista Police Department
Cigna Health Improvement Tour
Complete Recovery
Conquer Power Live
Corey Calliet
Country Archer Jerky Co.
Craig Goliath
Crown Custom Weightlifting Belts
Crunch Fitness
CT Fletcher / Iron Addicts
Cute Booty Lounge
Cutler Athletics
Danny Hester
DAS Labs
Dauntless Gear
DC Hub
Devotion Nutrition
Dissident Gym Wear
Doc Parsley's Sleep Remedy
D-PRO High Protein Meal Bars
Dr. Hemp Essentials
Drew Jones, Dance Fever 3D
Dymatize
eBay
Ecostract Wellness
Egg Whites International
Epic Provisions
Eric Bassett, EB30x
Eric The Trainer
Evogen Nutrition
Explore Cuisine
Farm Fresh To You
Fire & Ice Therapy
Fit Byrd
Fitaid
Fitness Fest
FITT University
Flex Comics
FLEX-N-FLEX
Flock Goods
Flower of Life CBD
Formula 168
Frank Zane
Freaze "Take the Bite Out of Pain"
Free Spirit Outlet
Gainz Addict Apparel
Game of Rolls
Garry Matthews, G-Train Fitness
GAT Sport
Gentlemen Republic
Ghisela Designs
GHOST
Gideon Akande
Gladiator Gear
Global Formulas
GO Fitness Apparel
Goldring Chiropractic
GoodCell
Grandview Resort
Green Regimen
GROOV3
Harmless Harvest
Hella Snatched
HelloFresh
HiiT Dough – Macro Friendly Cookie Dough
Humble Muscle
HurtSkurt
Icon Muscle
IMMABEAST
Impakt Movement
iMperative Massage
Infinitee Travel Network
Insano Extreme Wear
Iron Addicts
Iron Rebel
Iron Rising Apparel
J Fitness Wear
J Vartani Jewelry
James Ellis Fit
Jawku
Jay Cutler
Jeff Loagz-Become
JerkFit
Jim Stoppani
Johanna Littlejohn
Joy Wellness Partners
Just One More
Just Train
JYM Supplement Science
Kaleo Marketing
Kali Muscle
Kalifornia Keto
Katerina Kountouris
Kathyana Fitness Apparel
Katie B Happy
KAV Encore
Kerry Tepedino
Kinda Fit Kinda Fat
KLD
Klean Freak
Kris Barr, Penalty Box
LA Fitness
Laird Superfood
Larabar
Lasik Vision
Last Real Gym
Lean Cookie
Lebboulder
Legendary Bulo
Legendary Foods
LeoMicci
LEORÊVER
Let It Fit Activewear
Lexy Panterra
LiCi Fit
Lita Lewis
Longeve
Los Angeles County Fire Dept.
Love Good Fats
Lundberg Family Farms
Massage Guns
Massy Arias
Max Reps 4 Cash
Mharbana
MHP
Mike Douglass, Alpine Fitness
Mike Rashid
MitoQ
Muscle Contests
Muscle Egg
Muscle Hammer
Muscle Monster
MyoBuddy WELLNESS
Narmin Assria
NASM
Ndulge Activewear
New U Life
NFQ
NOCCO BCAA – No Carbs Company
Nomadic State of Mind
Nordic Track
Nova Gym
Numi Organic Tea
NutraBio Labs
NuttZo
Oksana Grishina
Olimp Born In The Gym
Olive Drab Performance
One Percent Nutrition
Onyx Black Garlic
Ora Organic
Orangetheory Fitness
OsteoStrong
Papa & Barkley
Parker Egerton/Parker Physique
Perfect Shaker
Physicians Preferred CBD
Pommello Sweats
Psychic Tarot Card Readings
Pure Fitness Concepts
Purify Your Hair
RE Botanicals
Reign Total Body Fuel
Remy Helm
Reps Over Rest
Revele Whipped Gelato
Riverside County Sheriff's Department
RIXI
Rob Did It
Roland Kickinger
Row House
Rowdy Bars
Samson Fletcher
San Diego Calisthenics Center
San Diego County Sheriff's Department
San Diego Police Department
San Diego Waves
Self Made Training Facility San Marcos
Sexy Nutrition
Shanique Grant
Share International USA
Shawn Rhoden
Shogun Sports
Sign Rx
Simon Carter, Further Than Fitness
Six Deuce Signature Leggings
Slindir
Soccer City / Measure E
SoKO Hemp Creations
Soliel
Source Naturals/Planetary Herbals
Spartan Race
SPEKR
Stanimal
Strength Cartel
Subway
Sugar Sports
Super Fresh Clothes
Swisse Wellness
Tatted Strength
The Alpha Academy
The Brutez
The Fitness Armory
The Genius Brand
The X Bands
Thrive by Le-Vel
Tianna Gregory/NEWD
TJ Hoban
T-Mobile
Tocaya Restaurant
Top Shelf Nutrition
Tru Supplements
Tuff N Tiny
U.S. Air Force Recruiting
U.S. Marine Corps Recruiting
U.S. Powerlifting Association
Ultimate Athlete Bootcamp
Unbowed
Union Snacks
Vacation Village Resorts
Vegan Bodybuilding & Fitness
Vegan Strong
Viazoi
VICTA
Vitacup
Vital Proteins
Vitamin Shoppe
Vitamins Without Junk
WAVE5
We Love Meal Prep
Welk Resorts
Winning Ways
WOD Love/Love Fit Clothing
World Dodgeball Society
WRKETHIC
Xlear
Xtreme Hip Hop with Phil
Zevia
Zumba
Zyia Active
---
ATTENDEE DEMOGRAPHICS
| | |
| --- | --- |
| • 61% Male, 39% Female | • 79% In the key 18-35 demographic |
| • 57% Earn at least $50,000 per year | • 26% Earn $100,000 or more |
| • 95% Work out at least 3 times a week | • 67% Work out 5 or more times a week |
| • 91% Take vitamins or supplements | • 71% Use energy drinks |
| • 53% Want to lose weight | • 72% Want a healthier lifestyle |
| • 54% Own home exercise equipment | • 66% Bought workout clothing in the last 12 months |
---
COST OF A BOOTH
All exhibit booths are 10 feet x 10 feet in size and exhibitors can purchase multiple booths in almost any configuration they desire. Each booth comes with a skirted 6 foot long table, 2 chairs, and a small waste basket.
---
SHARING A BOOTH
Companies with a limited budget, or that don't need a lot of space in order to effectively promote their goods or services, can "share" a booth and cut the cost in half.
The way we do this is by splitting a 10' x 10' corner booth in half diagonally. That way, each company still has access to one of the 10 foot long sides of the booth that is on an aisle.
If you know another company that wants to share it with you, we will gladly place you together. If not, we will introduce you in advance to another company that also wants to share a booth and doesn't offer similar products. That way you can make sure you'll be compatible together in the same booth.
---
DISCOUNT COUPON
All exhibitors will receive a complimentary, digital discount coupon that you can send to your existing customers, prospects, family, friends or followers for savings on daily admission tickets to the expo.
---
EXHIBITOR CONTRACT
If you're ready to sign up, simply download the Exhibitor Contract and email or fax it back to us.
Go to the live floorplan so you can select your top 3 booth choices and enter them in Section 2 on Page 1.
We normally require a deposit of 50% to hold a space with the balance due 60 days prior to the start of the show.
If you're paying by credit card, download and complete the Credit Card Authorization Form and email or fax it to us. If you prefer to provide your credit card info via phone, that is perfectly fine.
Be sure to sign Section 7 on Page 1 and initial all 5 of the boxes on Page 2.
---
FLOOR PLAN
TheFitExpo San Diego will be held at the San Diego Convention Center in Halls F-G-H.
The live floor plan shows which exhibit booths are still available as well as where other companies and performance areas are located. It will give you the ability to select your top 3 choices for your booth location when submitting your Exhibitor Contract.
Note: we are still waiting for some of our sponsors and exhibitors with large booths to select their preferred spaces. Once they do we'll be able to start assigning booths to all other registered exhibitors. So while many booths appear to be "Available", some of them may not be.
Color Code:
Blue = Available Booth
Yellow = Assigned Booth
Orange = Reserved Booth
Green = Line Control Area
Purple = Competition/Performance Stage

Floor plan coming soon.
---
SPONSORSHIP PACKAGES
We offer 4 sponsorship packages designed to fit different budgets: Supporting, Major, Presenting and Title Sponsorship.
Keep in mind, these packages are designed to work for almost any type of company regardless of what kind of product or service they sell. Where it gets to be fun is when we can be creative and customize the packages around the unique sales or marketing goals of the sponsoring company.
---
EXHIBITOR KIT
Coming soon!
---
HOTEL INFORMATION
Hilton Garden Inn San Diego Downtown/Bayside
2137 Pacific Highway Suite A,
San Diego, CA 92101
Homewood Suites by Hilton San Diego Downtown/Bayside
2137 Pacific Highway Suite B,
San Diego, CA 92101
Hotel info coming soon!
Hilton San Diego Bayfront
1 Park Boulevard
San Diego, CA 92101

Hotel info coming soon!
---
Please note: If you are being contacted by companies asking if you would like to purchase TheFitExpo Exhibitor and or Attendee email or contact information, please note that they are NOT legitimate companies and they do NOT have our lists for sale. Please forward any such inquiries you may receive to info@thefitexpo.com.